How We Did It
Given the solution that Estee Lauder wanted, we identified Drupal to be the best choice for the core platform. Drupal powerful content handling was just right for the huge quantity of learning resources that Estee Lauder had. Drupal out-of-the box features around multilingual, as well as proven efficacy in decoupled solutions made Drupal the right choice.
So with Drupal as the content repository, here's what we delivered for Estee Lauder:
A fast and scalable admin system with an interactive user interface
The core enterprise learning management system was developed in Drupal 8 which would provide a user with an organized knowledge repository, easily accessible through different devices such as mobile or tablet. Since the courses covered different types of content, it was imperative to ensure the site doesn't slow down.
While Drupal is scalable to support content-rich sites and experiences, React was chosen for its ability to efficiently update and render interactive components, such as the location of the user, across different mediums (web, mobile apps, and chatbot/VoiceBots).
Since the solution demanded multiple types of content (text, videos, audios, quiz, pdf) in different languages with a scalable backend and a creative UI, decoupled architecture was an easy choice.

Efficient and engagement learning ecosystem
The learning management platform curates all resources, eliminating the need to conduct periodic classroom sessions to train its people or repeat a session across different locations. Since the platform would be available both online and offline, the learning was no longer restricted to a particular time slot or place.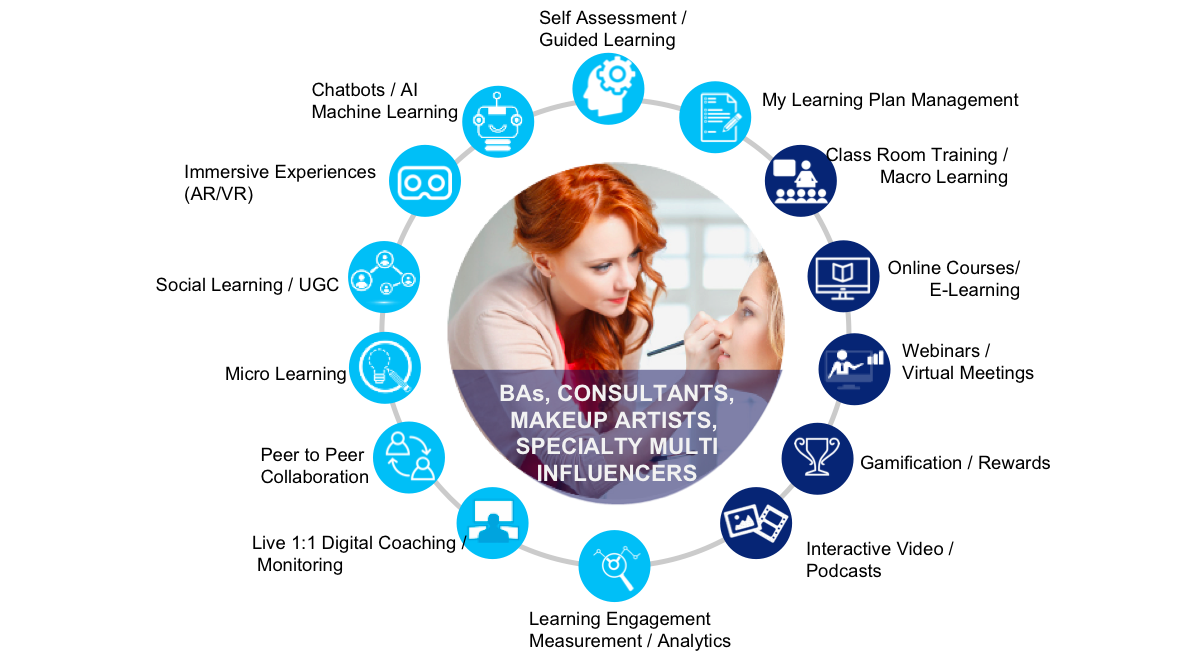 Inbuilt learner performance analytics
Since there were multiple users using at any given time, the LMS was incorporated with the feature to monitor the performance of the courses and videos using interactive reporting system via xAPI.This helped in understanding how the team members are faring with the learning process while also learning the specific needs across geographies.

By tracking the learning actions, Estee Laudercould analyze how users are interacting with the learning resources, know if they are effectively learning, identify when to offer what kind of resources, in order to make the process more effective.
The results produced would be in the form of interactive reports using graphs and pie charts.
The platform is being continuously improved, the client is already starting to see the benefits of an integrated learning ecosystem. Moving forward, the platform will incorporate additional channels to enable learning, like chatbots to quickly answer product queries for beauty advisors. As the next phase of the project, we are working on AR solutions to allow people to scan a product image and get all the information on that product, without having to ask anyone log into the site or consulting manuals.