The Project
The client wanted to transform their retail store experience, with a specific focus on revamping their existing application for digital price tags. They were looking for centralised content and design management to deliver customizable, responsive pricing information for products across stores in various geographies.
The key objectives of the project were:
Create a centralized application to deliver product and pricing information through a standardized framework

Enable teams in different markets to customize product and pricing information across various items, stores, and regions

Establish a global asset library for layouts, templates, components, and content, that could be used by relevant teams
Along with these, the client also had some specific requirements with respect to the project:
Shift their hosting to new servers, managed for a year

Build the new digital price tags solution on Drupal 8, instead of Drupal 7 where it currently existed
The Solution
The existing digital price tags solution revolved around showcasing price information on the screen of the respective device on display at the store. So cell phones of specific brands or iPads had their price and specs displayed on the screen, and customers could review these as they wanted.
However, this led to certain challenges that the new solution had to solve:
The variety of screen sizes across devices meant that the content (price and specs) needed to be reformatted for each specific device on display, to render effectively across all screens or devices

Not all products available in store had a screen. For example - for items like headphones or other accessories, content could not be delivered in the same digital format as done for devices with a screen
To address these challenges, the Srijan team proposed to build a solution with two core components:
An omni-channel CMS for digital stores, built on Drupal 8

A global template framework that allowed client teams to structure pricing and product information as per their regional market needs and trends
Here's a look at the basic solution architecture, before we get down to the brass tacks: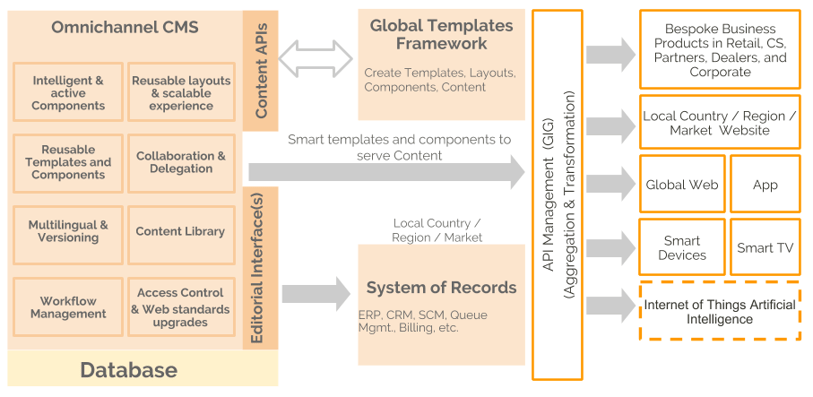 An Omnichannel CMS
Srijan leveraged Drupal 8 to build an omnichannel content management system that delivers customer-centric digital store experiences. The solution adopted a decoupled Drupal architecture, with Drupal as the hub of a highly scalable solution platform.
The highlights of the decoupled Drupal 8 framework are:
Enable client teams to create intelligent, contextual content for each of their products, and offer the information and purchase pathways to their customers

Handle content assets, workflow management, access controls, multilingual capabilities and editorial collaborations

Push fit-to-form content out to multiple channels via the API layer

Integrate with the client's other enterprise systems - CRM, ERP etc. - to pull information as and when required
A Global Template Framework
To ensure that client's marketing teams in every market can tailor price and product information to regional demands and conditions, the Srijan team created a global template framework.
This acts as a repository of certain basic elements for client teams to build the kind of intelligent content pieces they want:
Layouts: Basic divisions to guide content placement across a screen

Components: Reusable building blocks - like text, images, videos, buttons etc that could contain specific information, and will have a standardized behaviour and function across different channels

Templates: A set presentation format for all the information, created by dragging and dropping different components into a layout. All templates are stored in the central framework, and regional teams can either use these existing templates for their products, or use new ones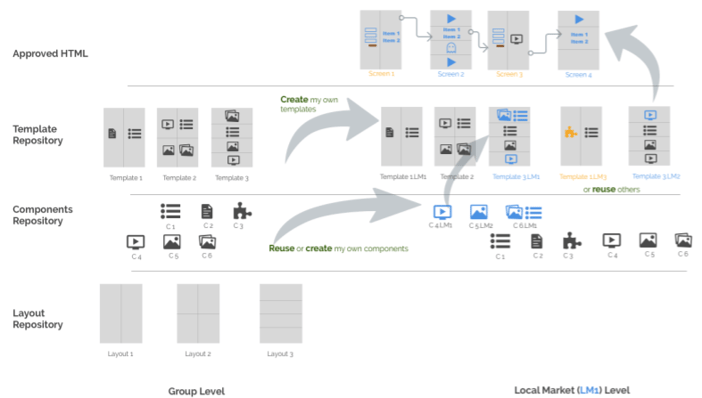 The reusable layouts, templates and components lying in the CMS can be picked up and interfaced with the global content framework, to create custom repositories of components and templates, as per the requirements of specific markets or regions.
For example: For an iPhone being sold at a store in London, the digital price tag has a particular template with information around specs, price, and a store-specific offer. However, for am iPhone being sold at a store in Germany, the price tag may have a different template, with information on specs, the price, and a video on the phones latest features.
The templates are being customized by the regional client teams, with the right layouts and components in the Global Template Framework. And the content is being pulled from a central Drupal repository.
Other Features of the Digital Price Tags Solution
Besides the Omnichannel CMS and the Global Template Framework, the solution delivers two key features
Stories: A story is typically a set of templates put together to serve a specific device or set of devices. For example - the story for an iPhone could include 3 templates, putting together information on specs and price on one template, features video and warranty information on the next, and a region specific offer or discount on the last template.

Scheduling: Client teams can create stories and set them to launch store-wide at a specific date. Let's say a Christmas discount on an iPhone is created, and scheduled to launch in London stores on 1st December. So customers coming in that day onwards will see the festive discount information in all stores, with no additional effort required at any of the stores.
Creating a Future-Ready Digital Store Solution
While the scope of this particular project was limited to creating a digital price tag solution, the model can be scaled to deliver a complete digital retail store experience.
The solution, based on a decoupled Drupal architecture, can be scaled and integrated with multiple systems. From serving content onto handheld screens, it can be adapted to interface to digital kiosks, in-store promotional banners, digital signage and more. The Global Template Framework can be integrated with other systems which can store and provide additional content via APIs. And the solution can be tweaked to suit the digital experience needs of any retail establishment.
Business Benefits
Increased market autonomy on presenting the content and offers in the style and language of their choice

Reusable components to be used across the channels

Allowing the client to utilize the same system and providing templates for the consumer facing portal
Telecom enterprises are urgently driving their digital transformation to stay relevant for their customers. Whether it's revamping in-store price tags, to analyzing and fixing customer churn, to diversifying revenue streams with telecom APIs - there's a lot to be done. And an expert technology partner is key to making this possible.
Srijan is working with global telecom enterprises to drive digital growth. Let's start the conversation and explore how we can help achieve your business goals.