The expanding data landscape is feeding the demand for higher operational agility. This calls for a more responsive, reliable IT infrastructure — that doesn't rake up millions — minimizes delays and downtime while improving security and making infrastructure more agile.
Between capacity constraints and unpredictable pricing models, AWS offers suited workloads for growing infrastructure needs with a host of services - IaaS, PaaS, SaaS - for Drupal enterprises.

Here's how you can run your Drupal up to 40% cheaper.
Drupal-powered enterprises need to constantly understand and adapt to the changing landscape in order to achieve the business objective
Keeping the Business Innovative and Agile
Increasing demands for performance, scalability and agility have never been higher. Success and growth for businesses depend on it. At the same time, changing landscape is forcing businesses to opt for lower costs, greater use of cloud resources and better customer service.
While these changes have implications on infrastructure, compute and networking resources, they also impact storage.
Lack of enough database storage, for example, can adversely impact application performance. Fast-growing applications may need more storage than expected or immediate storage resources.
Capacity and storage issues can hinder business agility
The continuous need for speed and efficiency is driving businesses to opt for storage as a service (STaaS) model. But there is more to it when it comes to the the benefits. Businesses get:
Better insights at reasonable cost: Providing a highly scalable environment at a low cost capable of handling the massive volume and velocity of data, organizations can shift from the two available models (CapEx and OpEx) for more predictable costs.

Better collaboration: Cloud-based business solutions accelerate innovation, delivering business analytics at the point of impact and enabling collaboration by creating and linking business networks.

Innovation and variety of solutions: Forward-thinking enterprises adopt for STaaS to speed up business innovation, improve overall data-centre efficiency, achieve integrated and innovative business results.
Proven results: Organizations achieve their desired business outcomes by improving the responsiveness of their IT infrastructure without increasing risk or cost.
Capacity and storage issues can hinder your business agility.
In order to avoid such challenges in the future, Drupal-powered enterprises need to constantly understand and adapt to the changing landscapes.
Azim Premji Foundation, Georgia Technical Authority, Department of Homeland security, USA are powered by Drupal and supported by AWS
While Drupal helps balance the rapid data growth, the right cloud storage solution needs to offer security and robust scalability without constraining the budget and prepare IT and marketing for what comes next.
Run your Drupal 40% cheaper
Choosing the right technology is crucial to avoid equipment failures and the costs of upgrading hardware. Small to medium enterprises and non-profit especially need sustainable solutions for future needs to run its operations without overcommitting budgets today.
Finding the perfect match, organizations such as Azim Premji Foundation, Georgia Technical Authority, UCAS, Department of Homeland security - USA, are powered by Drupal and supported by AWS.
Enterprises need sustainable solutions without over committing budgets today
AWS offers cloud web hosting solutions that provide businesses, non-profits, and governmental organizations with low-cost ways to deliver their websites and web applications.
The pay-as-you-go approach lets you pay only for the individual services you need, for as long as you use, and without requiring long-term contracts or complex licensing.
Similar to how you pay for utilities like water and electricity.
You only pay for the services you consume, and once you stop using them, there are no additional costs or termination fees.
The pricing models give your enterprises the flexibility to grow your business unencumbered by IT

Pay-as-you-go
With AWS you only pay for what use, helping your organization remain agile, responsive and always able to meet scale demands. Allowing you to easily adapt to changing business needs without overcommitting budgets and improving your responsiveness to changes, reducing the risk of over positioning or missing capacity.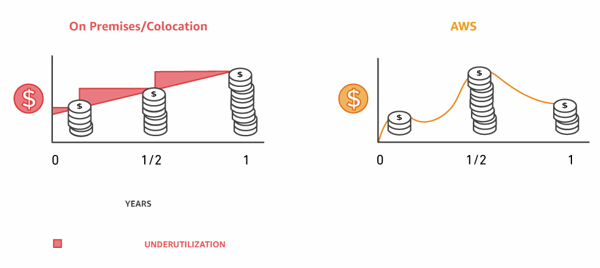 By paying for services on an as-needed basis, you can redirect your focus to innovation and invention, reducing procurement complexity and enabling your business to be fully elastic.
Save when you reserve
By using reserved capacity, organizations can minimize risks, more predictably manage budgets, and comply with policies that require longer-term commitments.

For certain services like Amazon EC2 and Amazon RDS, enterprises can invest in reserved capacity. With Reserved Instances, you can save up to 75% over equivalent on-demand capacity.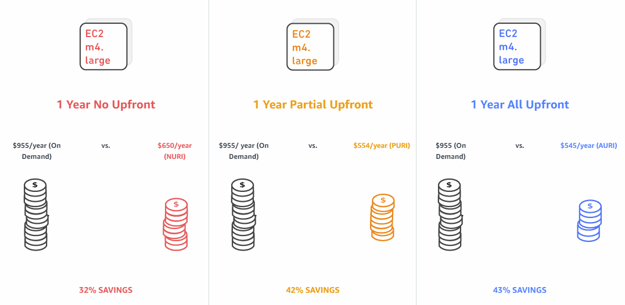 When you buy Reserved Instances, the larger the upfront payment, the greater the discount.
Pay less by using more
Providing volume-based discounts, organizations can save more by increasing usage. . For services such as S3 and data transfer OUT from EC2, pricing is tiered, meaning the more you use, the less you pay per GB.


In addition, data transfer IN is always free of charge.
As a result, as your AWS usage needs increase, you benefit from the economies of scale that allow you to increase adoption and keep costs under control.
As your organization evolves, AWS also gives you options to acquire services that help you address your business needs. For example, AWS' storage services portfolio, offers options to help you lower pricing based on how frequently you access data and the performance you need to retrieve it.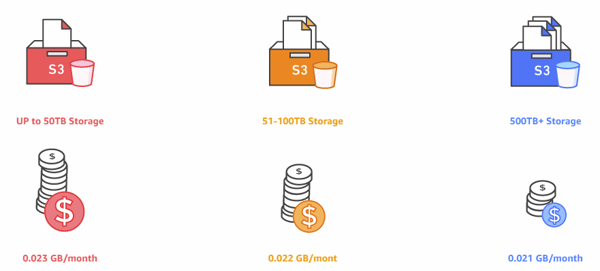 To optimize the savings, choosing the right combinations of storage solutions can help reduce costs while preserving performance, security and durability.

The pricing models give your enterprises the flexibility to grow your business unencumbered by IT.
Case Study: Reducing cost & improving operational efficiency for Drupal application with AWS
Our client which is a legal firm and helps provide jurisdiction and litigant simple, seamless, and secure access to the record of legal proceedings. They built a SaaS-based workflow management application on Drupal to manage and track digital recordings of legal proceedings, transcripts including appeals to the stakeholders.
The goal was to build a robust, cloud-based server to effectively handle the processing and access to a large volume of text, audio and video files.
Since the business model was dependent upon frictionless uploading and downloading of text and media files, AWS cloud-based server came out as a unanimous solution.
Business benefits
Simplified integration of the client's Drupal application with AWS S3, to enable flexible, cloud-native storage
As a result of going all-in into the AWS Cloud, the client reduced costs by 40% and increased operational performance by 30-40%
Dynamic storage and pay-as-you-go pricing enabled the client to leverage a highly cost-effective cloud-storage solution


Read complete case study on Cloud-Native Storage for Drupal Application with AWS

Get no-cost expert guidance
Designed to help you solve common problems and build faster, Amazon Web Services provides a comprehensive suite of solutions to secure and run your sophisticated and scalable applications.
Srijan is an AWS Advanced Consulting Partner. Schedule a meeting with our experts at no cost or sales pitch and get started with your cloud journey.