The countdown for Drupal 9 has begun. Whether you've recently moved to Drupal 8 or not, soon it will be time for another upgrade.
In the past, migrating from one version to another has been similar to moving from Drupal to just another CMS, bringing in more time and fatigue.
However, the upgrade can be made much easier and painless this time. Let's dive into more details and understand as to why moving on to Drupal 9 would be a better choice.
Why Should You Upgrade?
With end of life approaching for Drupal 7 and 8 in November 2021, operating the website on them won't be an option.
However, at the same time, it might be overwhelming for Drupal 7/8 site owners to know their website will need the upgrade. And when the site is running absolutely fine, then it might be difficult to reach a conclusion of whether an upgrade is needed or not.
Here are 3 reasons why you should consider upgrading your site:
With security patches discontinued and older versions not maintained, you need to secure your site from potential problems
Upgrade to the latest features and usability enhancements, eliminating the need of a third-party modules and extensions
Simplify and clean up content and ponder over ways to improve user experience and design
The good news for Drupal 7/8 site owners is that even when it goes out of official support in November 2021, remaining Drupal 7/8 sites won't stop working at that point.
The existing customers who wish to remain on Drupal 7/8 need to assume hosting responsibility post 2021. However, staying with older version might make you vulnerable to several security challenges, which need to be dealt with.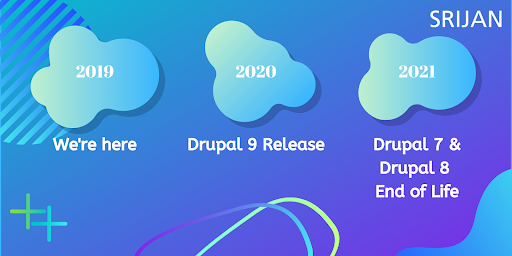 Should An Existing Drupal 7 Site Be Upgraded to Drupal 8 or 9?
One of the major reasons that 7 lac Drupal 7 sites still haven't migrated to Drupal 8, is due to the known challenges in migration process. And with the majority of people on Drupal 7, it is quite likely that most of them do not want to upgrade their CMS twice in the span of one year.
A safe bet seems to be migrating from Drupal 7 to Drupal 9. But will the site be secure? Let's get to know a few facts.
Moving from Drupal 8 to Drupal 9 is a minor upgrade in terms of functionalities, whereas it is a completely new whole thing to move from Drupal 7 to 9. Hence, it will cost you the same whether you migrate from Drupal 7 to 9 or take up the option of going from Drupal 7 to 8 to 9.
Also, with the recent upgrade, it might take some time for the marketplace to create Drupal 9 compatible modules. With Drupal 7's end of life approaching, you will have to upgrade to Drupal 9 and go live within a span of 18 months, to stay secure with your site.
However, this won't happen if you stay updated with the latest version of Drupal 8. So, it is recommended to follow the upgrade cycle from Drupal 7 to 8 to 9.
Drupal 9 Brings No New Features. Then Why Upgrade?
"Drupal 9.0 should be almost identical to the last Drupal 8 release ... Updating from Drupal 8's latest version to Drupal 9.0.0 should be as easy as updating between minor versions of Drupal 8." Dries Buytaert
Drupal 8.9 will be the last minor release which will have new features, and thereafter no new features will be added. As we will run out of single digit numbers to the right of the decimal point at 8.9, the next update gets called Drupal 9.0.
So if you have Drupal 8.9, and your site works well on it and there's no dependency on any deprecated code, the upgrade to Drupal 9 should be just like any other release.
Post 2021, no security patches will be further rolled out by the Drupal community, and moreover Drupal 7 will not be compatible with upcoming PHP versions.
A large number of changes made to Drupal 8 at the time of its release has made it relatively scalable and future-proof. It was designed specifically to make it simple to transition to the latest version, simplifying the entire migration process.
Moving to Drupal 9 would be a necessity as Drupal 8's major dependency - Symfony 3 will no longer be supported, post November 2021. Currently Drupal community is ensuring to optionally support Symfony 4 in Drupal 8, to allow sites to evaluate it before it is required in Drupal 9.
Drupal 9 will be similar to Drupal 8 and will offer backward-compatibility (refers to allowing interoperability with the previous system). This means the only way to keep the migration process easy would be to keep its modules and themes up-to-date with the latest Drupal 8 APIs, and get rid of deprecated codes as new features mark their success.
We have already mentioned how to find and fix the deprecated code in our blog - Site Owner's Guide to a Smooth Drupal 9 Upgrade Experience.
The deprecated code is being continually removed from Drupal 8 as per the data collected (as shown below).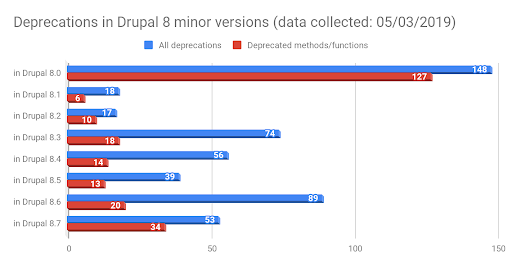 Why Remove Deprecated Code in Drupal 9?
Drupal 9 is built on the code base of Drupal 8, ensuring Drupal 8 to 9 is not a big leap. This has the following 3 benefits:
The all new Drupal 9 ready code gets deployed on Drupal 8 sites and issues can be tested.
We can work out the issues in the new code before Drupal 9 release.
Feedback is provided based on this new code and can be improved.
With time, effort is being made to make Drupal better. There are functions which have been around for a long time but will not be a good fit in the latest release. Most were deprecated in Drupal 8.7.0, which will be removed in Drupal 9.
To sum it all, the key to achieving this smooth transition to Drupal 9 is keeping your Drupal 8 site fully up-to-date.
We at Srijan are here to help with any Drupal-related questions that you might have and can help you plan out your Drupal roadmap. Contact us for a smooth upgrade to the latest release to make your site future-ready.