The Challenge
Goal management has been a challenge for firms across the globe. With multiple datasheets and applications, tracking your progress and keeping a tab on the goals can be overwhelming.
While some third-party applications do offer a viable option, not all can be counted upon. Right from expensive premium memberships, there were several problems attributed to such solutions.
On top of that relying on sheets can turn out to be risky in case one of these is misplaced or worse, lost within the pyramids of folders. Scanning through data and coming up with nomenclature to define the correct chronology is another gigantic task.
The Solution
To ensure efficient goal management and enable timely deliverables, Srijan built Lakshya. With the aim to make goal tracking easy for all, we have introduced some simple yet effective features within the application, as described below:
Create, track, manage, and update goals with just a click
Simple and clean interface that makes it a user-friendly tool
It does not involve scanning through loads of data in bulk. When needed, one can simply apply filters to pick out the goal.
Performs dual function of the checklist as well as assign list
Users can upload documents for review and the reviewer can add comments on goals and can review the same as well.
Accomplished goals can be moved from the main screen to achieve.
This also makes tracking completion history easier.
Works well both personal and professional task management.
One tick task completion
15-day notification for overdue or approaching goals
What sets Lakshya apart from other goal management systems is that it has been built with real-time feedback. Ever since its release, utilizing Hotjar, over 200 responses were collected from the users. The inputs were about the features, icons, layout, and a few other aspects of Lakshya. After analyzing the data points, changes were made to enhance the user experience for faster and easier goal management.
And with each upgrade more and more features are scheduled to be incorporated. However, the aim of this application isn't merely restricted to simply goal tracking, the greater purpose lies a few layers below.
As already described, one can view what their other team members are working on and can extend a helping hand. This open medium thus promotes trust and creates a culture of self-propelled growth, cross-training, and mutual reliability.
At the same time, it wouldn't be left around as a tool that is accessed once in a blue moon to simply enter the goal details and get done with it; the development team is all armed to create Lakshya as a world of its own. Stepping up from a mere goal management software, Lakshya is in the process of morphing into a cooler version of a virtual game. With interesting badges that will be awarded on goal completion and such other metrics and a ranking score board, it will be the positive booster for the users to stay on their feet.
Lakshya - Working Mechanism
Working with Lakshya is very simple:
The user begins with adding the goal and then works on to create sub-tasks if any. It then proceeds to add in the KPI category, followed by the due date.
One has the choice to add reviewers as well as watchers. The number of assignees for reviewers is restricted to one, while watchers can be as many as one wants.
At the same time, the user can upload various files in the course of time for the reviewers to review.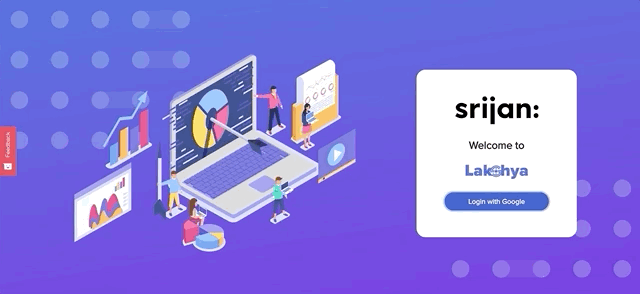 Reviewers can leave behind comments to add more value to the goals.

The completion date is to be entered by the user and freezes when edited.

Once the task is completed, it can be moved to completed history.

In case a goal is created by mistake or is no longer valuable, the same can be archived under 'Removed Goals'.
Key Takeaways
Lakshya in its current and later forms will be defined to change the way professionals track and achieve their goals. The engagement would be off the roof and would fetch some important and impactful benefits.-
Smoother work-time management and swifter approach towards the goals
Higher productivity
Better internal team coordination, motivation and cross-skill development


See how your enterprise can leverage this solution. Book a Demo