Organizations around the world had to quickly recalibrate their market coordinates to work through COVID-19 induced uncertainties. The velocity at which the pandemic hit the global markets left enterprises shaken in its wake, as well as unprepared for the repercussions. Organizations have had to reinvent themselves in terms of work culture, market adaptability, and operational processes.
Organizations today, in an effort to not allow history to repeat itself, must focus on business continuity, resilience, and agility, not just to innovate, but also to survive. Technology plays a vital operational and strategic role in achieving these goals, within and outside of an organization. As a lot of business has moved online, organizations have to ensure their IT infrastructure is robust and responsive enough to keep their workforce connected and engage with their customers at all times.
Hybrid cloud is an essential building block of this 'new normal' business strategy. According to the 2021 Hybrid Cloud Report by NTT: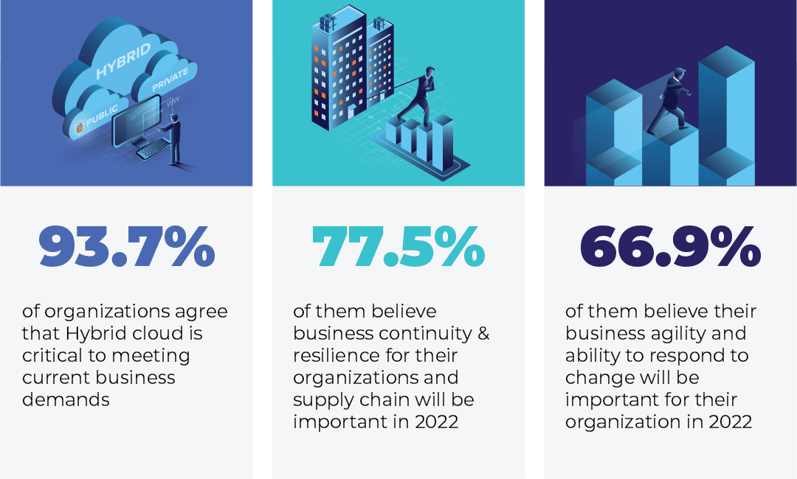 What is Hybrid Cloud?
Hybrid cloud computing is an IT operating model that combines the best of private and public clouds to offer enterprises incredible agility, flexibility, security, and innovation capabilities.
A hybrid cloud environment is a mix of on-premises IT infrastructure, private, and third-party public cloud services. The private cloud can be either hosted at the firm itself, by the cloud provider, or hosted by some other third-party service provider. A hybrid cloud is an architecture or a solution that is not offered by a cloud provider. An enterprise has to build the solution on their own or collaborate with a service provider.
A hybrid cloud is also considered multi-cloud, when it uses cloud platforms from multiple providers, such as Amazon Web Services (AWS), Microsoft Azure, Google Cloud, and others.
A hybrid cloud model helps enterprises select the best IT infrastructure for each business application. It offers greater flexibility to move workloads between private and public clouds, based on computing requirements and costs implications. A business also has more data deployment options with this model. As per the third annual Enterprise Cloud Index research by Nutanix, 86% of respondents considered hybrid cloud computing to be their ideal operating model.
Hybrid cloud computing has experienced higher growth compared to other deployment models. According to Mordor Intelligence, the value of the hybrid cloud market is expected to reach $145 billion by 2026, growing at a CAGR of 18% between 2021 and 2026.
What are the factors driving hybrid cloud adoption?
According to VMware, 'Hybrid cloud solutions offer a single, seamless pool of resources that support modern application strategies and an organization's digital transformation efforts.
From this perspective, here are some of the most important factors to be considered by enterprises for moving to a hybrid cloud model:
Scalability - The Bigger, The Better


The hybrid cloud model augments enterprise capabilities to provision, deploy, and scale resources based on the demand pattern and criticality of the data.

The public cloud offers access to scale and capacity when demand exceeds enterprise local data centre capacities. You can use an easily scalable public cloud for your dynamic workload. If an application has a fluctuating demand or dynamic usage pattern, then you can leverage public cloud services.

The stable workload and critical application data, which is increasingly becoming important, can be allocated to a private cloud or on-premise data centre.

Agile - Responsiveness at the Speed of Light


Cloud agility is the rapid provisioning of computing resources that enables enterprises to reduce the time to develop, test, and launch applications.

A hybrid cloud approach helps enterprises combine on-premises resources, private and public clouds, to match the application development and data management requirements. The hybrid cloud helps enterprises to not only quickly provision, but also access best-in-class computing resources cost-effectively.

The infrastructure agility offered by the hybrid cloud helps you to accelerate the pace of innovation; an important competitive advantage in today's digital world. Business agility helps you improve existing products and services, and also introduce new ones to capture emerging customer needs.

IDC expects 2021 will be the year of multi-cloud, as business disruption due to the global pandemic has reinforced the critical importance of business agility.

Cost Optimisation - The buck stops with Hybrid


One of the advantages of cloud computing is its cost-saving potential, with the change in financial model from capital expenditure to operational expenditure. The hybrid cloud model offers further cost saving opportunities.

A study by IDC found enterprises incurring 57% lower costs for migrating workloads to a hybrid cloud environment compared to another public cloud. The average annual benefit of running a hybrid cloud environment came to $895,400 per 100 virtual machines.



It is easy to acquire additional computing resources based on demand. However, if not managed properly, then costs may spin out of control. A hybrid cloud with cloud computing environments from different providers needs proper oversight to derive the intended cost advantages. In a multi-cloud environment, over-provisioning is one of the challenges in achieving the desired cost benefits.

FinOps (cloud financial operations) is a multi-functional team with an objective to increase the business value of the cloud for the enterprise. The team helps enterprise cloud users identify over-provisioning or inefficient use of resources by providing visibility to cost, and real-time usage data. Access to data helps users to efficiently plan cloud usage and avoid over-provisioning, thereby enabling enterprises to achieve cost optimization objectives.

Security and Compliance - On Stable Ground, All the Time

Security and policy compliance are the important factors influencing enterprise cloud strategy. In the third annual Enterprise Cloud Index research by Nutanix, security and compliance were the top-ranked influencing factors affecting the enterprise decision on their IT infrastructure model.



Enterprises have the challenging task of ensuring compliance with corporate data governance and security policies, when applications and data are constantly moving across private and public clouds. In some industries, like financial services, regulations require customer data to reside within the enterprise's infrastructure, which makes public cloud services unfeasible. Hybrid cloud helps to mitigate such risks with the option of a private cloud to store sensitive data, even as enterprises use public cloud to run other enterprise applications.

If implemented properly, a hybrid cloud model will help to augment enterprise IT security. You need to have visibility into the multiple cloud platforms and distributed systems that make up your IT infrastructure. Even as public cloud providers offer best-in-class security and compliance solutions, you need to have visibility into data backup, encryption and protection processes.

Flexibility - Always Go with the Flow

In a fast-changing digital world business needs are constantly evolving. An enterprise needs to move around applications and data sets in response to evolving technology and business needs.

A hybrid cloud model helps enterprises address the challenge of demand uncertainties. A hybrid cloud approach allows enterprises to easily scale up or downscale IT infrastructure for any sudden demand spike that has not been factored in during the planning stage. A hybrid cloud helps enterprises move application workload and the dataset across public and private clouds for security, confidentiality, and cost optimisation purposes.

The hybrid cloud gives enterprises flexibility to manage technology and business demands in an uncertain world.

Disaster Recovery - Cover All Your Bases

Disaster recovery solutions without the cloud are an expensive proposition for enterprises, with backup sites and applications to be owned or rented by the organization. Cloud computing offers an economical and flexible solution for disaster recovery, even as hybrid cloud adds to the advantages.

You can use the public cloud for less critical resources, such as backup database storage, while leveraging the private cloud for critical and sensitive resources. You can also leverage the public cloud to manage geographical risks better. You get the best of both worlds at a significantly lower cost, compared to hosting and managing a disaster recovery site on your own.
What are the challenges to a successful hybrid cloud implementation?
The technology challenges to hybrid cloud implementation include migration, security and compliance, and governance. A hybrid cloud consisting of multiple platforms requires a diverse set of skills, and management tools to effectively manage the cloud environment.
According to IDC research, enterprises have mentioned skill set limitations as the top most challenge for a successful hybrid implementation. The lack of availability of 'off the shelf products' and services has emerged as the second limiting factor in enterprise implementation of hybrid cloud operating models.
Hybrid Cloud will drive business transformation and innovation
The hybrid cloud model helps enterprises build the right infrastructure foundation for an agile and innovative business. The model maximizes cost savings and productivity, even as it drives business transformation.
Our cloud specialists can help you create the right Hybrid Cloud Operating model that provides you with much needed agility and innovation capabilities. Srijan's Hybrid Cloud consultative approach, combined with technical expertise, can augment your internal capabilities to implement and manage the hybrid cloud model securely. For more information, get in touch with us right away.