The meaning of 'headless architecture' keeps on evolving as new definitions emerge. For example, some have referred to headless commerce as 'composable commerce'. It means that you can use different, best-in-class commerce components to build applications, instead of depending on one particular component or technology. It provides the freedom to select your own building blocks from different parties, instead of one platform vendor.
While interpretation of the term 'headless' can be taken in a literal sense, it actually represents a 'flexible head'. The flexible head provides you with more scalability, flexibility, and opportunities to refine the customer experience.
In this blog, we explore how headless architecture aids in future-proofing content, as well as enhance website capabilities.
What Exactly Is Headless eCommerce?
In simple terms, headless commerce is the separation of the front-end and back-end of any eCommerce application. Headless architecture allows brands the freedom to build their application according to their wants and needs. More importantly, it enables brands to enhance the customer experience by personalizing user journeys.

One of the key features of headless architecture is the use of APIs, experience managers, and other integration platforms. Here is where IT partners play a big role. A critical part of a company's innovation strategy is delivering new functionalities and experiences that engage customers better. With the help of the right partner, your application can embed capabilities, over and above customer expectations.

For e-commerce brands, keeping pace with emerging touchpoints and experiences is the primary challenge. In the traditional e-commerce model, new experiences require major updates to both the front-end and back-end systems, which can turn small projects into huge undertakings. So, shifting to a headless mode of operation is the best way forward for e-commerce brands.
How does headless architecture benefit e-commerce?
Headless commerce is best-suited for enterprises with large development and IT teams. Custom programming is required to produce and build separate front ends and reliably map them to the back end. This involves a major investment of development hours and tech experts.

Making the switch to headless commerce brings you four major benefits:
Enhanced Employee Adoption: Many organizations are slow to embrace new technologies because of employee learning thresholds. However, a modern e-commerce platform that integrates the simplicity of headless architecture ensures easy access for all employees and allows them to update the front end, without possessing advanced tech skills.
Equipped With The Best Tools: Another benefit of going headless is that brands are equipped with the tools they need to build bespoke experiences for their customers, something that they cannot experience anywhere else. The proper use of APIs can ensure coordinated and consistent brand experiences across multiple channels.
Time-saving IT Operations: Agile practices ensure quick and continuous changes to the front end.So developers save time on UI changes. Also, for headless templates and partner solutions, developers require only low-code solutions, which can jumpstart ecommerce apps and subsequently increase conversion.
Faster Time-to-market: With headless architecture, e-commerce businesses can launch new front-end experiences quickly. Reacting to new market trends rapidly, with relatively minimal costs in backend development, is made possible through headless architecture.
Companies, who consider user experience as a key component of their business vision, should further look into how headless architecture can drive them to deliver better customer satisfaction.
What Future-Proof Content Looks Like
In the last few years, smart home devices, limitless mobile apps, smart wearables, and social media platforms have become everyday channels for a majority of users. The sheer number and types of channels that people utilize to consume brand-driven content are increasing every day. Technological advancements will ensure that such channels will only keep multiplying and evolving.

The enterprise landscape for content continues to expand rapidly as virtual reality, augmented reality, and artificial intelligence continue to get smarter.
The average internet user has an average of five profiles across various social media channels. According to a survey by ZoomInfo, about 90% of them expect consistent interactions across these channels and every additional channel which they use to interact with businesses.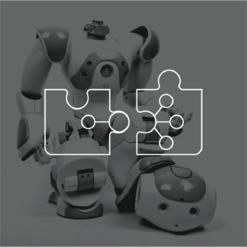 To stay competitive, businesses are required to be present on established, trendy platforms and leverage emerging technologies. In addition to being practically omnipresent, enterprise content needs to be personalized. It is common knowledge at this point that consumers receiving personalized content marketing are more likely to be converted into customers, and often spend more than initially intended. Also, about 44 % are more likely to come back for repeat purchases.
Serving relevant content at the right time and using the right channels is the most effective way to set yourself apart from your competition, engage the ideal audience, and convert them into customers.

The million-dollar question is - What can brands do to provide content that addresses consumer challenges and offers valuable solutions?
'A modern content management system that's ready for the future of enterprise content.'
Modern personalization tools help automate and regulate delivering content on different channels. So, serving content is possible, even if a new kind of technology is introduced to the content repository. With a traditional content management system (CMS), the work required to personalize and distribute high-value content across the appropriate channels would be cumbersome and figuratively impossible.

However, headless CMS is an essential piece of technology in the omnichannel world. The content that enterprises create for their website also appears on apps, integrations, newsletters, and much more. However, content management on different platforms needs to be augmented for every separate experience. This is possible only with a headless CMS.

For instance, every time your company makes an update to the way it describes a product, that update isn't copied and pasted in 20 different systems. The update is made in one centralized location and the change is pushed out to all of the places where it matters.

The true power of a headless CMS is that it works as one central source of truth for all of your company's content and assets. It gives you one place to manage, edit, update, and publish content.

A powerful statistic to indicate the need for leveraging a headless CMS for customer engagement:
65% of B2B technology buyers in particular report that they consume up to five pieces of enterprise content across channels before completing a purchase.
The Future of Websites
As content can be separated from the frontend, you can use it wherever you like. For example, the same content can be curated for your mobile app, as well for a news feed on a news aggregator.

On your development or staging server, the same content can be repurposed. When you want to develop a VR website, the same content will come in handy. All your content, irrespective of the platform it is meant to be on or the technology via which it is delivered, can be sourced from one centralized content store.
In the future, websites are not going to be simple, scrollable pages, as identical content will be delivered to customers in different ways. That is exactly why your website must be able to support content of all forms and for that to become a reality, you need a future-ready content management system.
Traits of a Future-Ready CMS
A content management system should have the right combination of features and flexibility for your content team. An ideal CMS also reduces your reliance on technical teams for go-to-market strategies. At the same time, there are must-have features for every business that a CMS should possess. Offering rich digital experiences seamlessly and intelligently is the primary purpose of a CMS.
Srijan's EzContent is a CMS that not only reduces dependence on IT teams for simple content management tasks, but also helps manage and create a wide range of digital experiences for the end user. EzContent's intelligent design allows publishers and marketers the flexibility to work together through a headless experience. Content staging, artificial intelligence-supported workflows, and a drag-and-drop builder are some of the features that empower both publishers and marketers.
EzContent also promotes a collaborative environment between publishers and developers. For example, features, such as drag-and-drop headless layout building and unpublished headless content preview, are features that require help at a development level. However, with EzContent, you can configure layouts and add components to have them seamlessly appear in the right location in the application framework that your developers have chosen to build with.
EzContent offers content management solutions, not only for traditional Drupal websites, but also for headless frontends built with JavaScript. An intelligent CMS like EzContent can prove to be a gamechanger for your business.
Get ahead with headless
A headless architecture brings more flexibility in building customer experiences. It also ensures a system that can easily adapt and transition to needs of the future. On the other hand, it requires a strong IT partner to help you to zero in on the right approach for your business.
First, you need to conduct an assessment of your existing architecture and then based on the analysis, draw out a future roadmap.. Organizations who take this approach can reap the benefits of such a flexible architecture. The faster the right content reaches the intended audience through the appropriate channel, the more nuanced their customer experience will be.
Headless architecture can help your business be ahead of the curve, gain an edge over competitors, and ensure that your business can keep up with the constantly evolving needs of your customers, right now and in the future. To be future-ready right now, get in touch with us.