Building a positive customer experience is no longer just a nice-to-have 'capability'; it is a must-have component and forms an essential part of a company's vision. Customers today have more choices than ever before. Major players, such as Amazon, Apple, and Google, have penetrated the market with disruptions that meet customer expectations by gauging their pulse. As a result, brands that do not focus on engaging experiences find it difficult to build brand loyalty, resulting in poor customer retention rates and bottom lines.
To attain customer loyalty, marketers need to ensure that their brand interaction is engaging, offers high product quality, and responsive and personalized. Therefore, businesses that quickly adapt to bridge the customer experience gap by embracing technology, agility in creating customer experiences, and apt business strategies will not only win, but also sustain themselves in this cut-throat, competitive market.
In this blog, we discuss what customers expect from a brand, the challenges businesses face in accomplishing these expectations, and how they can use technology as an ally to overcome such challenges and exceed customers expectations.
Customer Expectations: The tough nut you can crack with the right mix of tools
What customer experience is not:
A trend or fad
A digital or social occurrence
An added customer advantage
Just about marketing products and services
Businesses know that meeting customer expectations is supremely important. As a result, in their haste to create the perfect customer experience, they fail to feel the pulse of their customers to correctly understand the gap between creating customer experiences and actually meeting customer expectations.
This transpires in building multiple strategies to try and gauge customer expectations. A/B testing such strategies to unravel customer expectations, is a legit go-to technique to measure effectiveness and conversion. However, the same cannot be said for strategies that are built on assumptions.
Marketers need to heavily analyze customer data to identify the patterns and articulate the gaps in terms of customer experience. Simply put - 'Data is the new oil'. The cleaner the oil, the more efficient and yielding it becomes to drive the mechanism.
Moreover, marketers need to understand that customer experience is about building an authentic connection with your customers, based on trust and being able to deliver what your target customers truly want. Customers should be able to see business offerings as a step to long-lasting association and not a trap that is set to exploit customers and derive pure profit from them. Acing customer experience is not a one-stop job, but extends to the complete journey, as and when customers interact with your business.
The Appnovation report on 'How To Close The CX Gap In 2020 And Beyond' highlights the 4 key areas that customers expect from businesses: Efficiency, Convenience, and Knowledgeable & Friendly service. Now that we know the basic expectations, let's move on to discuss the challenges businesses face in acing these key aspects.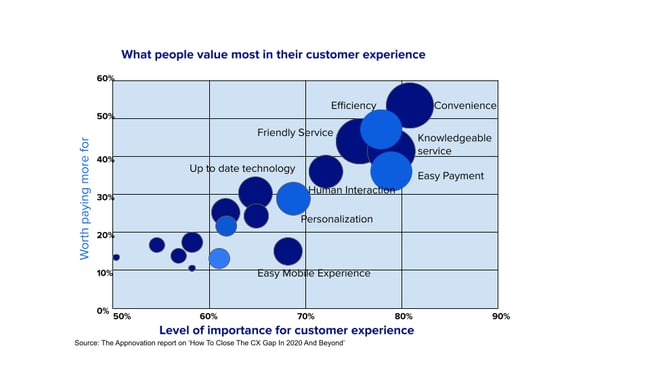 Business Challenges & How to address them
Challenge 1: Data trapped in outdated, disconnected systems
Customer experience is like a galaxy, expanding every minute and extending to different touchpoints. It is not a singular point in vacuum; instead, it is a complex web, much like neural networks, which can smoothly transfer information to execute corrective actions. Outdated systems prohibit businesses from utilizing data for bridging the customer gap due to the lack of agility and thus can lead to unintentional chaos and disgruntled customers, unwanted sales calls being a prime example.
Solution: Leverage your IT teams
The previous example is exactly what happens with outdated systems. In an attempt to utilize data, businesses often try to integrate systems with their existing setup. Of course, they do draw some benefits from such add-ons, however, they only complicate the mechanism of the systems. Primarily dependent on manual updates and maintenance, add-ons bring along additional costs for the businesses. Unless businesses modernize their systems from the core, any extra effort above and beyond that amounts to an added burden, in terms of cost and effort.
The role of IT is changing rapidly in this digital age. Customer experience relies heavily on the digital maturity of your organization. Modernization ensures a smooth transition from siloed, disparate systems to a future-ready, API-first architecture that facilitates easier and faster integrations.
Modernizing your system requires significant investments and effort. Therefore, businesses need to rope in their CIOs, CTOs, and IT teams. They can collectively identify what digital aspects form the core of your business and work together to build strategies centered around such digital assets. It is worthwhile to note that the ROI from digital transformation is evident after a certain period of time. To measure the ROI, businesses can take into account factors such as the impact on productivity, time-to-market, ease of adoption, etc.
Challenge 2: Route gone wrong - Measuring customer satisfaction in surveys and not with data
In general, surveys are a valid methodology to gather customer insights. However, the same cannot be said about it from the purview of a marketing tool. Surveys barely measure the level of your customer experience. The 2020 McKinsey report points out 4 major flaws of survey-based systems.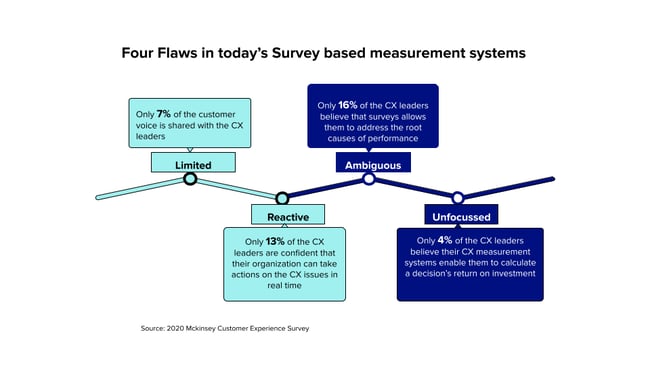 Solution: Join the Open Source Community - Diversify the egg placement to turn data into insights
As already mentioned, data is the new oil. Great customer experiences can be built with the ability to generate, aggregate, and analyze data. The Acquia report quotes that, ' an astounding 88 percent of marketers want to take an open source approach to their CX platform'. And certainly so, because using open source software eases integrations and enables marketers to experience the best of both (or in this case more) worlds. More so, it gives you the opportunity to learn and grow from someone else's trial and error with technology, since open source platforms allow everyone to capitalize on such knowledge.
Challenge 3: The Privacy Conundrum
Data privacy laws being ubiquitous in different countries is concerning marketers. This widens the gap even more for building exceptional customer experience and prevents marketers from gauging customer expectations.
The Acquia report also highlights why this gap exists. It states, 'When asked how marketers think consumers feel about sharing personal information in exchange for a superior experience, 81 percent of marketers said 'comfortable. On the flip side, just 11 percent of consumers reported being very comfortable sharing their data and 79 percent of consumer respondents think brands should not use their data to market different things to them.' This clearly indicates that marketers and consumers have drastically different views on how brands collect and use consumer data.
Solution: Addressing the Privacy Paradox
Arriving at a solution is a difficult, yet, not impossible task. There are two steps to address this. First, you need to understand the applicable jurisdiction or laws. You also need to have systems that can help you connect data points and deliver actionable insights. For the first part, your organization might need assistance and guidance from a legal expert.
Secondly, it is primarily about how to approach customers to capture the right set of data. Use tools from multiple vendors to see what works best to churn out the data you need and not stick to a complete suite of services from only one provider.
Connected Experiences = Technology + Data + People
Delivering experiences that please customers is certainly not a brand new idea. However, acing it to make it valuable, for today and tomorrow, is what really matters. So, being future-ready is a prerequisite for your business. Building and integrating systems that can embrace digital disruptions and evolve into a solution that is able to serve customer needs is the key here.
To sort your way through this maze of choices, faster and easier, you need a service provider who knows what you should expect from your platform.
At Srijan, it is not just about building a standardized 'solution', but about building one that is viable and on par with the expectations of your business right now and in the foreseeable future. To see what we can build for you, get in touch with us.