With the breakthrough of technology in retail space, it's no longer bizarre if users are carrying the world's largest shopping mall right in their pockets empowered enough to make a purchase anytime, anywhere!
Giant retailers and their brands like Walmart & Amazon have already excelled in placing these purchase tools in their customers' hands, but now are going forward intending to transform the retail model, from the factory to the store, to streamline with their customers' needs having understood every stage (retail operations) in the buying journey can either make or break the customer experience.
Retailers are now primarily focusing on leveraging the latest technology to enhance customer experience
The recent COVID-19 outbreak has significantly impacted consumer behavior, product demand, and retail store, factory, and logistics services availability. Growth estimates for global retail in 2020 expect to be halved from pre-COVID-19 forecasts, overall, but impacts across industries are uneven. Nevertheless, all of this will have a massive impact on the customer and customer relationship. And smart retailers will think of all of the scenarios and plan accordingly.
In this blog, we take a look at how retailers are adopting new technology trends, along with the possible challenges that they might face during their transformational journeys.
1. Delivering omnichannel experience should be a strategy, not trend
Omnichannel marketing enables enterprises to deliver a seamless experience to the customers, no matter if they are shopping online via their phones, or desktops, or in a brick-and-mortar store.
Per this, there are still 61% of shoppers that prefer to go with brands having a physical location as well, than the ones who are just present online. However, consumers also search beforehand on their smartphones to make sure it's worth the trip.
Thus, with so many people dependent on their smartphones before going to in-store shopping, the need for strategic and informed product content has never been so essential.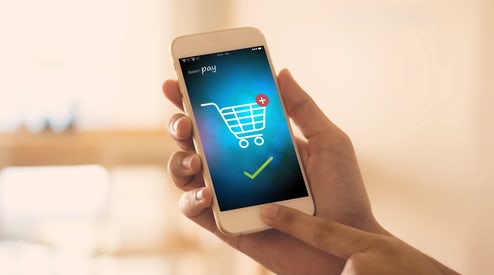 Source: The Business of Fashion
Creating this omnichannel experience across retail will become increasingly important post the COVID-19 crisis. Massive demand shifts, reluctance to physically visit the store, and minimize contact are bound to increase. Retailers need to recover their customer experience as well as continue building trust in their brand, and building a strong omnichannel strategy would emerge as the most relevant solution.
For instance, Walgreens', a pharmaceutical company, allows its users to manage their pharmacy prescriptions on its app, fill out rapid refill requests, find exclusive offers on products in the stores, and make orders that they can pick from the nearest location. While this omnichannel marketing strategy promotes mobile-focused shopping experience, the app is actually oriented towards improving users' in-store experience.
Omnichannel retail leaders must give precedence to the mobile experience- as it makes a difference between customers visiting your store primed and ready to buy or leaving frustrated and empty-handed.
2. Embracing Machine Learning to derive valuable insights

The long-standing source of real concern for retailers has been churning of the colossal amount of information obtained through big data. Given this, retailers ought to use machine learning algorithms so that they can look into the future and gain insight into customers' demand, to deliver what they want way before they express their needs.
In doing so, retailers will be in a catbird seat to manage product inventories as well as roll out the most effective marketing campaigns.
In this light; Amazon, the giant retail company reported an increment of 29% in sales to $12.83 billion during its second fiscal quarter, as compared to $9.9 billion during the same time last year.
Even more, the recommendations that Amazon doles out to users via email, or even on browser or app through its recommendation engine has led to 35% of its revenue generation from it
3. Retailers are leveraging the power of augmented reality
With a clear call for comfort and quality from customers, retailers have been tinkering with technologies, like Augmented Reality, to drive the change within the space and take the shopping experiences beyond just seeing, feeling, or testing a product. This will help plug the gaps between online and brick-and-mortar consumer experiences, leading to informed buying decisions.
Augmented reality has aided benefits for retail chains in their response to the COVID-19 outbreak. It can minimize people's contact with the actual product, thereby building their trust in the brand, and also enhancing the user experience.

As per this report, the global AR market will grow approximately 39% annually through 2023, making it a compelling opportunity for retailers to entice customers.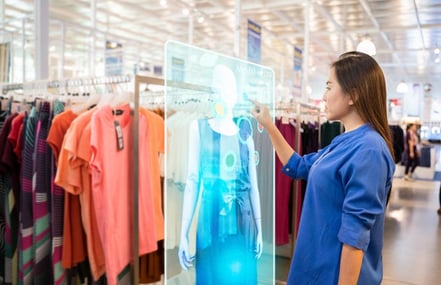 Source: Forbes
One of the biggest virtues of AR is its integration in apps and rolling out of smart mirrors in stores. This way, technology can mitigate purchase anxiety among users by displaying how colors and styles would actually look when they'll be worn or used.
This can range from virtual try-on of cosmetics, eyeglasses, and clothes, to carpeting furniture, and paint. The best AR technology flawlessly adjusts a product to match a person or room's dimensions.
For example, Sephora, a personal care and beauty store company, has deployed virtual try-on experience to let buyers try out their whole range of different products and view the look effortlessly.
It also ensures real-time assistance from make-up experts to suggest the right combination of products. Or even how to apply them in real-time.
4. Retailers exploring personalization with APIs
As online and offline experiences continue to blend, technology becomes a modus operandi in enhancing the in-store purchase experience of customers.
Land-based retailers are revamping their businesses by acquiring information through APIs and then acting on it to evaluate a shopper's in-store behavior. Not only this, but it is also being used to extract details regarding an order, its status and tracking, frequent buyer data, profile management, shopping history, and wish lists.
Further, apart from offering retailers actionable insights to tweak their omnichannel strategy, APIs also contain the potential to create detailed shopper profiles through repeated interactions to help them deliver proactive and personalized outbound marketing and tailored recommendations.
Like Melissa Shoes, a Miami-based brand employs opt-in facial recognition kiosks to identify shoppers and accordingly apprise sales associates of their arrival, thereby making employees aware of their previous purchases and preferences to enable a better buying experience. Customers can also take their photo upon entering the store for recognition on succeeding visits, and hence, enjoy personalized greetings & service.
5. Chatbots being available 24*7
Businesses are grappling today for providing optimal customer service, especially during non-standard business times. In fact, with globalization, many expect immediate customer service because, like online/digital businesses, they should be essentially "available" 24*7.
To cope up with this problem, retailers are now using chatbots to deliver faster & extra personalized experiences and correspondence, which, indeed, is more immediate than email - apart from just driving an emotional connection!
Popular apparel brand, H&M, launched its chatbot on messenger app Kik. Customers enjoyed the recommendations provided and hence user experience was improved significantly. The experience also empowered customers to choose from the recommendations, filters, and style preferences. Even more, they can share product pages and favourite items with their contacts on the Kik app.
6. Voice tech is the future of search
An interesting Capgemini report revealed that 51% of consumers are already using some form of voice assistant, while 35% are avid users, who utilize it for purchasing goods such as groceries and clothing.
Retail has experienced a massive demand fluctuation amidst the coronavirus outbreak with a large number of customers (even the older people) shifting to online channels of shopping and delivery. Leveraging voice search has the ability to simplify the customer experience for them.
To get a kick on this opportunity, many retailers have already partnered directly with the technology manufacturers to raise awareness among customers.
Starbucks and Walmart are a few of the retailers that have powered their apps to speak directly with Google, or Amazon's products.
Starbucks, for example, has integrated its Reorder app to Alexa, enabling customers to say "Alexa, ask Starbucks to place my regular order". These incorporations are yet another way to leverage voice assistants for delivering a more powerful, seamless, and engaging customer experience- and a method that any large retail brand should keep in mind.
Retailers ought to stay well-versed with the technology and ready to embrace voice search so that their brand jumps onto the top when someone says "Alexa…", or "Hey, Google…"!
Challenges For Retail Enterprises in Tech Adoption
Though brands are moving fast forward with the technology evolvement, they're still facing major difficulties such as scarcity of resources for pulling accurate data about inventory and being extremely prone to cyber-attacks.
1. Improper management of inventory due to lack of data
There are still many retailers who find difficulty in pulling data out and using it in real-time for their benefit. This, in turn, causes inconvenience to enterprises as they don't remain aware of their current inventory levels, making it impossible for them to offer a wide range of products that they comprise.
Maintaining inventory levels can prove difficult, however, it becomes more challenging to keep exact count of products in the warehouse.
Today, there are only 1 out of 5 retailers, who are assured about their inventory levels. Another 4 out of 10 are almost sure, while the remaining ones have some sort of scepticism on their ability to serve the needs of the customers.
An effective API strategy could help them consolidate information from different sources to create a more reliable and accurate inventory management system.
2. Data Security Assurance
Data security has become a major concern for customers as well as retailers. This calls for some desperate measures from retailers where they can protect customer's private data and gain their valuable trust.
Further, even after putting hard work and money in protecting customers' data. 1 out of 6 retailers experience one cyber attack or attempted attack every other single day.
However, retailers have now become obdurate to put full-stop on such attacks.
By this year-end, there is a probability that almost 93% of retailers are using adopted point-to-point encryption. (P2PE).
P2PE safeguards card data during its transmission. Moreover, 61% of retailers will also have adopted tokenization, which protects information while it's being stored in a database.
3. Legacy systems and processes
With retail enterprises being in business for decades, they have now been kind of held back by the use of defunct legacy systems and processes that make it impossible for them to manage customers' needs and understand their shopping patterns.
If such companies are keen to reinvent themselves, it should be of prime importance for them to first address their own culture for good. By doing so, the employees within the company will feel excited and motivated about supporting business digitally.
Besides, getting rid of the legacy system is not an enormous problem that can't be solved - API strategy can take retail enterprises out from this cringe-worthy situation, effortlessly!
In the End
The retail landscape is sitting on the cusp of yet another wave of evolutionary change. Brand new technologies and expectations are showing-up and an evolving consumer is moving in the quest for the complete personalized shopping experience. These soaring expectations are igniting the fire to cause another, potentially bigger wave of innovation in retail.
However, simply capitalizing on a suite of solutions won't instantly convert into success without first having a strategic vision in place. Retail enterprises must gain a prior understanding of their brand, customers, and the experience they aim to deliver, for added value and convenient shopping experience.
Looking to explore a solution for your retail? Connect with our experts at business@srijan.net