DrupalCon Seattle was my first community event of the year, and it was a great experience. Now that I've had some time to think about and process it all, I realise there's a tremendous amount of stuff that's going on in the community, and it's all super exciting.
While Gaurav already did a live roundup of the DriesNote at DrupalCon Seattle, I wanted to do a bit of a deep dive into all the key changes set to happen, and what it will mean for Drupal developers. So, here's me trying to put it all together, in one place. There's obviously going to be some things that I miss, but overall, here are my key takeaways from DrupalCOn Seattle 2019.
The State of Drupal 8
Drupal 8 is a leading digital platform across industries, with swift page loading, easy content editing, better security and huge open source community support.

It was good to see the improved acceptance rate of Drupal 8. 35% more sites are now on Drupal 8, and 48% more contributed modules are now stable, as compared to last year

70% universities use Drupal for its out of the box CMS features, media platforms and government sites(NASA) use Drupal for its security features.
Besides that, Dries also touched upon the immediate next items on the roadmap:
#1 Make Drupal easy for content creators
There's a lot going on here, and we'll see a lot of development is three key facets:
Layout building workflows - This allows editors to create and manage pages on the fly, with no developer workflow. It is expected to have a stable release launch with Drupal 8.7
Improvement in Media management - With media included in core in Drupal 8.6, the media reusability has improved a lot. Features like bulk upload, drag and drop, better media browsers are now part of the core, and we will see further improvements in media management within the WYSIWYG editor, expected in Drupal 8.8.
Improvement in Admin UI - The idea is to make the Admin UI more consistent, user friendly and clutter free by introducing a modern look and feel, better accessibility and better spacing.
#2 Make Drupal easy to adopt
The process of installing Drupal, and migrating sites to Drupal from different other sources has improved significantly. The introduction of dependency manager tools like Composer has helped in maintaining and downloading Drupal core and contributed modules.
Migration API has improved significantly. Drupal's core migration API supports different types of data sources varying from csv, xml, text, or database to database
With Drupal 9 releasing in 2020, Dries mentioned it's the right time to start migrating your websites to Drupal 8. Since there is no major changes from D8 to D9, and most of the code, core and contributed, is stable in D8, it makes more sense to get on Drupal 8 before moving to Drupal 9.
#3 Keep Drupal relevant and impactful
This means improving Drupal's capabilities to serve content to different channels, varying from web to mobile to AI devices.
One of the biggest achievements in this respect is the addition of JSON API module in core in Drupal 8.7. Thanks to maintainers and contributors for JSON API, this module is so far the best work done by Drupal to expose content via APIs, allow in and out of content, and goes well with Drupal permission and revisioning out of the box.
One last round of props to the individuals + organizations behind the #Drupal 8.7 #jsonapi work. Over 2 years of amazing effort. Thanks for kicking it off, @e0ipso! 💜 #drupalcon pic.twitter.com/e1WQ6RZ0t5

— webchick (@webchick) April 10, 2019
Moving forward, the focus of the Drupal community will be on:
Making Drupal more secure
Easier and cheaper to maintian
Automated updates
Easy upgrade path for Drupal 9
Reduce cost of ownership for developers and site owners.
Interesting Developments
There were a couple of announcements at the Con that caught my attention:
One of the great initiatives taken by the Drupal Association is to build resource materials for Drupal community. The Drupal Pitch Deck is one of the prime examples of this. The deck brings together the most successful Drupal projects delivered by Drupal agencies across industries. The idea is to help any freelancer or company pitch Drupal to their clients and showcase some of the best known Drupal case studies.
Another great announcement was around Drupal's partnership with gitlab. Going forward, this will soon allow module maintainers to use merge request, and inline editing via gitlab interface. So we won't need to host our modules on git hosting service any more, as it will be a part of Drupal.
I just stumbled across the new GitLab-driven UI for https://t.co/iGXRsx425Q repositories. Wow, what a difference! The UI is beautiful, and the UX is so improved that it was a shock. I love it. Thank you to everyone who worked on this! @drupal_infra #drupal

— Matthew Grasmick (@grasmash) March 30, 2019
The Drupal Association is also working closely with the Drupal security team on a program called Drupal Steward. This is designed to offer sites a form of mitigation through the implementation of web application firewall rules, to prevent mass exploitation of some highly critical vulnerabilities. One of the major pain points for big enterprises using Drupal is to plan their site's security releases whenever there is a crucial Drupal security release, due to timezone differences or other reasons. This program will help in mitigating the gap between Drupal security release and site update.
The focus on diversity
There was a distinct focus on supporting diversity within the Drupal community, and enabling individuals from under-represented groups to contribute to Drupal. True to that theme, about 50% of speakers at Drupalcon Seattle were from underrepresented groups.
50% of speakers at @DrupalConNA are from underrepresented groups (up from 33% two years ago). #fuckyeah #drupal #diversity @drupaldiversity

— webchick (@webchick) April 10, 2019
More on Drupal 9
With the 2020 release date, Drupal 9 was obviously big at the Con. The complete timeline with D7 and D8 end-of-life and the D9 launch looks something like this: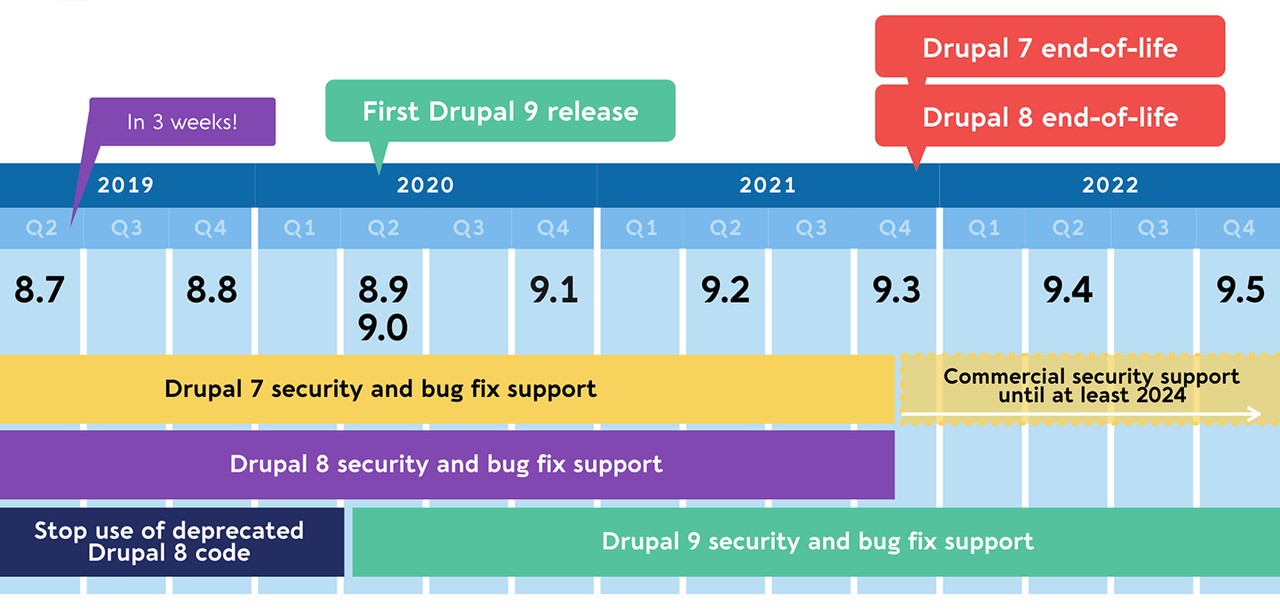 The core concept of Drupal 9
Drupal 9 = Drupal 8.9 - deprecated Code + updated 3rd party dependencies.
Reasons for Drupal 9
Given the end-of-life and release timeline, here's what is being said as the best time to migrate to Drupal 9:
It's better to migrate to Drupal 8 rather than waiting for Drupal 9
There is a significant change in code pattern and database structure from D7 to D8. But D8 and D9 are on the same track, and we expect no major migration path between D8 to D9 other than removing deprecated code.
We have one year for Drupal 9 to launch and that gives enough time for large enterprises to switch to D8 and test their applications.
That will allow site owners to experience the new initiatives Drupal 8 has brought in, and be prepared for D9.
Basically, if you are on D7, now's the time to start migrating.
Code Sprints
As a Drupal developer, the code sprints are probably the most exciting parts of DrupalCon. At Seattle, the Srijan team participated in the code sprint, working closely with Joël Pittet on Drupal 9 readiness issue list. We were able to patch 7 modules to take them a step closer to Drupal 9:
Going ahead, Srijan teams will be regularly contributing to Drupal 9, to make it more powerful for everyone.
So that was my roundup from DrupalCon Seattle. Anything I missed?
Please let me know in the comments below your impressions from the Con, and if you would like to add some interesting perspectives to the road ahead for Drupal.