Enterprises the world over now have Drupal as a key component of their digital strategy. However, it can be challenging for them to scale up their continuous development operations for Drupal. The reasons can be many: some find it too expensive to have onshore teams support them. Some enterprises do not have the confidence in their multinational system integration partners to deliver expert Drupal services that is business centric. Some, like Flight Centre, have tight workflows which an outsourced agency would find hard to match pace with. In all such cases, Srijan is helping enterprises get comfortable with outsourced Drupal development and consulting services. This is the story about Flight Centre and how it decided to test whether outsourcing was feasible for them or not, and eventually contracted Srijan as a long-term development partner.
Flight Centre (FC) is one of the world's largest travel agency groups. It has company-owned operations in 11 countries and a corporate travel management network that spans more than 75 countries. It employs more than 15,000 people globally and has a total of 2500 stores.
To enable its operations, the company has developed multiple products to enable smooth running of their business workflows. FC runs a very tight, highly secure, and well run development process. Their IT setup has multiple third party integrations with Drupal, and is quite complex as they have created and extended a lot of custom and contributed modules. FC's stringent design/code reviews help in maintaining the intrinsic quality of the product to make sure their daily product releases go as per plan without any hiccups. A very strong organizational workflow is designed to enable such quick rapid development and frequent releases. This brings agility to their business.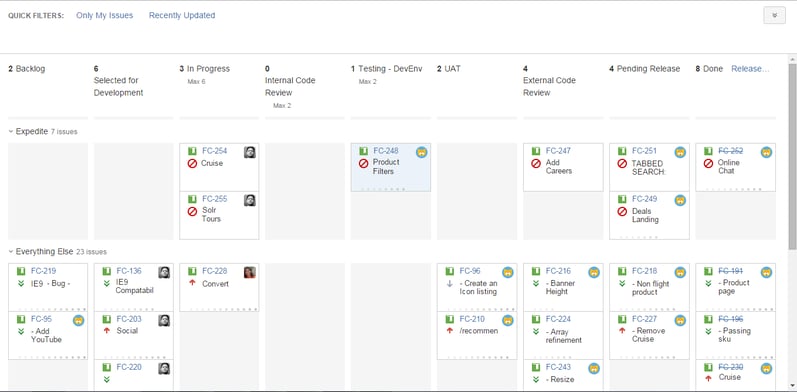 So it was but natural for FC to think that outsourcing any development would likely not work out for them. When Srijan met the FC team at DrupalCon, a conversation started on how outsourcing product development work has worked out well for Srijan's clients like TheRecordXchange and OnCorps. Over multiple conversations FC decided to test outsourcing waters by contracting Srijan for two sprints. The work involved working on tickets related to their travel portal. Here is how FC decided to extend it to three more sprints, and then went on to hire Srijan as its continuous development partner.
Adherence to code standards: FC has had great expectations from Srijan on many counts. One of them was code quality. FC follows stringent code reviews to ensure that all Drupal, JS, HTML/CSS code adhere to best practices. Srijan's team was able to quickly adapt to their development lifecycle process while ensuring total adherence to the FC code standards. FC gained confidence in Srijan's capabilities and was happy to see Srijan pick-up speed by the second sprint, and come back to FC's team to take on more stories from the backlog.
Working in FC's Agile environment: FC runs its own JIRA instance to track its workflow. Srijan has been using JIRA for several years now and has a mature JIRA Agile workflow inhouse. In this project, Srijan was required to log into FC's instance and track work and make updates. However, because of technical issues, Srijan's team would end up spending about 20 minutes, just trying to log in. This had a huge impact on productivity. Srijan proposed that the sprints be run on Srijan's JIRA instance. While this meant an additional workload for the FC team, they graciously agreed, as this would quicken things up in development. Srijan's team reconfigured the JIRA workflow to better represent how the work with the FC team must happen.
Use of tools: Srijan uses various tools to streamline work. Other than JIRA, Srijan uses Ideaboardz for conducting retros with the FC team along with Skype. Planning Poker is used in sprint planning. For inhouse project communication and management, Slack is used, which also keeps the client team in the loop.
Communication: As the work time overlap between India and Australia is pretty narrow, it was important for communication to be efficient and effective. Srijan's process involved in-house standups, immediately followed by a 10-min stand-up with the FC team. Sprint planning would take just one hour. The credit goes to the FC team for writing the backlog very well. Retros would be run for 20 mins. The focus during all communication was on seeking help and communicating issues while keeping a problem solving approach.
Leveraging time zones: The FC team was able to leverage the time zone difference by having a Drupal team working during and right after their work hours. This enables them to deliver a lot more releases within a shorter span.
Switching from Scrum to Kanban: After a few sprints Srijan realised that the sprints were getting delivered and tested at the development environment on time. However, code reviews and releases were taking longer. So the entire process, from story concept/writing to having it working on production was taking more than two weeks. This was because the workflow had items which needed other teams such as FC core developers to perform the code review, and devops team (for the releases). Hence, although development was complete from Srijan's point of view, it was not made live due to dependencies on other teams. We were, thus, unable to close the sprints.
So Srijan switched to Kanban - Continuous Flow model to measure throughput over measuring velocity. This model has really worked very well for Srijan, and the FC team is able to eliminate any bottlenecks in the story as it flows to the production.
FC is happy that Srijan's team asks questions that are important from the development point of view. They are also happy with the smooth and streamlined communication that happens between the teams. FC has now contracted Srijan to continue work on the travel portal for a year.
Here is what our client has to say:
Srijan have become a very valued part of the extended Flight Centre team and are integral in our Digital plans to improve our retail brand websites. From the beginning Srijan have been open to feedback and have made some core changes to their team structure and processes so it better aligns with Flight Centre's approach and as a result we are seeing great benefits in our partnership with Srijan. We only see this improving over time which promises to be an exciting period in the future.

Luis Landaverde, Digital Portfolio Manager. Flight Centre Travel Group
Explore how Srijan can help you scale up enterprise Drupal teams, and deliver as per the distributed agile development methodology.