Sustainability, reducing environment impact & similar issues are fundamental to Srijan's values and it's only expected to see our involvement and concern for the same. For Drupal Camp Delhi 2019, Srijan partnered with Grow-Trees to drive tree plantation campaign.
DCD 2019 is the largest annual Drupal India conference attracting hundreds of web developers, designers, executives and educators who are engaged with teaching and learning Drupal.
Unlike the other times we surprised the audience with an initiative to give back to the planet and got a great response too.
The booth attendees were given a pamphlet with a scannable QR code. For every QR code scanned, the person's details were sent to us through whatsapp and to be subscribed for our job updates. The details were then shared with Grow-Trees, who planted a tree on their behalf, reaching to a total of 59 trees.
Grow-Trees ensure regular check ups from planting different trees grows and carefully nurturing them.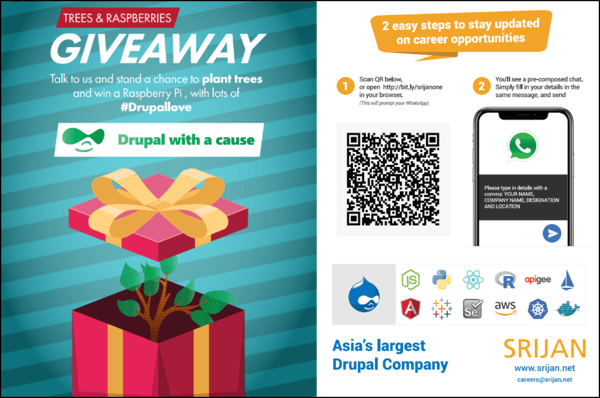 Srijan's penchant and gratitude towards the Drupal family explains the hashtag #DrupalLove on its e-certificates to people for planting a tree.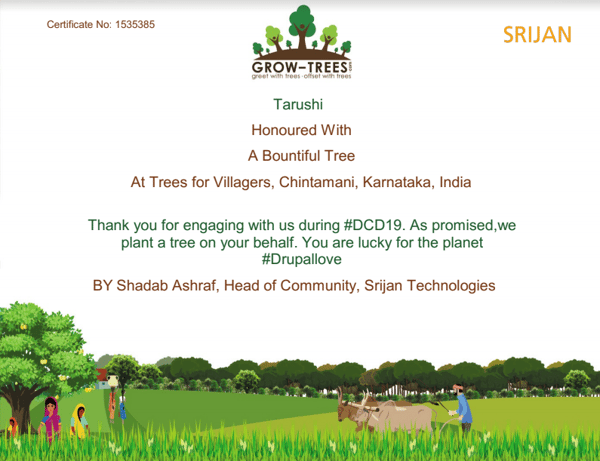 As a well established Drupal company, Srijan continues to embark on the trend of collaborating with businesses dependent on an open-source ecosystem livelihood, in a constant need of communal contributions.