With large scale closing of stores across the US, it's easy to believe that brick and mortar stores are in decline as online retail takes over. However stats from HBR reveal that:
20% are online-only shoppers
7% are store-only shoppers
73% of shoppers use multiple channels in their shopping journey
This clearly implies that it is no longer about the channel being used. The line between online and offline retail is blurry, as customers are willing to switch to different channels depending upon their need and the experience they get.
That's where the idea of 'new retail' comes in, bringing in a whole new level of experience for the customers by blending the digital and in-store retail experience.
One segment that's heavily involved in leveraging the 'new retail' experience is the beauty industry. And their technology of choice to drive this is Augmented Reality (AR).
How Does AR Fit into the Beauty Space
Augmented reality involves blending the users' real-time video with digital overlays to create new experiences. And that fits in perfectly with the beauty industry's need to create a customer experience where people can try out as many products as they want, before making their final choice.
AR-enabled virtual makeup app lets buyers experience the product look on them with just screens in front of them. Eyeglasses, lipstick, eye shadow, nail colour, jewellery, even clothes - customers can try and buy entire collections without leaving the try-on screen.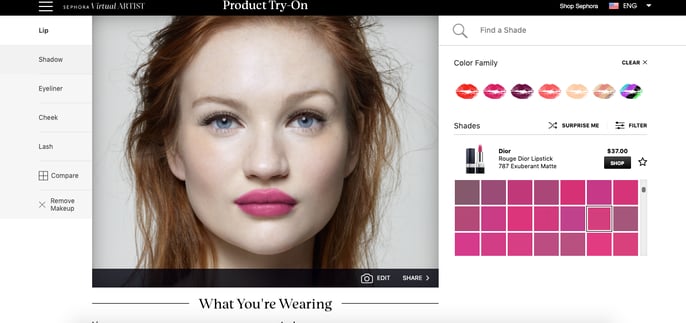 Global beauty brands are currently offering a whole host of new buyer experiences powered by AR:
Sephora's virtual try-on experience allows buyers to try out entire combinations of different products to view the final effect
Individualized hair and skin analysis based on real-time video or pictures clicked on an app, as offered by brands like Olay and Clinique, enable personalized product recommendations
Real-time assistance from make-up experts as users try on different products in the AR app, to suggest the right combination of products. Or even how to apply make-up products in real-time.


All of this is made possible by several significant developments around facial recognition, feature tracking and computer vision. These combine to create the advanced AR applications that almost all global beauty brands are currently investing in.
Major brands like L'Oréal and Ulta Beauty have invested heavily in AR beauty tech and acquired Modiface and GlamST respectively. Both these are tech firms that specialise in AR-powered virtual makeup app solutions, that are now working exclusively to create a whole range of proprietary AR solutions for these brands.
PerfectCorp, especially with their YouCam Makeup app is another AR giant dedicated to the beauty space. YouCam Makeup is currently powering AR virtual try-ons for several brands, alongside a few other well-known names like Memoni, FaceCake, and Holition.
Why Virtual Makeup Apps? What are the Gains?
Yes, AR is the newest kid on the block when it comes to creating exciting buyer experiences. But investment in AR based beauty tech is not simply because it's the 'cool' thing to do, but rather driven by current market trends and consumer preferences.
Case in point would be data from PerfectCrop, that shows that users of YouCam Makeup app are:
1.6 times more likely to purchase beauty products, as compared to those who don't use the app
Spending 2.7 times more money on beauty products, compared to those who are not experiencing virtual try-on
So here's a close look at what beauty brands stand to gain with their investment in AR:
Targeting Millennials
Millennials and Gen Z would rather take their beauty advice from a Youtube or Instagram influencer, than from a make-up advisor at a retail store. That's reflective of the fact that they choose to trust people they have a relationship with (albeit online) or sample everything before buying anything.
Given that this demographic is digital-native, AR-enabled virtual makeup apps are the perfect way to engage them. After all, trying out entire collections without reaching out for even a tissue box, is a super convenient customer experience. And it also leads to an increased probability of purchase, as well as higher spending on cosmetics.
Brands like L'Oréal are using AR to strengthen their digital platforms and engage with millennials and Gen-Z on social platforms of their choice. As a result of this digital engagement, L'Oréal reported 50% revenues from online product sales in certain markets.
Bring Digital Experience to Brick-and-Mortar Stores
Retail success today is all about the consumer experience. While the millenials and the Gen Z are quick with the apps, there's still a large consumer segment that does go down to the store to buy beauty products. And even for them, being able to try out the products, especially on their own skin type and tone, remains an important determinant of their final purchase.
Read how Srijan helped a prestige cosmetics and fragrances brand increase engagement and aid instore beauty advisors with virtual try on app.
Enabling AR mirrors at the beauty stores can offer this set of consumers the same ease and convenience in terms of sampling different products. This, combined with personalized beauty assessments and tips from in-store beauty advisors can become a novel experience for buyers. The physical store thus offers a more simplified virtual try-on experience for customers who are not that tech-savvy, while driving a similar increase in purchase and spending.
Personalized Beauty Advice
Neutrogena's Skin360 or Clinique's Clinical Reality app can quickly analyze close up images for your skin to give you recommendations for skin care routine and products.
Beauty brands are also using AR to showcase the actual impact of a product on the users' face or skin after months of usage. Watching your own possible transformation with the use of a particular product, rather than a generic before/after image, takes beauty personalization to a whole new level.
Because product recommendations and impact are showcased in the most customized and immediate manner, it acts as a powerful push, significantly increasing the probability of purchase.
Leveraging Individual User Data to Upsell
The increased use of AR virtual makeup apps allows beauty brands to collect data on consumers across several parameters. Skin type, tone, product preferences, make-up styles and past purchases are important data points for brands to leverage. Knowing this gives them the ability to prompt the right products to their users, that are based on their own usage history. Showcasing new launches and offers on products that are most relevant to a particular user drives increased spending on beauty products.
Challenges to Expect for Brands Investing in AR Beauty Tech
The whole concept of a virtual makeup app revolves around giving buyers a product sampling experience that's as close as possible to the real experience. So the AR application and how it feels to the user has to be absolutely flawless, if it is to be highly adopted by users.
Two common challenges that most brands have faced so far are:
The Lagging Lipstick
AR applications have to capture video, overlay makeup at the right places on the screen, track moving features, and ensure that the overlay closely follows the right feature, all in real-time. If this is done well, you get the perfect lipstick and winged eye-liner that stays in place as you look at your face from all angles.
However, it is one of the most difficult aspects to perfect, in any AR application. If not done well, you are left with lipstick that lags behind on screen, even as you move your face. And that just breaks the whole illusion.
Getting the Right Product Sample
It's important to get the colour and feel of each product across multiple skin types and tones just right. So the images used to create overlays have to include all different possible combinations, as well as reflect the right product texture-shimmer, glossy, matte and more.
Collating all those images is a massive undertaking, but absolutely critical if you wish to offer a great virtual try-on experience.
But challenges aside, the gains from AR-based virtual makeup apps are real, and very significant. And with an optimistic 700 million consumers using virtual try-on experiences, it's high time your brand offered AR beauty tech to buyers. In a market where consumers are generally loyal to particular beauty brands, especially when it comes to skincare, offering engaging AR applications can be crucial to maintaining that loyalty. That, and to sustainably increase their market share.
Looking to create compelling AR-based virtual try-on experiences?
Srijan is already working with brands like Estee Lauder, leveraging the most advanced beauty tech to create custom solutions. Drop us a line, and our team of experts will be in touch to explore how we can help.