Like many traditional businesses, real estate has been slow in tech adoption to modern tools and technologies. However, the coronavirus pandemic has been a disruptor unlike any seen in our times, forcing sweeping changes to how people live and work.
This increased reliance on digital has acted as a tip-off point for businesses to expedite their digital transformation amidst the challenges they face in COVID-19.
Acting as the ultimate tech disruptor, the effects of COVID-19 and social distancing could outlast the pandemic, presenting a greater opportunity for the proptech industry to adapt & evolve.
Here are top 5 expected technological innovations that will likely see a rapid acceleration in the proptech industry.
What is PropTech?
According to Forbes, "PropTech refers to businesses using technology to disrupt and improve the way we buy, rent, sell, design, construct, and manage residential and commercial property".
It is characterized by the massive implementation of emerging technologies such as home matching tools, VR, building information modeling, AI, IoT, blockchain, and smart contracts.
No-touch experience accelerating digital experience
We can attribute the rise of the shared trends to one key factor; preferred no-touch experiences.

Touch has profound benefits for human beings. In the past, it has helped us feel connected. Shaking or holding hands helps us trust others.

With the COVID-19 pandemic, people have become increasingly cautious about socially touching others and this is expected to get worse. The pandemic could very well have long-term implications – reinforcing already existing perceptions that touch should be avoided. And experts believe the effects will linger for longer.
95% of consumers want companies to implement physical protection and distancing measures to help keep them healthy.
While consumer-facing tech like automated valuation tool and conversational bots hold great promise for proptech, updates to behind-the-scenes infrastructure could be the key to growth.
Contactless experiences are predominating over multiple touch points. In a report from MasterCard, roughly three-quarters – or 74% – of respondents note they will keep tapping into contactless after the pandemic. The data also points to over 40% growth in contactless transactions around the world in Q1 2020.
As Blake Rosenthal, executive VP of Mastercard Acceptance Solutions rightly said "Social distancing does not just concern people's interactions with each other; it includes contact with publicly shared devices like point of sale terminals and checkout counters."
Accelerating digital transformation, the contactless touch in proptech will offer consumers a safer way to interact and more control over physical proximity.
Key Real Estate Tech Trends Post-Covid
Although a relatively young field, proptech startups have already raised over $43 billion in funding worldwide since 2012. In 2018 alone there was an 82% increase from the year before.

In recent years, the industry has been growing steeply with the value of real estate tech deals close to 6.3 billion USD globally. PropTech has been the blue-eyed boy for the VC and PE fraternity. According to CB Insights, global investment in proptech businesses and real estate startups reached $8.9 billion USD in 2019, far above the $1.7 billion in investment just four years earlier.
Virtual Reality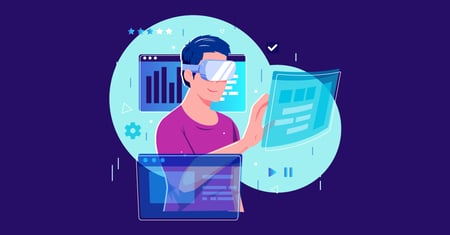 According to a survey by the National Association of Realtors, nearly half of all potential homebuyers search for properties on the internet first. Virtual reality and augmented reality will make the online search and home buying experience even more exciting and accessible.
Real estate buyers or leaser's highly favour a physical visit to check the property. During lockdown such visits were distinctively possible. This gap was bridged by technology that helps enable virtual tours. Various real estate firms brought in 3D virtual tour features to their websites to ensure seamless experience. Proptech products like Matterport which helps in scanning and creating 3D virtual tours were extensively used.
If nothing else, definitely this enabler will help reduce the lead conversion time for the leasing companies as the user can view properties without stepping out of their house.
Chatbots
Bots have truly proved themselves worth the investment in various industries from finance to healthcare. It certainly proves as a catalyst in the deal closure chain. At times during lockdown when the contact centres were either shut or running on a very low capacity bots came to the rescue of many.

Smart AI based chatbots helped in closing on initial queries from the client and ensured that the lead is qualified further and then passed on to the sales team. With the observed benefits (listed below) the adoption of chatbot in the real estate market is bound to grow even post Covid-19.
Real-time Enquiry
24×7 Availability
User specific engagement over filling enquiry forms
Better Time Management and qualified leads
Automate follow-up process - mail, text
History of interaction with CRM integration
Schedule property viewings and virtual tours if the lead has further qualified in the sales funnel
Voice Support
As per a Google report, 27% of the world's population currently searches using voice search on mobile. Of these, almost 70% of the searches are done using a natural or conversational language. What this means for real estate sites is that the site needs to be optimized for both text and voice search for better SERP.

Since voice search is contextual and intent-based, a typical search for an apart-ment might look like this -
Query 1 - What are the best apartments for rent in Upper West Side?Followed by,
Query 2 - Can I keep pets here?

As can be seen, the second search string may not be able to pull up any relevant search results if the site is not optimised for contextual search.
Futuristic trends of real-estate technology
Smart Buildings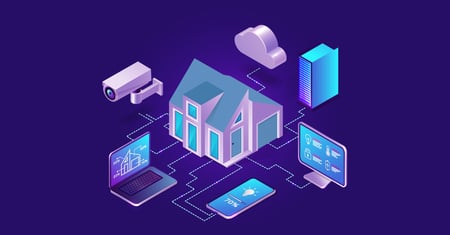 The buildings of today are smarter and connected then they used to be in the past. Landlords might take a leaf further in this direction to make them safer for the residents given the current times.
Further innovations might be observed to ensure the check-in process in office's and multifamily buildings. The process could present a highly connected experience starting from the users entry into the building, where an authorization check is performed. This check can trigger a notification to the connected escalator informing about the user's presence. The escalator can be fed with the floor on which the user would want to go thereby ensuring a complete contactless and seamless experience.
Amazon recently launched Alexa for Residential that is aimed at making property management easy for Alexa powered smart homes. The idea is to make Alexa a tool for property management by easing the way residents submit maintenance requests, make amenity reservations or even pay their rent via Alexa.
Scheduling tools
A higher emphasis might be placed on maintaining low density. Smart schedulers could kick in to help office buildings in ensuring optimal use and avoiding high density. Employers might ask their employees to use such schedulers to book meeting rooms, office cubicles etc. all this to ensure to keep the office less crowded and employees visit only for important meetings. A live dashboard will always be available for visibility of available slots.
Conclusion
Every calamity is an opportunity to scale new heights. In order to be sustainable and to continue to attract talent and capital, the PropTech sector needs to focus on - integrating digitalisation with operations and solving real problems of inefficiency, including understanding the relationship of real estate and cyberspace in order to capture the value created by control of both.
Digitalization, cloud adoption, big data and analytics, and artificial intelligence have all accelerated and paved way for growth in proptech in the future because of the pandemic.
To cater to modern consumer demands right and expectations and prop-tech companies need to focus on reducing various points of friction in the process of buying houses by leveraging above-mentioned tech trends.