In June, OpenSocial launched one of its kind contest inviting developers from Drupal community to contribute and win a free ticket and flight to DrupalCon Amsterdam. Jyoti Singh, Sr. Drupal Developer, won the bounty and is all ready to visit the city of canals. ✨
A regular contributor at Srijan local code sprints, elated Jyoti says, "I am very excited right now but honestly wasn't expecting anything when I participated. I did this because I love contributing and what better opportunity than getting DrupalCon sponsored in return".

DrupalCon is an international conference where the Drupal community joins together for a full week dedicated to sharing and growing Drupal skills. DrupalCon Amsterdam happens from 28 - 31 October 2019.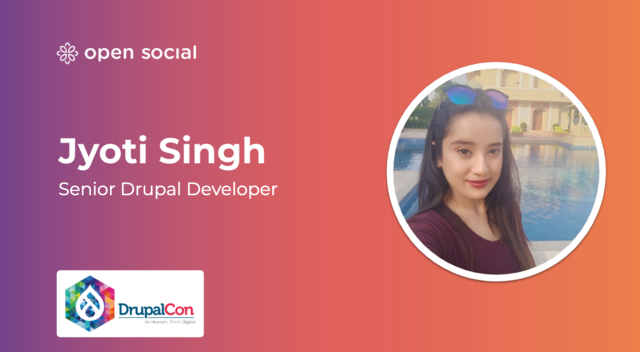 What was the Contest?
The contest required participants to:
Visit the bounty issue queue
For each issue credit on an issue marked with the 'OSBounty- DrupalConEU2019' label, participants would receive an entry ticket for the lottery. Only Open Social maintainers can add this label.
Once done, participants would be automatically added to the lottery for tickets to DrupalCon Amsterdam 2019.
Excited for Contributions at DrupalCon
A regular at DrupalCons, Jyoti looks forward to the code sprints and contribution days "I remember in Vienna (2017), there were areas dedicated to distributions and issues. This is a really good opportunity to meet the core distribution and module maintainers and many such important people in the community. Meeting them is inspiring, where you know about the road map of such distributions and plan ahead what you can deliver to your client. Afterparty is another place to enjoy and network."

OpenSocial provides social business software to build and manage community strategies effectively while keeping your community safe and secure. One of its kind bounties, it is a great initiative by them, encouraging developers to contribute to opensource and make it better.