Tour and travel business has started to catch up in the digital realm. In fact, it's growing faster than the total travel market. It is predicted that by 2020, the overall tours and activities segment will grow to $183 billion.

A clear opportunity for businesses in the travel industry.
Despite your services being authentic, not choosing the right technology to back up your digital transformation can make the entire game plan chaotic, tedious, and not to mention a loss in revenue. Drupal is the leading choice in the travel industry (we have some case studies lined up).
Here's why it can be the right option for yours too.
What Difference Does it Make?
Travel marketers know and as business owners, you too need to understand that in order to deliver value to the customers they need to be invested in the user experience beyond the first click. It's all about 'what they want'.
Here's where the right CMS technology needs to focus on:
Need for speed: More than half of the users will leave a site if it takes more than 3 seconds to load. Your CMS needs to provide you with the ability to track the site speed performance. Further, for mobile sites, the technology needs to be AMP friendly.
Going ga-ga over mobile: Today, 48% of mobile users in the U.S are comfortable researching, planning, and booking an entire trip to a new travel destination using only their smartphone. The CMS should help in making the mobile site an assistive and delightful experience, exactly what customers are looking for

Travel blogging is popular: Consumption of digital travel content sees double-digit growth year-over-year. Not just this, when planning trips, 49% of people look at travel content sites.
Videos on the same hand provide an authentic outlook on the experience and travel vlogging is gaining traction. The CMS should be scalable and help you leverage the power of content.
Layout matters: Travellers' basic needs have remained the same - they want to experience. A clear and easy-to-navigate layout will help the user get most out of it. Your CMS can help you avoid irrelevant navigation links and nontransactional elements that can be distracting to the user.
They 'Book' right now: Any action you want a user to take must be obvious. Use of contrasting colours and fonts for high-visibility should come easy with your themes. Also, most hotel bookings turn out to be last minute, rather than pre-planned which shows how critical is your CTA.
Drupal for your Travel and Hospitality Website
Anything travellers expect to accomplish online should be just as easy to achieve. Here's what Drupal can do.
1. Content Friendly and Scalable
'Content' and 'more content' has been gaining traction lately in the business shelf space. As consumer expectations grow for more personalized and relevant experiences, travel businesses too are running in for more content.

For travel visitors, a website which offers them a lot of engaging content without encountering many blockers always wins the hearts.
Nearly 9 out of 10 customers tend to walk over to a competitor's website when your website goes down.
Drupal scales to support the most content-rich sites and experiences. It lets you create every kind of content you want. And it can help you handle it - and ensure your site always runs in turbo mode. As holiday planners throng the internet with their booking during the holiday season, you must be equipped to avoid any unfortunate downtimes.

Besides, it is highly flexible, capable of accommodating and organizing your information into structured blocks for better visibility. It's WYSIWYG editor is best for easy content adding.
2. Multilingual capabilities
While building content is a good way to start, it needs to reach out to the right audience too. Acting on consumer intent and preference is one of the keys to unlocking growth.

Do you know that your most likely customers can be found in non-English speaking countries - like China, Germany and Hong Kong with a maximum number of international departures? This factor, however, should not be the reason why any person should walk away from your website. .
Drupal 8 multilingual initiative helps you rebuild language support to target an international audience. Providing content translation in an additional 94 languages, the four core modules (Language, interface translation, content translation, configuration translation) make it easy and efficient for a multilingual travel business.
3. SEO friendly features
Once you got your content up on your site, it is important to ensure people can find you on search. Search is, after all, the number 1 channel high-value travellers turn to.

When travellers search with the intent to book, they browse through one to five sites.

You can rock your SEO with Drupal. With more than 20 SEO modules and core features, it can optimize your site without breaking any best practices. Modules like - Path alias, meta tags, Alternate Hreflang Module, SEO Checklist Module, XML Sitemap, Google Analytics, Linkit are easy to get started with.
4. Layout and Navigation
Labyrinths and twisted lanes appeal to tourists and travellers, but the same on your website will not. Navigation must always be easy and intuitive. The whole point of successful UX is to let the visitor easily get the information they want without driving them mad.
Taxonomy in Drupal can help you define tags, tabs and call-to-action buttons helping you highlight the key terms.
Layout builder can help you with your page building capability without restrictions. It is unique in offering a single, powerful visual design tool. Layouts for templated content, customizations in it, and creation of custom pages which are not tied to a content type or

Having the ability to customize blocks without the need to code, you can highlight your services, recommendations and offers with different campaigns.

The search functionality is an easy addition for navigation. For travel, it is important that they can look up for their exact needs.
In addition to providing you with an incredible SEO, Drupal has search APIs like Federated Solr and Solr Search. Not only do they provide the user with the easy search but it helps index the content, too.
5. Mobile friendly
People who have negative experiences on mobile are 62% less likely to purchase from that brand in the future than if they have a positive experience. It's critical to remember that mobile is one big part of the user experience.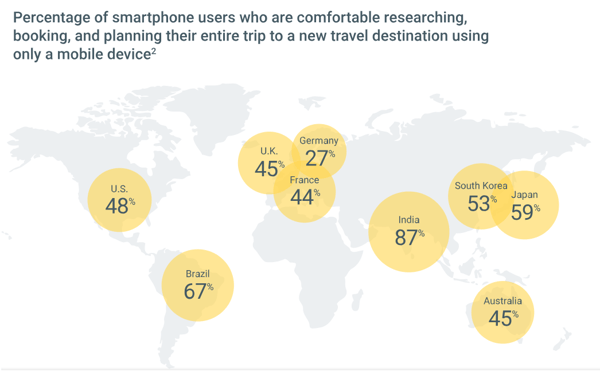 Your mobile version should be responsive without cutting out important information, easy to navigate and demonstrate how you deliver benefit to the visitor.
Drupal 8's very essence is accessibility because it was made with mobile-first usability. Drupal supports responsive design, best practices, and ensures your users get a seamless content experience every time, on every device.
6. Secure payment gateway
Nothing is more troubling to a visitor than the thought of making a payment which is conned. This can be an absolute deal breaker. Security is therefore very important for your reputation.
Drupal Commerce, supports the core payment API, for a smooth payment collection procedure, through the check out form. It offers you feature-rich payment access, integration with Paypal, Brain tree, Amazon Pay and 106 other additional gateways.

Improving Digital Experience and Commerce Platform for TUI India

TUI Group is a multinational travel and tourism company, headquartered in Germany, with presence in 180 countries. TUI India is part of the TUI Group.
We built a new architecture for the website to strengthen multiple functionalities, like integrating the site with Salesforce, PayU, Zomato, and other APIs.
It helped improve user experience with additional features.
Read the complete case study here.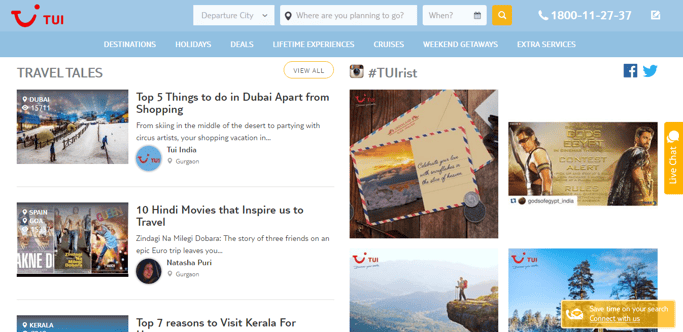 7. Improve your Marketing
For businesses, it is important to track, analyze the user behaviour and provide them with personalized services. Third party tools such as CRM, Google Analytics, Feedback tools (like hotjar) help get the 'bigger picture' on how to improve user experience and increase conversion rates.

Drupal offers easy integration with enterprise-level CRM modules, ERP systems, social networks, real-time analytics, payment gateways to enhance the versatility of your website.
This ensures that your website visitors can find a solution at each step of their travel planning.
Enabling Cleartrip's Marketing Teams to Quickly Serve New, Relevant Offers
Cleartrip.com is a travel portal that offers travel bookings for flights, hotels, trains and buses. The company primarily functions in India and the Middle-East geography.
Srijan developed a new marketing portal for them which simplified their process of presenting deals to their customers. We helped them:

*Build ready-to-use templates that help team deployed offers and packages quickly
*Ability to replicate deals across different country domains easily.
Read the complete case study here.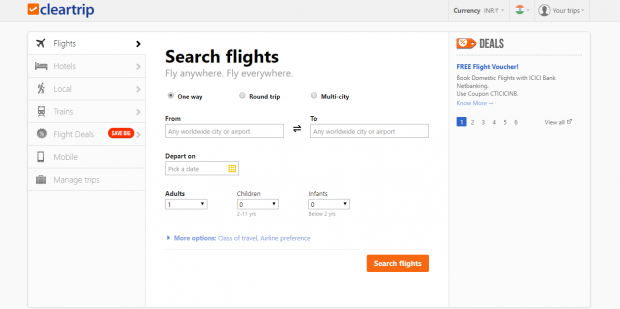 8. Easy website setup with travel utilities
For quick assistance, to develop a travel website, Drupal has BAT.

The Booking and Availabiliy Management Tool (BAT) comes in handy when you want to
provide your customers with facilities for booking and reservation while helping you manage the availability at the accommodation concerned.
An incredible result of the collaboration between BAT and Drupal is Roomify for Accommodation, which is, in essence, an all-in-one solution for vacation rentals, hotels and agencies with multiple properties.

Besides this, you can use BEE. Yes, the Drupal module BEE - Bookable Entities Everywhere grants the booking and availability features to all node types. And it is built on BAT.
Bon Voyage!
With the capability to build you a website which can be used to plan and execute a vacation, Drupal is a powerful, secure and highly reliable platform. It not only helps you retain customers but also win over new travellers.
With stability and versatility, your website can support a large volume of content, personalize what you offer, and smoothen the workflow reducing any extra work.
Contact our experts for a bon voyage!