A little while ago, convincing B2B marketing professionals to use the storytelling concept for engaging customers was considered as a heavyweight task.
Fortunately, things have changed now for good. Marketing pros in the B2B sector have now realized the value that storytelling brings in and are implementing the same as part of their marketing strategies.
However, it no longer remains easy as shelling peas since the competition has become quite intense. Therefore, it's of great importance to understand the do's and don'ts while you capitalize on the potential of storytelling as your next deliberate marketing move.
Yes and Nays For Your Next Storytelling Campaign
These tips will help you avoid common mistakes and in fact, you can take your storytelling campaign to the next level by keeping these in mind-
1. Employees too can become a valuable source of stories
When your employees tell the story of your brand, it doesn't just bring a human element to your branding but also humanizes your staff as well. It is also a great way to highlight your company's culture, and your audience also gets a chance to know your employees. And the cherry on the cake is the engagement of your teams in this fun activity.
This is something that Microsoft understood and took action on 10 years ago. They created the role of a chief storyteller, and a new division called story labs. While the chief storyteller is responsible for finding stories from every business area, the story labs team showcases the stories of employees across the Microsoft organization.
Virtually every organization has something or other interesting happenings at any given time. Besides, employees from various backgrounds can be given an opportunity to present their stories, which you can use to market your products, services, branding, values, and history. Doing so will foster a sense of authenticity and humanity among your audience.
2. Use visuals to make your storytelling more compelling
Visuals make storytelling more appealing to your audience. They help people retain information and provide interesting context to the stories that you showcase. Even better, good visuals allow you to tell a story clearly without using too many words. Photographs, videos, infographics, and other visual content can be used to explain complicated concepts, illustrate solutions, or simply help the reader visualize something they may not otherwise be able to. Use images to establish thought leadership and maintain curiosity.
3. Don't state: illustrate
Storytelling is an interesting way to make a huge impact on users in comparison to the traditional methods, like using an article to tell readers what to think and feel.
As mentioned in the second point, visuals play a major role in this, especially videos - they bring the points to life that you are trying to make, and allow your audience to see the emotions being expressed. Here are some other ways to use storytelling for demonstration purpose rather than simply mentioning:
Use specific examples in your storytelling. Don't write that you have a friendly return policy. Instead, share a story about a customer who had a complicated return, and was happy with the help they received.
Add real pictures and videos of your employees and customers highlighting the emotions you want to showcase.
Use authoritative links and other data. This provides credence to your claims.
Build stories around case studies.
4. Take inspiration from the experiences of your satisfied customers
Alexis Williams is a content writer for Supreme Dissertations. She says, "Employee stories are a great tool, but customer-generated content can bring things to the next level. Tap into your satisfied customers, influencers, and brand ambassadors as a source of compelling stories. You may be surprised at how many happy customers are eager to share their experiences with your brand."
In fact, you'll be surprised at how influential customer stories can be. It's much more impactful when a customer praises your products and services.
You can also use this form of storytelling to build better relationships with other brands. For example, Salesforce shares customer success stories through a section on its website that features industry trailblazers. The section integrates stories of customer success with the use of the Salesforce platform. The result is mutually beneficial as not only does Salesforce get a boost, but each brand featured as a trailblazer receives a bit of publicity as well.
Encourage your audience to share their stories, video testimonials, and other content for the same purpose.
5. Use storytelling to share your values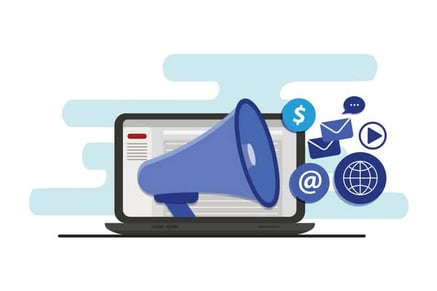 Source: Launch Marketing
Consumers, millennials, in particular, care about your values. That's not something that should only concern them in the B2C space. Remember that you aren't selling your products to another business. Ultimately, you are selling them to a person.
Do you have a statement of corporate social responsibility published on your website? If not, you should consider it. This is a statement that clarifies your position on matters such as fair trade policies, environmental stewardship, and a commitment to diversity.
Not only will your customers appreciate knowing where you stand, but you can also use this statement in your storytelling. Share stories that highlight your commitment to social responsibility through the actions that you take. For example, you could share stories of employee volunteer initiatives, or your efforts to go paperless.
The key to leveraging social responsibility is to tell stories that are believable and engaging without being preachy. Fortunately, some resources can help you tell compelling stories including:
Grammarly: For automating editing and proofreading.
Trust My Paper: For professional copywriting assistance.
Hemingway: To help avoid writing that is insufferable and overly verbose.
Studicus: Proofreading editing and copywriting services.
Gimp: A professional quality photo editing tool.
6. Encourage audience members to engage
It may be counterintuitive, but neither your brand nor your products should be the focus of your stories. Instead, your customers should always be the star. Whether you tell the stories, or they tell the stories, your storytelling should focus on the questions, concerns, needs, and achievements of your audience. By taking this approach, you'll enable your audience to visualize themselves in your stories. This will also make plenty of room for customer engagement.
As you tell stories, look for ways to involve the audience. Use interactive infographics, ask questions, and end your stories with a call to action that encourages readers to take part in the conversation.
7. Advocate for your audience: not your business or industry
Storytelling is a perfect way to communicate to your audience that you are on their side and that you are interested in offering them benefits. Focus on stories that address the questions, concerns, and problems of your audience that they face along with their solutions.
Consider looking at the late food writer and television personality Anthony Bourdain for inspiration. Bourdain was known for criticizing food trends, and for calling out other people in his industry when he believed they were being self-serving, stuck-up, or self-indulgent. His controversial statements often earned him quite a bit of criticism from people in his industry, but it also made his position very clear. He was creating content and telling stories for the benefit of his audience, not industry insiders. Because it was clear that he didn't have a promotional agenda, he established himself as a thought leader and trusted advocate.
Wrapping-up
Business transactions are conducted between people. Thereby, those marketing techniques that build trust, evoke emotions, and help your customers see you as their advocate will always prove to be effective. This is why storytelling has become such a popular form of marketing. By following the tips above, you can take your approach of storytelling to new levels.
**This post is written by our guest author Dorian Martin. She's a writer and editor at BestEssay.Education and Grab My Essay. Fiercely passionate about marketing, she hopes that her content helps business owners as they create their own marketing strategies. In addition to this, she is very interested in supporting other writers, and offers writing opportunities through the website Not Business as Usual.

Interested to write for us? Drop a mail at guestpost@srijan.net with your awesome ideas