The telecom industry is said to be approaching a tipping point. While revenues might not exactly be falling, there is a definite slow down in growth. With little focus on introduction of new services, most communication service providers (CSPs) are competing over the same existing market, and experiencing high customer churn rates.
Current Challenges in Telecom
At the heart of this crawling growth are a few key challenges that telecom enterprises have to address:
Staying Relevant to the Customer
Everything that one could do over the phone can be done over the Internet today. Messaging, voice, and video calls are all being offered by a host of applications. OTT services have become the primary point of connection for consumers when it comes to communication; be it messaging, video calling, and increasingly voice calling as well. And they appropriate a large share of the revenues generated as well.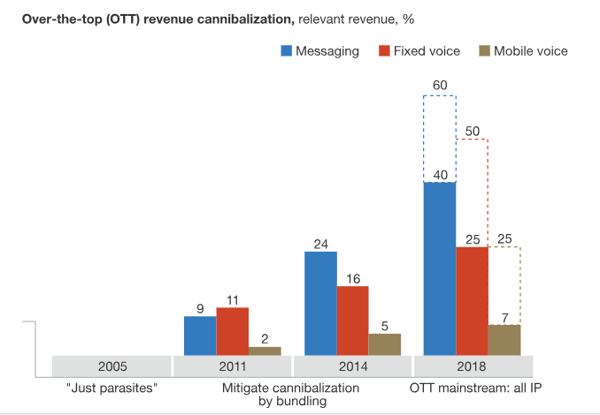 Source: www.mckinsey.com quoting Ovum; McKinsey analysis
In the absence of any new value-added services, telecom operators have become mere connectivity providers. And even if they focus on improving connectivity, say with the introduction of 5G, customers are likely to take it for granted.
The bottom line is customers hardly recognize the relevance of the telecom provider in their communications. One telecom provider is as good as the next one, because everything they care about is actually delivered by OTT services.
Lack of New Business Models
In order to be noticed by the customers, telecom operators have to develop and deliver new services. And that is proving to be an uphill battle because they are hardwired to build networks.
Within the existing structure and leadership, the dominant response is to drive down cost on network operation to remain profitable. And while that is a way to go, it's not enough. Telecoms have access to a lot of network assets and data that could potentially give rise to new services. But change is always resisted, and hence CSPs have not been able to develop new business models for revenue.
Slow Technology Adoption
Along with a change in the business strategy, telecom enterprises will have to optimize operations to even begin to deliver new services. They will also need new technology expertise to create and deliver value-added services. But once again, this is an aspect that CSPs have been slow to adopt.
How Can APIs help Telecom Operators
Telecom APIs can be a key piece for telecom operators to transform their value propositions.
Developing New Services
API gateways are the most efficient way to access and use information assets stored across legacy systems. Telecom operators already have huge amounts of user data, and APIs are the most secure way to expose this data for developing new services at scale. This would be true for both B2C and B2B services.
Hybrid B2C Services: APIs give telecom operators the opportunity to share information assets with other third-party service providers. This could lead to the development of hybrid services that can compete with existing OTT services.
A key example of this would be customer authentication services. Since telecom operators offer connectivity to all manner of services, that can be the unified access to all of these services. A one-step login to all applications would be a major convenience for consumers, and also bolster data security. And this would strengthen telecom's collaboration with other service providers.
Value-added B2B Services: B2B enterprises present a highly profitable market for CSPs because:
Enterprise are willing to pay more for value-added services
Lower chances of being usurped by OTT service providers, at least in the near future
Exposing APIs is one of the most convenient ways to productize existing telecom assets, and create custom solutions for B2B enterprises. The opportunities here could be in the form of:
New Solution Bundles: Given that CSPs already own and operate widespread networks, they can offer new solution offerings that provide the usual gateways for voice and video calls, messaging, bundled with payment gateways and location services enabled by APIs.

Data as a Service: A host of enterprise applications rely on communication databases to deliver services. CSPs have access to vast amounts of user data, which can be made available to enterprises via APIs, as they build new customer solutions. Telecom APIs can monetize this data sharing to add new revenue streams. They can also create APIs that allow the CSP's billing systems to be used by enterprises, charging a transaction fee for the convenience.
Monetizing Network Assets
Telecom operators have a set of core assets that are being utilized by OTT services. APIs offer a way to commoditize these network assets and create new revenue models:
Flexible Charging Models for Network Usage by OTTs
The network established by CSPs is their biggest asset, and the key to OTT services being able to deliver value to customers. APIs can help efficiently monetize this asset and create variable charging models for different types of OTT services. They can be charged on the basis of volume of usage, number of transactions, or other custom models as applicable; and this is managed by telecom APIs.
IoT Ecosystems and Edge Augmentation
With the rise in interconnected device ecosystems, telecom operators have a huge market just waiting to be leveraged. There's B2C categories like GPS and other telematics devices, and also B2B use-cases where machine-to-machine communications, both wired and wireless, are witnessing large-scale adoption. Since all data is being transmitted over carrier networks, CSPs can create new pricing models for network usage.
Telecom operators can offer computing capabilities closer to the source of data generation, at the edge of the networks. Telecom APIs can be the key to transferring IoT data to computing applications and to the end user.
Srijan is working with leading telecom enterprises across US, Europe and APAC region to drive their digital transformation via successful API management, monetization, and governance. Let's get the conversation started on how Srijan teams can help leverage APIs for your enterprise.