The cosmetics industry is growing rapidly. Allied Market Research says the global cosmetics market is estimated to reach $429.8 billion, with a CAGR of 4.3% from 2016 to 2022.
What's fuelling this growth?
Economic and Environmental Changes: Growing global economies, changing lifestyles, rising demands of personalised makeup, and skincare products due to varying climatic conditions encourage the growth of the market for cosmetics.
Natural and Organic Beauty: A shift of preference towards natural and organic beauty is presenting manufacturers with opportunities to innovate and develop new products.
Ethnic and Regional Diversity: Beauty is more diverse than ever and it seems to be accepted, even celebrated. Ethnic cultures and influences are bringing new concepts and experimental ideas to the fore. Cosmetics now come in several categories such as color, shades texture, nutrients, and ingredients to cater to unique preferences.

These factors are driving the market strategies of cosmetics brands that have quickly moved from a product-based model to an experience-based model.
Buying behaviors of end-users have changed drastically
Rapid growth in consumer spending has led to evolving buying preferences. Beauty consciousness among women has increased, with cosmetics now in women's lives on a daily basis.
Gen Z is more experimental in choosing makeup in comparison to millennial. 52% of Gen Z mainly discovers new looks and trends on social media such as Instagram - significantly more than any other demographic.
Growing up in the age of social media and selfies, Gen Z obsesses more over their appearance than previous generations.
Gen Z today desire to explore new flawless looks that they can portray on social media. They explore the range of new choices within brands - liners, contouring, and highlighting products like shadows, glitters, glosses, and not just beauty basics like mascara, foundation, and lipstick.
Digital technology and artificial intelligence make it easy for beauty buyers to access trends, looks, content, and experience brands in entirely new ways.
The urge to experiment with different products at one go has shifted shopping behaviour to e-commerce and specialty stores, from traditional brick-n-mortar models.
With an increase in makeup tutorials available on online platforms like Youtube and Instagram, consumers feel encouraged and confident in trying out new makeup products and techniques.
The Impact of Social Media
In recent years, Social Media has become a big influence in reshaping customer buying behaviours. This is bringing a whole host of new opportunities for the beauty industry.
Social media apps have provided new ways to target more refined consumer segments. Nearly 41% of consumers are more likely to discover new brands or products via ads seen on social media, and 47% more likely to be doing so via updates on brands' social media pages.
Consumers are now more receptive to reviews on eCommerce platforms, and to comments, recommendations, and celebrity endorsements on social media. It helps beauty enterprises grow success, with a loyal and engaged fanbase.
Facebook has launched where companies can create their shops to sell the products. These shops will appear on their Facebook and Instagram pages then on whats app and messengers.
Facebook also announced they are integrating AI and AR for better customer experiences. With this, beauty companies can recommend personalised products that are more relevant to the consumers, and try products virtually.
Visual content platforms such as Olapic are acting as engaging channels for celebrity influencer platforms for products such as Dove and Glossier.
In the face of closed retail stores, cosmetic companies are expanding Virtual Try-On for e-commerce sites for online shopping experiences. These innovations have doubled customer engagement and tripled conversions, compared to physical stores.
Cosmetics leaders are leveraging AI technologies
Major cosmetic players like Johnson & Johnson, L'Oréal, Coty, MAC, Estee Lauder, Olay, Unilever, Shiseido, LUSH are early adopters of new technologies, with custom, personalized products to cater to different skin types and facial structures.
Artificial intelligence is reshaping the way brands operate and present more choices to enable showcasing your appearance. Trending AI technologies in beauty are:
AR-Skin Diagnostic /Facial Technology
Virtual Try-On
Virtual In-store Experience
Chatbots or beauty bots
Let's find out how artificial intelligence is transforming the beauty industry.
AR - Skin Diagnostic / Facial Technology
The one-size-fits-all approach does not work, as every person has different skin which requires unique treatment and products. We no longer fit into the four standard types of skin i.e. normal, oily, dry, and combination.

To provide personalized products companies have started to embrace technologies such as AR and ML.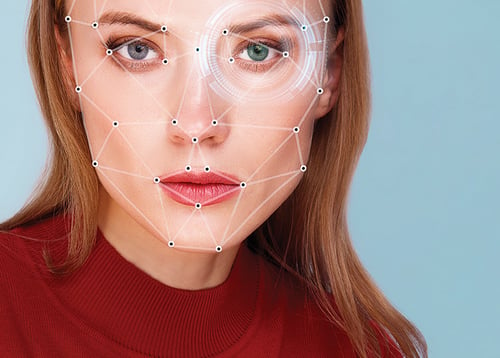 Yves Saint Laurent, Estee Lauder, Johnson & Johnson, MAC Cosmetics, and Macy's are using Augmented Reality technology to provide real-time personalised makeup experience to the consumers as per their unique face structure and skin texture.

AR skin diagnostic tools work with:
Machine learning technology to provide a real-time skincare analysis, detecting wrinkles, spots, skin texture, and dark circles.
Deep learning technology helps with customized product recommendations to match their skin tone and preferences.
Prevalent skin diagnostic tools comprise of AR facial recognition technology, AI, and deep learning. They can evaluate the skin's condition, just with the help of a phone or laptop camera. Skin analysis enables the tool to recommend personalized products and track their performance.
Virtual Try-On
Virtual Try-On is a smart beauty camera app that allows users to try on makeup, hair colors, and accessories via augmented reality.

L'oreal acquired ModiFace - the international leader in AR and AI for the beauty industry in 2018. It then launched AI-powered Virtual Try-Ons to Amazon with a strategic intent to reinvent the beauty experience.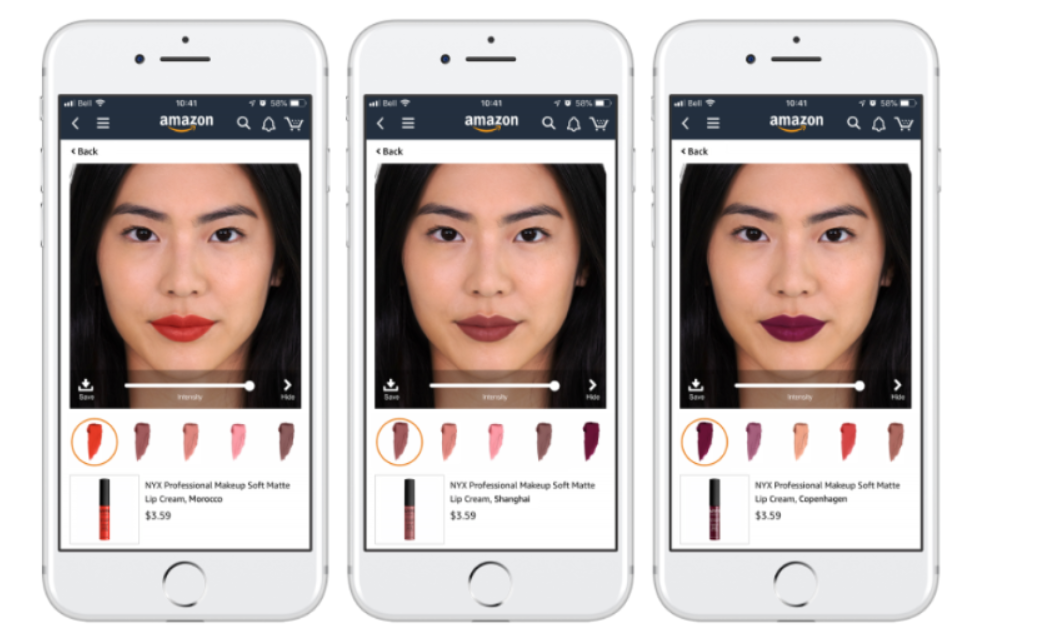 Virtual Try-on makeup apps benefit beauty businesses as well as their customers. Customers can try various looks and can share the look on social platforms. Companies, in turn, get better user engagement leading to high conversions and lower product returns.

These AI-enabled apps help determine user behaviour to understand which makeup products users like most, while trying them virtually. Companies derive insights into business operations with this data, by generating business intelligence reports.
Virtual In-store Experience
Beauty retailers are using innovative technologies to find new ways to attract customers and keep them coming back to buy products.

Earlier most customers are in doubt when they go to a retail store to buy a cosmetic product - "Is it the right product for my face or skin? "Will this product make me look the way I want?".

One of the biggest problems with cosmetics shops is that you can not try each and every product on your face.
Sephora and Ulta use Augmented Reality Mirrors, allowing customers to choose and apply cosmetic products - to get a perfect look virtually.
Sephora's 'To Go' app enables in-store customers to scan any product to read ratings and reviews.
Sephora introduced in-store beacons to send birthday alerts and loyalty updates. When a shopper walks into a store she's prompted via personalized alerts, to switch her app to Store mode, enabling access to all needed shopping features.
Coty has developed Magic Mirror, which can recognize products from the company's Bourjois Rouge Velvet Lipstick collection. When held in front of the device's camera, the panel shows users how the makeup will look on their faces.
Another AR-based software by Coty - Smart Mirror allows users to preview color choices before applying on hair.
With changing consumer behaviours, retailers are using technologies to make shopping experiences more engaging, more personalised, faster, easier, and more fun.
Chatbots or 'Beauty Bots'
Chatbots use Artificial intelligence and natural language processing (NLP) to provide customers personalized experiences per their needs. Beauty bots play an important role in the cosmetics industry to improve customer service and overall customer experience. Bots can easily handle the roles of beauty advisor, fixing up the appointments, gifting, and influencer marketing.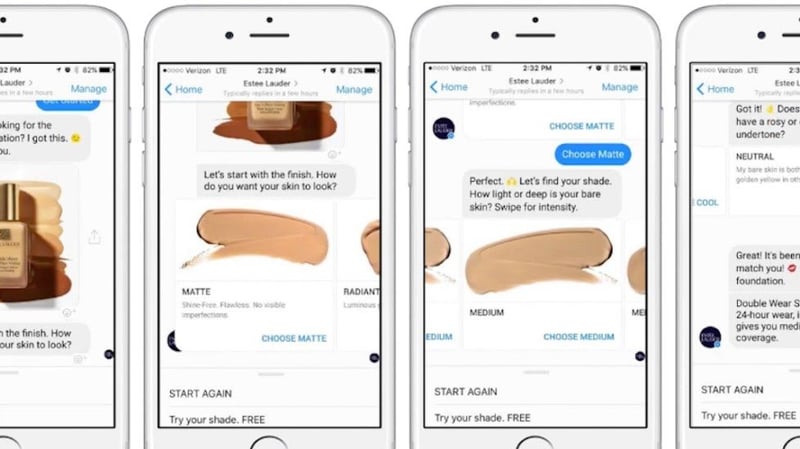 For many leading fashion brands, beauty bots have evolved from customer service agents to savvy virtual store assistants.
Sephora, Estée Lauder, L'Oréal, and other brands have invested in beauty bots in recent years - to act as personal virtual assistants to answer specific questions about beauty products on price range, hair, and skin type.
Sephora has launched multiple bots to provide makeup tips, color matching, and in-store appointments. Consumers can match the color of products with images on social media, and also book slots with beauty advisors.
L'Oréal has launched a bot Beauty Gifter that asks questions of the gift giver and the recipient - to offer personalized recommendations on makeup and skincare gifts via Facebook Messenger.
Sephora's Virtual Artist and Estée Lauder's Lip Artist allow customers to try on a range of makeup shades by uploading a photo of themselves into messenger.
In the UK, Sephora's Reservation Assistant and Smashbox's bot facilitate appointment bookings at local stores.
Summary
Digital has changed cosmetics and what this means for beauty consumers as well as companies. Consumer choices and preferences are expanding and evolving across a broadening audience - millennials, Gen-Z, ethnic minorities, males, and also other age groups.

Leading brands have embarked on high-tech overhauls across product development, manufacturing, pricing & distribution, marketing & merchandising, and of course the customer experience.

Digital channels such as brand websites, mobile apps, social media platforms, eCommerce portals, have become the drivers for engaging users. AI-ML-VR are now default technologies for facial and skin analysis, virtual-try-ons, and personalised recommendations. These digital trends and technologies will increasingly dominate the landscape of the beauty and cosmetic industry in the coming years.
Srijan has been helping cosmetics and beauty companies such as Johnson & Johnson, Estee Lauder Companies, and Tom Ford to achieve their digital goals. For Estee Lauder, Srijan has built an open-source, multilingual, scalable learning platform to train Beauty Advisors across geographies and brands. For Tom Ford Beauty, Srijan has built a self-guided virtual-try-on platform for their MAC range. For Johnson & Johnson, Srijan is building an AR-enabled in-store or at-home, real-time virtual-trial-on platform that facilitates personalized digital experiences to customers. Explore our work for the beauty industry