Changing your content management system (CMS) is a decision fraught with many tradeoffs and considerations. It can be difficult to adopt a new CMS when it's unclear what the future-readiness of that vendor is. After all, content practitioners and teams all over the world need the right mix of features and capabilities to ensure editorial success. And now, with the added uncertainty caused by the ongoing pandemic, it's never been more important to ensure that content collaboration can occur in a distributed way just as gracefully as it would onsite in an office.
Most importantly, CMS teams are looking for ways to reduce their reliance on developer teams and to better leverage some of the advancements that are happening today in the CMS market.

Another source of pressure for those evaluating new CMSs is the fact that there is a baseline of must-have features that you don't want to lose as you make your switch. In an environment where digital experiences are multiplying and users are increasingly demanding, it's important to choose a CMS that has what you need not only this week but also well into the future.

In our previous blog posts - EzContent, an intelligent Drupal Distribution for Publishers & Marketers and With EzContent Utilize Headless Features, we covered some of the exciting capabilities for no-code editing and headless content management that EzContent makes available to marketing and editorial users.
The new intelligent Drupal distribution, EzContent is optimal for publishers and marketers that need the ability to juggle their various digital experiences that are their destinations for content delivery but also important mainstays of content management like content staging and drag-and-drop page building.
In this final installment of EzContent blog series, we turn our attention to a loftier goal: content generation and multimedia management driven by artificial intelligence and machine learning.
Intelligent search across multimedia
Digital asset management (DAM) is increasingly becoming a critical concern for editorial teams, particularly those handling large quantities of media. Every DAM practitioner has a story of having to search and sift for hours to find their desired asset due to the disorganization and chaotic nature of many DAM systems in use today.
EzContent builds on the foundation provided by Drupal's new media handling to provide a better, more intelligent search experience across multimedia assets.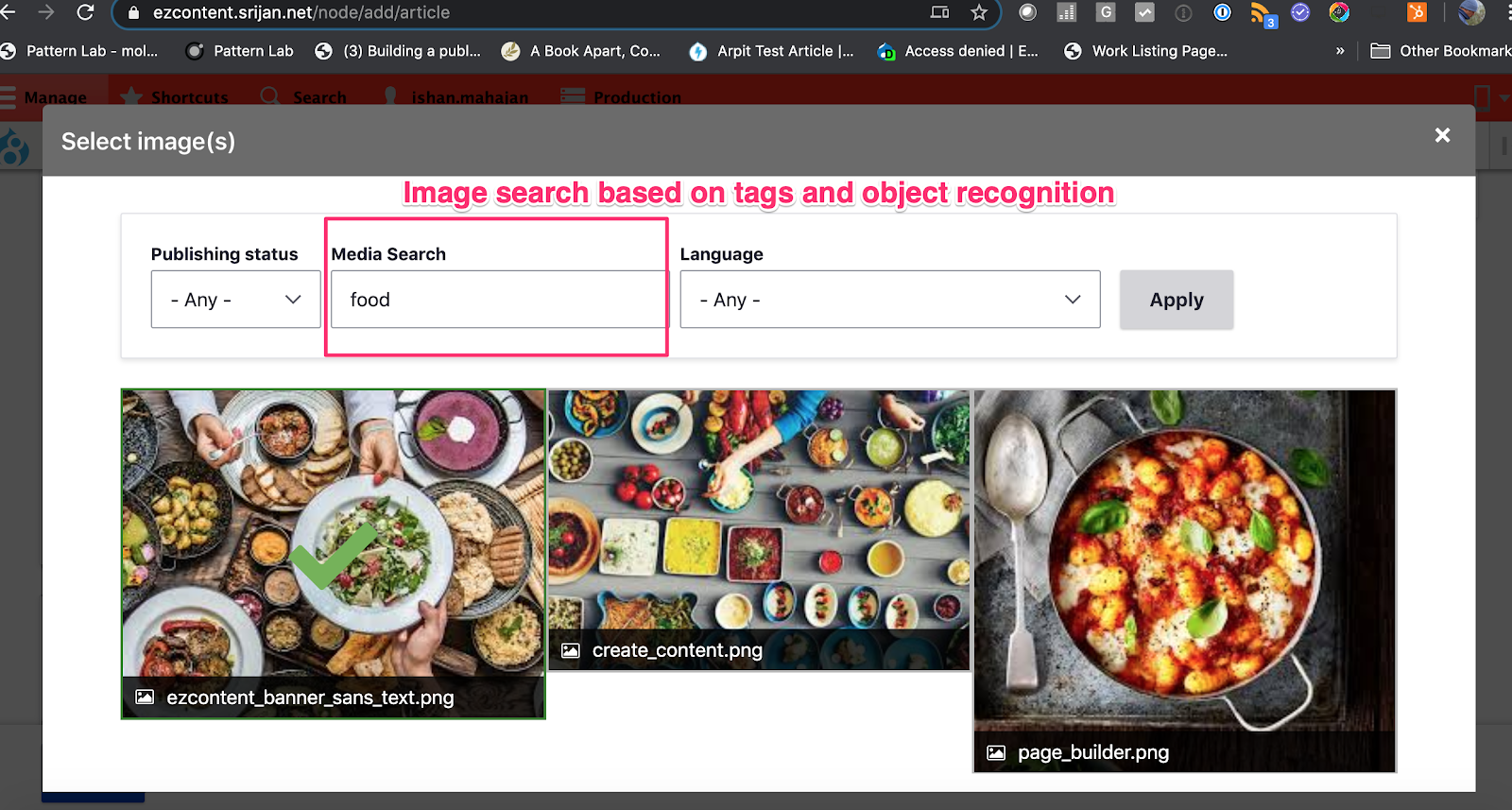 For instance, consider a scenario where you need to conduct a search for "food" across all media. A search for such assets shouldn't just respond with a series of image results that have "food" in the name; it should also respond with images that don't have "food" in the name but do depict food in its contents. Limiting a search solely to those keywords that are available within image titles doesn't solve the problem that many DAM users have: inconsistent naming and challenges in keeping things organized.
Search for "food" in a DAM, should also bring in images that don't have "food" in the name or alt text but depict food in its contents
Thanks to EzContent's intelligent asset search, CMS users can now rest assured that their multimedia needs will always be covered, not just by a basic search for image by name, but also for images that may contain an example of the search term in question.
EzContent provides automatic recognition of objects in an image, so the user doesn't have to worry about misnaming an image and never finding it again in the future, which can be a significant challenge with Drupal's core media capabilities today.
AI-powered image tagging and captioning
For CMS users, media management and media search are two of the areas where the most time is spent, because choosing and managing assets like images and videos are key functions of successful customer experiences.
EzContent provides powerful artificial intelligence capabilities that provide image tagging and captioning in an automated fashion. This means that a content editor or media manager saves their time as the CMS generates image captions and tags by analyzing the content of the image itself.
Suggested captions provided by EzContent's AI capabilities can support improved accessibility in your CMS by allowing for editors to automate the creation of alternate text for images. No more empty alt tags because an editor is in a hurry!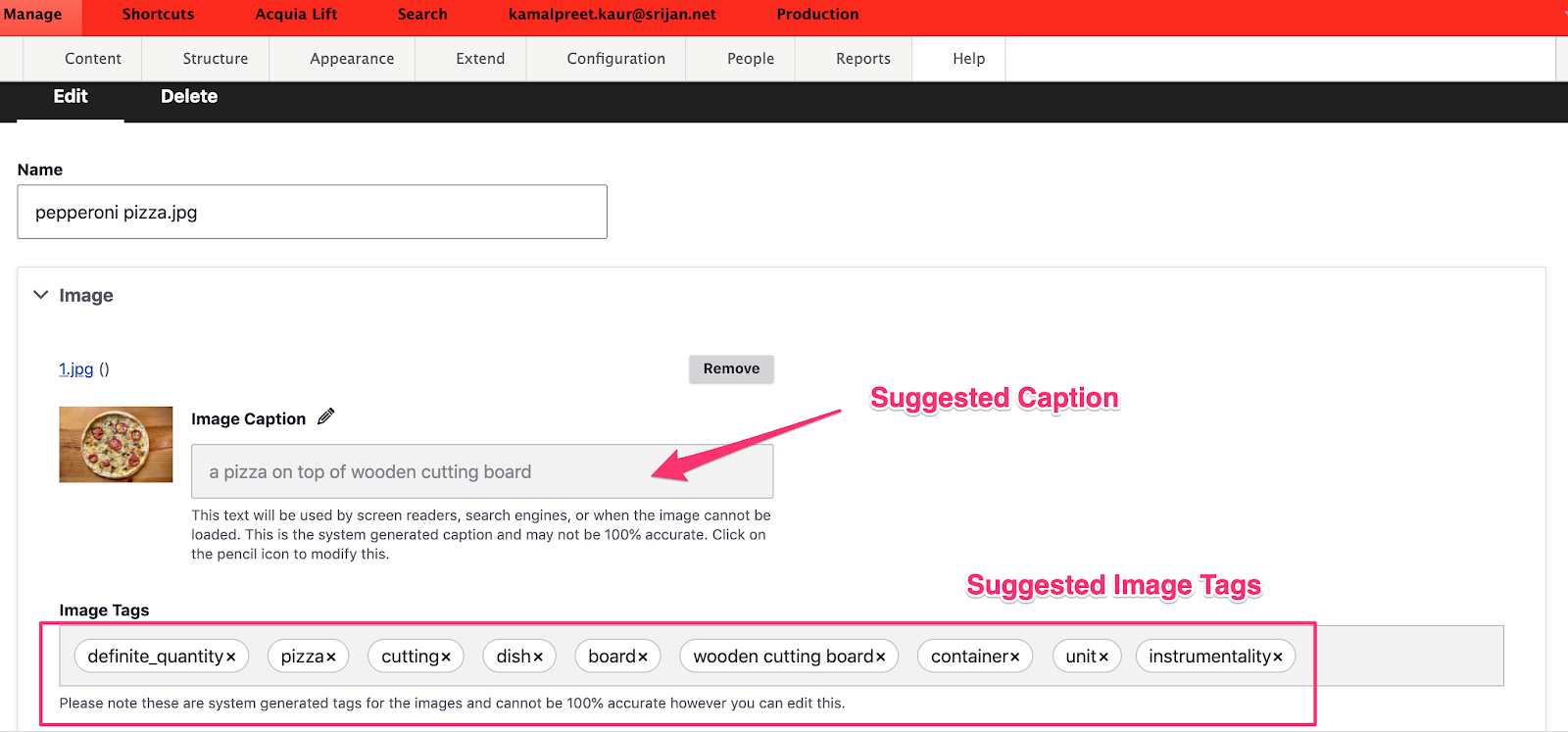 Powered by Srijan's homegrown artificial intelligence service and Amazon Rekognition, it uses the latest and greatest in machine learning and AI to provide better intelligent search and tagging across assets.
Suggested captions can support improved accessibility by allowing editors to automate the creation of alt text for images
But the automated suggestions of image captions also provide important value, particularly for enterprise organizations that deal with users from a variety of lived experiences.
Why AI-generated content for publishers?
Though the value inherent to media management and image captioning is clear when it comes to artificial intelligence, for many organizations, the jury is still out in terms of the value that artificial intelligence and machine learning can offer publishers that wish to generate content automatically through artificial intelligence. Over the last several years, the desire for more AI-generated content has only increased, and it will continue to grow thanks to the demand for content generated by the ongoing pandemic. As The New York Times shared in early 2019, "Roughly a third of the content published by Bloomberg News uses some form of an automated technology."
Increasingly, AI-generated content is appealing to marketers and publishers for a variety of reasons. Content written by humans can often have typographical errors, spelling mistakes, and other proofreading issues that can be resolved through the use of an always grammatically correct content generator.
Moreover, for organizations that are particularly prolific and need to release new content at a fast clip, relying on some algorithmic generation of content can be useful to help ease the burden on editors and publishers. Finally, AI-generated content can also support better resource allocation and allow organizations to assign editors and writers to more involved pieces.
Auto-Tagging and automated content generation with EzContent
For publishers, artificial intelligence can provide massive benefits not only for editors and marketers but also for the customers they serve. Auto-tagging, as we saw earlier in this blog post, aids the creation of highly contextual, meaningful tags using natural language processing (NLP), not only for media assets but also for content entities. Tagging content based on analyses of what's inside can support content discovery by customers on your website by identifying the right taxonomy terms and categories for your content item. And with EzContent's auto-tagging capabilities, you can rest assured that your content—and your media assets—will always have the right tags and the right captions.
EzContent also provides full support for an automated content generation thanks to Srijan's integration with deep neural network solutions. Automated content generation can create templated content pieces based on boilerplates together with structured and unstructured data provided by the editorial team. For time-strapped organizations or highly prolific editorial teams that need to publish new content on a daily or more-than-daily basis, automated content generation in EzContent can help to alleviate some of the concerns about editorial pressure.
In a newsroom enabled by automated content generation in EzContent, editors can automate the sorts of templated and predictable content tasks that typically happen in a content-driven organization. For instance, consider the case of a financial services organization that needs to regularly issue a new version of a certain report for investors and shareholders. An automated content generation task in EzContent could dissect a financial report the moment it is issued and generate a press release or a news story that includes the most pertinent facts and figures while generating the "glue" in between to make it a cohesive reading experience for a customer.
Conclusion
In this day and age it's never been more important to evaluate your current content management system (CMS) and to think about whether your content management needs are met by your current vendor or architecture. If you're in search of a more future-proof and progressive means to manipulate your media assets as well as your editorial content, Srijan's new EzContent distribution, the intelligent Drupal distribution, can enrich your customer experience with artificial intelligence and machine learning capabilities that far outstrip what's possible with most run-of-the-mill CMSs today.
EzContent also enables no-code users to have full control not only over the typical site-building processes involved in any Drupal site creation but also the common editorial requirements found in headless implementations such as those written in JavaScript.
Now that digital experiences are continuing to multiply, you need the kind of robust support for images, videos, and other media that prepares you for the new digital experience landscape. This means full support for auto-tagging as well as automatic captioning, in addition to the automatic content generation feature that allows you to quickly serve content that only requires a modicum of input from structured or unstructured data. In short, EzContent is ready for any future of content you pursue.
With EzContent, you can rest easy thanks to the capabilities around headless CMS management for decoupled front ends, site building functionality that is flexible for both traditional and decoupled implementations, and the machine learning and artificial intelligence that underpins some of the more impressive features in EzContent: the auto-tagging, automated content generation, and automatic image captioning ensures that users from all backgrounds will be able to enjoy your content and that editors of all roles can administer and manage it too.
Looking for a full-featured content generation tool to ease content management pains? Talk to our experts.