An article by Business Insider, in 2019, estimated the beauty industry to be worth around $532 billion and counting. Driving this growth is a combination of rapidly evolving customer expectations, and a thriving ecosystem of incumbent brands, boutique beauty brands and beauty influencers. However, another factor that's fast emerging as a key driver of industry growth is technology.
The intersection of beauty and technology is manifesting as distinct industry-wide trends. While it started with the basic eCommerce integrations for online product selection and purchase, it has now evolved in more complex ways:
An omnichannel buyer journey that spans both in-store and online channels, from brand discovery to trial to final purchase
Innovative digital solutions that enhance the customer experience, the most notable of which are virtual try-on for products, both in-store and on brand websites and applications
Beauty-tech products like smart mirrors and scan-and-analyze applications that gather individual attributes and customize products and routines for individual consumers
While these trends are visible to most movers and shakers in the industry, what's important to understand is the underlying technologies that are enabling them.
Srijan has been a part of this transforming beauty landscape, and engaged with some of the leading beauty brands to deliver digital solutions that helped achieve strategic brand goals. This blog shares some of the key solutions developed and the core technologies leveraged by the us to make those happen.
Confident Purchase Decisions with AR-powered Virtual Try-On
Virtual try-on applications have become a critical piece in the new-age customer journey for beauty brands. Consumers can easily try on more options till they are satisfied, and that increases the engagement and probability of purchase. Also shortens the customer journey and gives them more confidence in their purchase decision.
At Srijan, we have experience across several projects, working with brands to enhance their virtual try-on applications. Working with leading third-party AR applications in the beauty industry, we also helped integrate them with the relevant business systems to enable an immersive try-on experience.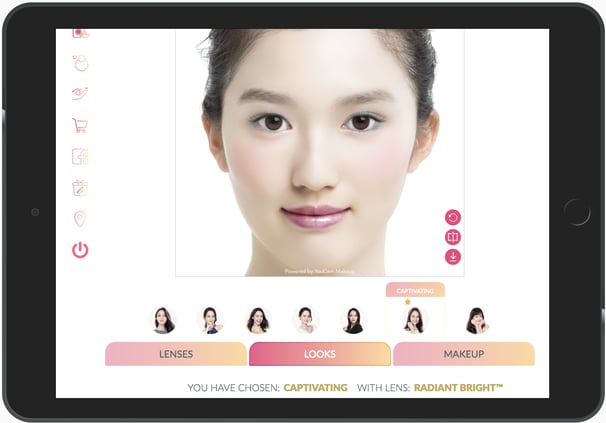 To enhance the customer experience, we also add data capabilities to virtual try-on applications that can further drive personalization, and create bespoke shopping experiences. These applications can also be integrated with eCommerce applications to build out a frictionless journey from product selection to purchase.
Immersive Experiences, Delivered Across Multiple Interaction Channels
While most beauty brands today have a virtual try-on application in some shape or form, the ability to leverage it for high-fidelity customer experiences and conversions is not always present. Many cosmetics brands struggle to make their virtual try-on application accessible to a larger customer base, because they cannot effectively render the experience on different interaction channels.
What is needed is deployability across platforms both online and in-store, to ensure greater reach and higher engagement with the application.
For the vision-care range of one of the largest consumer healthcare brands, we solved this exact challenge. Using React.js, we created an easy and intuitive frontend experience that could be rendered seamlessly on website, mobile application, or in-store kiosks. The easy accessibility of the application got more buyers to try out new products, leading to higher engagement, and an accelerated customer buying journey for a dramatic surge in sales.
Personalized Product Recommendations, with Data Integration Solutions
Collecting a series of customer data points - via direct questions, analyzing information from virtual try-on sessions, interpreting purchasing patterns - beauty brands can start to form a holistic view of their individual consumers. Leveraging this data can help create personalized customer experiences and unlock new revenue product and service streams. Artificial intelligence and machine learning algorithms atop this data helps brands deliver personalized product recommendations, beauty routines, and other DIY tips and tricks. This enhances the brand's customer-centricity and increases brand loyalty.
For one of our clients, we designed an interactive digital platform that leveraged buyer information to suggest the right product choice. A digital quiz embedded on the platform collects data by asking questions around the buyers' physical attributes. ML algorithms interpret this data to showcase the right product for their needs. Going a step further, artificial intelligence also recommends the right set of beauty products to create an overall makeup look that works with the primary product.
These personalized recommendations powered by AI/ML have increased consumer engagement with the brand, increased sales, and reduced returns.

Up-to-Date Virtual Try-On Applications, with Simplified Product Management
For most brands leveraging a third-party virtual try-on application, keeping it updated with the latest product lines and variants is a major challenge. More often than not, the brand team does not have the ability to upload new products into the application and have to rely on the third-party teams. This delays updates, and consumers are unable to experience the brand's full range of products.
To solve this particular challenge for a leading makeup brand, we integrated the virtual try-on application with Drupal CMS.
The brand's existing application did not allow the team to update products, prices, or in-store availability. Drupal was introduced as a scalable CMS, giving the brand the ability to manage product information independent of the third-party teams. Information like region, store, device, metadata (color/intensity/shade/finish), and location-specific availability of each product, was now stored and managed by the brand team on Drupal, accessible to both the AR application and the brand application frontend.
With this in place, the brand could ensure that their customers always experience the best that they have to offer.
AI-Driven Customer Interactions
Conversational bots have become ubiquitous across industries as efficient and cost-effective replacements for specialized customer service representatives. The same is expected in beauty as well. Beauty brands already have conversational bots that assist with product selection and purchase. The next step is to have virtual beauty assistants that can interact with consumers across multiple channels, to resolve more nuanced queries, and make more high-precision recommendations.
Our teams have extensive experience in developing conversational bots for a range of business purposes. Our expertise across machine learning and natural language processing has helped us create intelligent chatbots capable of complex data analysis and precise responses. These bots also learn over time and thus deliver increasingly improved and contextual conversational experience.
The Road Ahead
The beauty industry is just beginning to leverage technology on a large scale. But while the beauty-tech market may be nascent now, current market trends indicate a quick expansion. 5G roll-outs will make AR experiences easier to access and hence more in-demand. Gen X and Gen Z buyers are already making purchase decisions online, and would demand more personalized and 'phygital' (physical+digital) experiences in the coming years. So the time to start with creating phenomenal customer experiences is now.
We are already helping global beauty and personal care brands start delivering on these customer expectations. Our experience and understanding of the beauty industry and evolving market needs, combined with deep technology expertise, makes us the perfect choice for beauty brands starting on this journey.
Ready to explore how exactly your brand can leverage technology solutions at key junctures in the consumer experience? Start a conversation with our expert teams.