Change is in the air!
In more ways than one, our world is in the throes of change. We live in an era where politics and governance, economy and international relations as also business and technology are all careening through an edge-of-the-seat roller coaster ride, from one 'cutting edge' to another.

Ideas, values, systems, processes, frameworks - what held good yesterday is today up in the air. We see this in our lives - professional and personal. We seek the new constantly, be it a new Mar-Tech platform every few months for our businesses, or a new Soc-Med channel to post our holiday pictures on, discarding the one that was 'trusted' till yesterday.

Not surprisingly, this affects both organizations and individuals - the changes in our experience of institutional frameworks, business models, corporate ethics, interpersonal relationships, the way we shop, eat, dress, travel, even our experiences of climate change.
The bit about climate change brings me to my own experience within a year, at two successive DrupalCamp events. The first weekend of March 2018 caught me in the middle of the 'Beast from the East' cold snap at City University, the traditional venue for DC London.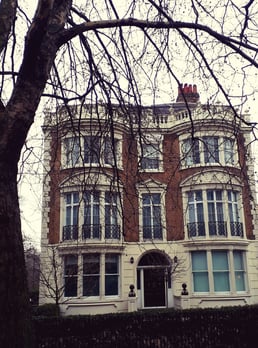 Trudging from Angel tube station down a snow-laden Goswell Road to the venue, in the lowest temperatures I have ever experienced in London.
In contrast, London saw unseasonal, unusually warm weather during DrupalCamp 2019. The weather was almost tending to summer-hood, the very same week exactly a year on. The odd tree on Goswell Road, standing like a leafless sentinel in front of a corner townhouse, provided an isolated reminder that it was officially still winter.

Almost like climate change in reverse. Talking of change, the biggest change facing UK and Europe today is Brexit… and so a passing thought - is a 'Brexit in reverse' still possible...?
Growth, Leadership, Diversity → Superpowers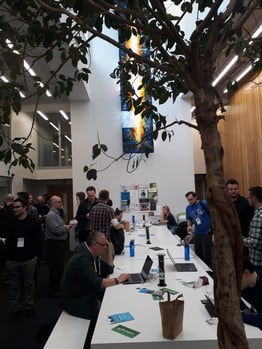 DrupalCamps are largely meant to be developer-centric affairs… but the DC London CXO Day goes the extra mile to make it relevant to business owners, managers, and of course CXOs.

We can leave the topic of Brexit for another day, but wasn't it all about the absence of growth, of leadership, and about rejecting diversity? This year's CXO Day went on to address precisely this - how growth, leadership and diversity can equip us with superpowers... to deal with 'change'.

Three very lively and insightful presentations
Prof. Costas Andriopoulos' (CASS Business School) talk on 'Leadership and innovation in scaling enterprises'

- dwelt upon the challenges of size.



initial success breeds complacency and arrogance
an ageing leadership is unable to embrace technology shifts
bureaucracy and set structures tend to be risk-averse

Creativity and innovation are the victims of this inability to change, in the face of change.


The professor emphasized that change can be harnessed via 'breakthrough innovation' -



empower people to break rules -

those at the fringes bring in outside perspective
enable 'project labs' - to foster innovation initiatives
encourage ambidexterity -

simultaneously exploit current competencies and explore new domains

Michel Van Velde

(Director, One Shoe) - gave a contemporary and germane take on modern psychology to effectively lead and bring about change - 'Radically Candid'.

Drawing from the concepts of Eric Berne's Transactional Analysis, and Thomas Antony Harris' book 'I'm Ok, You're Ok', Michel explained beautifully how the Drama Triangle traps us into responding in set ways to situations. This, in turn, prompts others to be unyielding in their stance, and the interaction hits a cul-de-sac.

The conflicting parties are trapped in the rigidity of their responses, rendering any resolution impossible.



Recognizing we are trapped in the Drama Triangle opens up our minds to deviating from our set position, enabling others to react differently, and Change becomes possible.
Melissa Van Der Hecht

(CTO, Mulesoft) - 'We all have Superpowers' gave a hugely engaging talk on why we need to be more open about diversity in technology.



She shared insights on how we tend to think of 'diversity' in very uni-dimensional ways - gender for example - but it actually covers several aspects. Age, background, education, experience, race, nationality, disability are all elements of diversity - but it's what makes one stand out ahead that counts.



Melissa illustrated how diversity is a key driver to innovation and change - and cited studies and statistics to show -

companies with more diverse teams report ~19% higher revenues
why diversity - better culture, higher performance, better customer engagement
coaching employees to harness their strengths encourages inclusion
The Content Experience → Focus, Responsiveness, Security
Some very interesting and instructive developer sessions over the next two days that showcased how content technology is maturing with ever-evolving market contexts. I missed out quite a few, but the ones that caught my eye -


Content - Context-less and Channel-Agnostic
Finally, Preston So's Sunday morning keynote was a pleasure to listen to. Speaking on 'decoupled Drupal and context-less content', he expounded on how rising expectations from developers, editors and marketers could put Drupal at risk of a credibility chasm.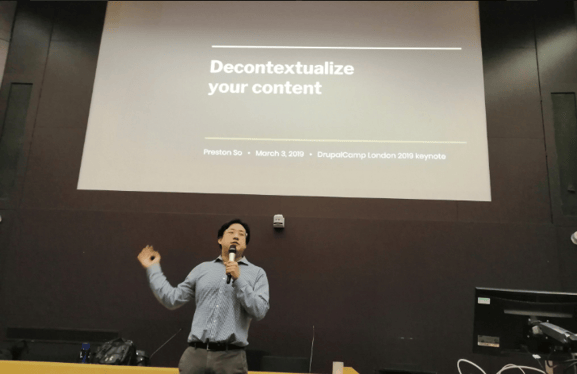 This may start to happen when Drupal content is served to multiple channels beyond just the website. The multitude of devices, screens, wearables and apps that push content to us in myriad ways - audio, video, text, AR/VR as well as interactive, streaming or static.

This is the 'Change' digital technology is going through - an explosion of channels, along with rapidly evolving front-end Javascript frameworks. In such a scenario, content shouldn't just be context-specific, for example just mobile-friendly or website-friendly. Content in its pure form should be channel-agnostic - able to adapt to different contexts, just the way water adapts to the shape of the vessel its poured into.

Preston explained how decoupled Drupal helps configure front-end channels (the 'vessels') that own their contexts fully, enabling enterprises to target specific audiences. A whole new proposition to leverage Drupal in ways that evolve with the business.
And one for the road…
Can't help coming back to Brexit - was the 2016 vote an outcome of the Remainers' inability to effectively channel its messaging content to its targeted audience? Is the current imbroglio in the UK Parliament a result of similar shortcomings in the current dispensation?

As I said, a topic for another day. However, AI and big data technologies are increasingly impacting the spread of news, ideas and public opinion. In the post-truth era, the standing of media companies - to take an example - depends more and more on how they create and disseminate credible content to discerning audiences, across their preferred channels.

Will the near future see spiralling audience demand for peer-reviewed journalism, tagging of fake news, detection of fraud content, false references, fabricated statements? Technologies such as natural language processing, blockchain and bigdata + cloud are already addressing similar challenges for the scientific publishing world - how far behind is mainstream media?

The road ahead perhaps, for a modern CMS working with such technologies of tomorrow, backed by secure cloud platforms - an all-encompassing enterprise digital ecosystem. A topic for future DrupalCamps?

Truly, change is in the cloud, er… air.
Rajat Lal is the Business Head, UK and Europe at Srijan Technologies. Srijan was the CXO Day sponsor at DrupalCamp London 2019.