The quantum leap in technology and the ubiquitous demand for delivering personalized content has made it pivotal for companies to embrace the web content management system for all the right reasons. It begins from engaging customers, lead generation, to snowballing overall revenue from various platforms.
However, it can be daunting and tricky sometimes for enterprises to choose the right one as per their requirements on the basis of the varied features and potential that these CMS offers.
One of the most cited reports by Gartner, Web Content Management Magic Quadrant report, has proclaimed that Acquia Drupal, Adobe Experience Manager, and Sitecore are the three most prominent WCM Managers.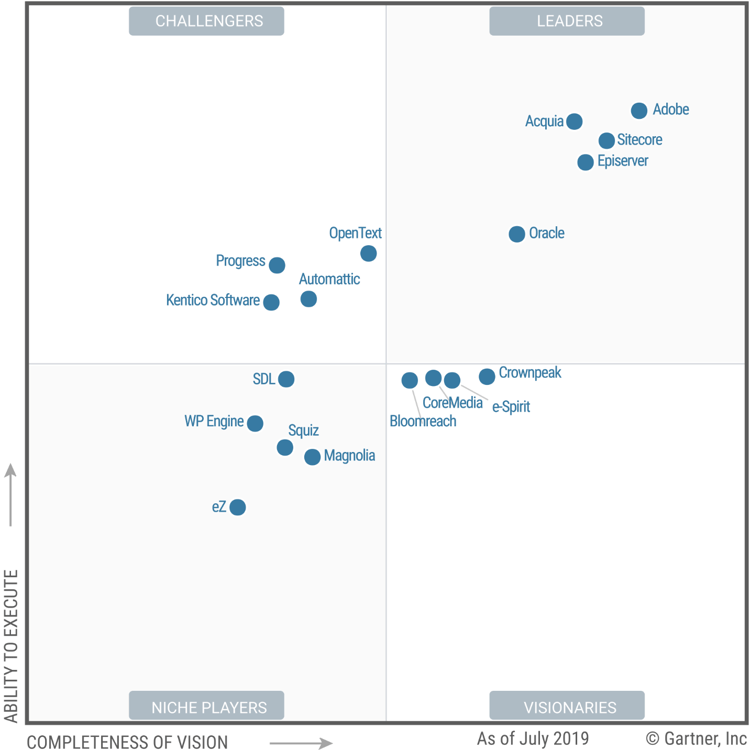 These three were at the forefront in Gartner's report based on the two factors majorly, "ability to execute", and "completeness of vision". They undoubtedly outperformed on both these parameters and hence it goes without saying that all three are proficient in fulfilling enterprises' WCM needs.
However, as one-size does not fit all and there can be multiple parameters for comparing these, it's better to largely group them into different stakeholder perspectives- the business decision-makers', the content and marketing teams, and the IT teams. Each of these teams play a vital role in the process.
The content, marketing, and IT team because they'll be the ones directly working with the CMS they choose. The business decision-makers, CIO, CTO, and the freshly-coined Chief Data Officer (CDO) are the ones who will be held accountable for their choices and showcasing adequate ROI.
This blog will deal with the comparison of AEM and Drupal from the perspective of business decision-makers. Here we'll primarily focus on factors like cost of implementation, scalability, security, and maintenance to see how Drupal and AEM fare against each other.
Pick What's Best For Your Organization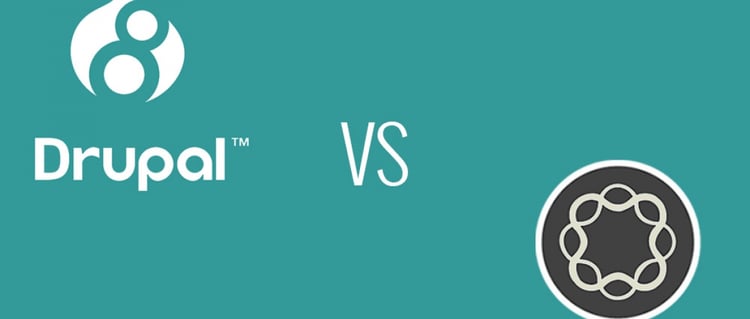 Identifying the company's particular requirement should be the first task on your to-do list. This will only help you out as a decision-maker to draw the conclusion.
Cost of Implementation
"A high price may be a part of its charisma in selling difficult art", quoted by Robert Genn, a renowned Canadian artist.
You should get the desired output for the price you pay for a CMS.
Setting up any large technology solution is always an eye-catching question as it involves the cost associated with it for implementation. Though it is justified as CMS forms a framework for the enterprise technology architecture, and further paves way for digital transformation; the expenditure made on this part is yet always under analysis.
"Being expensive doesn't make CMS equipped or competent enough for the enterprises"
Furthermore, migrating to new CMS is also a cumbersome task for any enterprise IT team. So, this crucial decision of investing in any particular CMS is made after several rounds of deliberation. And once deployed, organizations become extremely perceptive of acclimating to a change.
The objective behind all such discussions is to get this done right in the very first time & the investment and ROI of any particular enterprise CMS is one of the biggest factors to consider.
Licensing Fees
The first and foremost difference between AEM and Drupal is their nature of availability- AEM is proprietary while Drupal is open-source. AEM's licensing fee starts from somewhere 40,000 USD, with additional cost implications based on organizations' size and expected usage. And this is not a one-time investment. It is a recurring expenditure every year.
Contrarily, Drupal is an open-source platform and hence discards any licensing fee completely.
Build vs. Buy
The way current market trends are soaring up does not allow enterprises to consider the deployment of CMS a good idea as it will consume a considerable amount of time. Their expectations lie in finding out an unconventional and innovative solution which is readily available with the quick installation process and some training for content, marketing, and larger digital experience teams to run full-fledged campaigns.
The general perception that surfaces with Drupal being an open-source, developer-driven solution, is the requirement of complete expert teams to deploy it. There is a definite apprehension around the fact that enterprises have to build from scratch to set up a Drupal CMS, and that without second thoughts, consumes ample amount of time, resources, as well as cost.
AEM is perceived as a ready-to-roll product requiring minimal expert set up.
"In contrast to the assumption, Drupal does have over 20,000 modules and distributions that provide on-the-go functionalities and features"
However, it's paramount to apprehend that build vs. buy debate is not as straightforward as it appears. Because:
In contrast to the assumption, Drupal does have over 20,000 modules and distributions that provide on-the-go functionalities and features like multisite, multilingual, dynamic content, personalization, and more. With distributions like Acquia Lightning, Drupal caters to highly targeted, easy-to-implement enterprise-level content management solutions, unlike AEM.
The other noteworthy point is that AEM does need specialized teams for design, hosting and maintaining an efficient digital platform. They demand an almost similar degree of the build like that of Drupal. But even here, the total cost of implementation for Drupal would be around 250,000 USD to 350,000 USD on an average, and around 500,000 USD if you compute hosting too. On the other hand, typical AEM implementation budget starts exceeding the limit of 500, 000 USD and can go as high as 1 million USD.
Support & Maintenance
Both Drupal and AEM demand substantial maintenance post-deployment.
In regards to the maintenance, Drupal will safeguard your content but to lay the foundation for modern architecture it won't hesitate from breaking some components to ensure that the platform is up-to-date and relevant. To achieve the same, It will eliminate unnecessary bloatware associated with rote adherence to backward compatibility.
| | | | |
| --- | --- | --- | --- |
| | Licensing | Build or Buy | Support & Maintenance |
| Drupal | No licensing fees | Considerable build. Cost approx 250,000-350,000 USD | Support costs can be tailored to fit different enterprises |
| AEM | Licensing fee applicable | Needs specialized teams for build. Costs approx 500,000 - 1 million USD | Dedicated support teams by Adobe |
Security
AEM is certainly a secure platform with predefined functionalities to ensure security and administration. User identification and access can be easily managed. There are tried-and-tested techniques by which risk of inter-site request forgery, can be alleviated, and third party data storage, and role-based authentication and access to data objects can be successfully secured.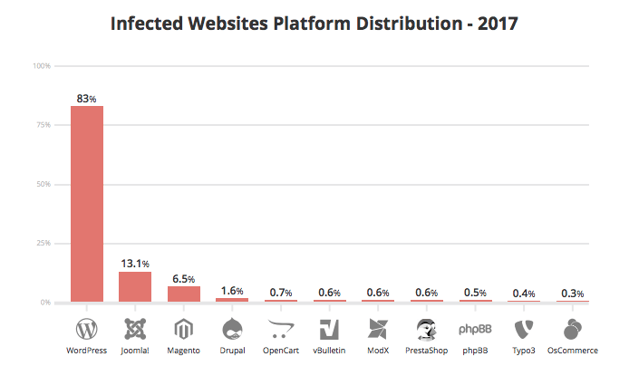 Source: Sucuri
As per the stats, Drupal performs substantially better than other leading CMS platforms in terms of protecting websites from any external attacks.
Sucuri, security platform for websites, compiled the Hacked Website report, analyzed more than 34,000 infected websites. Among the statistics that it shared, one of the factors for comparison was affected open-source CMS applications.
The infection crippled other CMS due to improper deployment, configuration, and the poor maintenance.
With Drupal being an open-source platform, it is generally presumed less secure in comparison to a proprietary platform like AEM. However, that's not the case!
Drupal has almost similar security and governance features embedded within it similar to AEM. Drupal has dedicated modules for identification, authentication, and access-based controls.
"Drupal's security standards are set by the Open Web Security Project, making it secure by design"
The database encryption at various levels vouches for data security so that no unauthenticated user can breach the security. Also, there is built-in security reporting feature to let teams highlight and raise the security concerns within the community.
It is to take heed that AEM's security initiative is led solely by one team, with Adobe extending support whenever necessary.
But Drupal has a different story to narrate! The security advisory not only works on to safeguard the platform but also ensure that there are multiple touchpoints to resolve the issue.
Security documentation, helps developers write secure code, and maintain modules for added security - all this creates a larger system that continuously safeguards Drupal. It's security standards are set by the Open Web Security Project, making it secure by design.
Scalability and Future Proofing
CMS lays the foundation for providing the unique digital experience to users so it ought to be scalable and customizable. It should be capable of integrating seamlessly with other technologies and simultaneously support new solutions so that its ready to serve the growing needs of the organizations shortly.
So how are Drupal and AEM different in this regard?
The Adobe ecosystem of products offers all-powerful solutions to amplify the enterprise digital experience. However, its features and full potential can only be realized when organizations are using a combination of several different Adobe solutions. While they continuously come up with new capabilities, the chance to leverage these is often dependent on having up-to-date versions of other Adobe products. AEM is a part of the Adobe Marketing Cloud and makes a pertinent case for buying all the other products to create an efficient digital platform.
For instance, Adobe's Smart Layout was a new AI feature rolled out in 2018. However, to make use of this feature, enterprises will need the most recent versions of AEM sites, AEM Assets, Target Analytics, and Audience Manager. And that just adds up to the overall budget by several thousand dollars.
While large enterprises might think of implementing it, the vendor lock-in associated with Adobe does not bode well for scalability.
That's because most enterprises today opt for those solutions which are best-of-breed and best-of-need philosophy. The complete enterprise technology stack gets build in an agile manner, where every new piece appended is the best possible solution for the enterprise with given current requirements and constraints. But in case you decide to choose products from Adobe ecosystem, the need to stick to Adobe becomes crucial. And if you want to leverage any of its products to its full capacity, you may lose out on your flexibility of opting for other solutions that might be more suitable to your needs.
In a nutshell, once you have decided to go with Adobe or even with just AEM, getting out of it becomes difficult even if you keep on adding new moving parts to your digital experience stack.
"Drupal empowers enterprises with the flexibility of choosing any technology solution that works best as per their respective requirements and integrates with them hassle-free"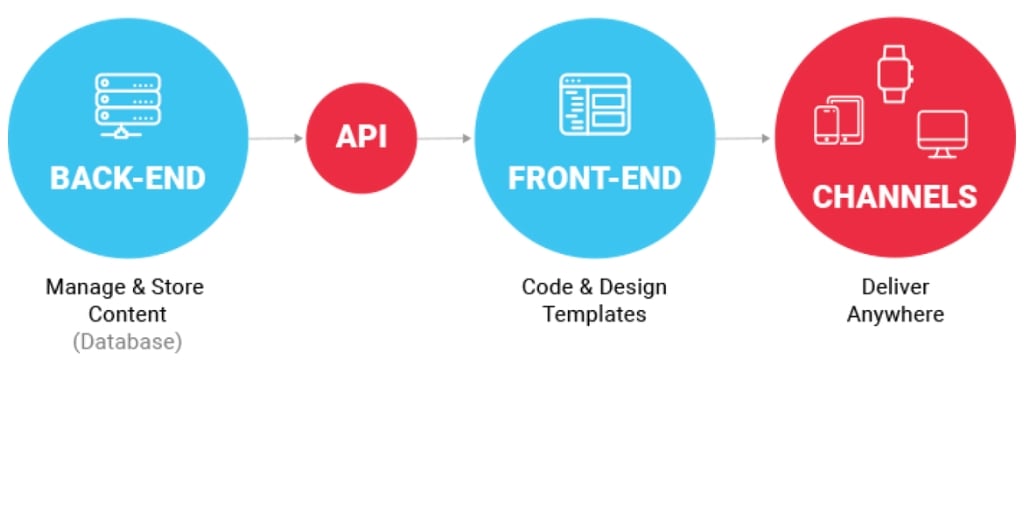 However, with Drupal, scalability, expansion, and flexibility have never been a cause of concern. Since Drupal is co-created by a whole community of developers, its feature of integrating seamlessly with various other technology solutions is inculcated in its DNA.
The Drupal CMS integrates effortlessly with multiple enterprise systems, even Adobe, and does not rely on the existence of other drupal based solutions to work effectively
The potential of decoupled Drupal applications has proven it as best content manager-while letting other technologies to build atop to deliver augmented user-facing functionalities.
The open-source community also takes care that new modules and functionalities built on any project get contributed and made readily available for others to use and worked upon.
In essence, Drupal empowers enterprises with the flexibility of choosing any technology solution that works best as per their respective requirements and integrates with them hassle-free.
The Drupal community also ensures to keep the core up-to-date and the platform is always up to speed to work with other enterprise technologies.
The question that arises here is that whether you want to completely switch to Adobe solutions or want to keep that option with you where you have the flexibility to choose the best solutions for your company.
For uninterrupted flexibility and extensibility, it's suggested to avoid vendor lock-in and choose Drupal.
Have a look at this video to get more understanding of different web content management systems and their capabilities-
Drupal or AEM
Here is a compiled list of factors arranged in tabular form to carry out the comparison between Drupal and AEM to help you reach the final decision-
Attributes
Drupal
AEM

Major Differentiation

A web content management system built by the largest community of developers.
A web content management system with implicit personalization and analytics feature.
Agility, cost, and open-source availability are its USPs.
Proprietary and licenses are require
Flexibility

Being an open-source platform, it does not require any roadmap to implement change.

It is innovation-friendly!

Since it is proprietary and requires a license, it has to wait for rolling out a roadmap to implement changes.
Development Speed
Easy prototyping leads to faster implementations

Requires considerable time to execute the process

Responsiveness

Highly responsive! It helps in building interactive websites for the enhanced digital experience of users

User Experience and building responsive interfaces are available
Integration Capabilities

Rest APIs in the core is easy to integrate

Integratable-Relies on partners for integration

Enterprise Fit

Meets all the criteria of the enterprises

Meets all the criteria of the enterprises
Security

Dedicated teams to ensure the security of the platform.

Has a more transparent and open process to communicate the issues within the community

Security directed as by proprietary team
Scalable

Highly scalable

Scalable
Maintenance

Sign up with any Drupal shop. Vendor Agnostic approach is possible.

Proprietary
Cost

Source code is free but organizations have to pay more for adding up functionalities

License costs are high
Final Words
The final choice between Drupal and AEM will be made by the decision-makers based on the array of questions around the cost of building, hosting, and maintenance. This also involves considering the associated ROI with both Drupal and AEM to ensure easy workflow.
The trade-off between making Adobe products work together well and the freedom to choose the best technology solutions as per your requirements needs to be carefully evaluated.
And even though both Drupal and AEM ensure top-notch security, your enterprise internal security and compliance requirements will also need to be taken into account before choosing one over the other.