Tendency to hire a developer
A lot of firms, specifically non-profits have a tendency to hire a developer in-house to maintain their Drupal website(s). This in our opinion can lead to problems for them. Here's why we're saying so.
What does a Drupal website maintenance entail?
Maintenance of a Drupal website covers:
Applying security patches; Keeping installed contributed modules up-to-date
Bug resolution, if any
Making functional enhancements - which further requires work across CSS (Drupal theming), Site-building, and Development
Roles required in maintaining a Drupal website
Maintaining a mid-sized Drupal website requires the following :
Site configuration expert

: this is a Drupal developer who can

configure modules

and often knows enough CSS to implement new functionality
Drupal CSS/theming expert

: more complex enhancements such as major feature enhancements requires deeper and thorough knowledge of CSS / CSS3 / HTML5 and Drupal themes to ensure maintainability of the Drupal theme
Drupal Developer

: this is someone who writes Drupal modules, and preferably has some modules contributions on the drupal.org contributed projects (which ensures that the developer writes code according to Drupal coding standards)
Quality Assurance

: Cross-browser testing across Chrome, IE, FireFox and their various versions is most crucial for you to maintain a reasonable internet image of your organisation; if your website is somewhat large, maintainaing a Test Plan or/and

automated Test Cases

(we work on "Selenium") is immensely important
Project Manager / Business Analyst

: to ensure that the above roles work like a well oiled machine and deliver what you asked for, normally you need someone who understands client's requirements well and communicates between the team and the client effectively
Drupal super-heroes are not available!
Expecting one person to perform myriad roles that are required for a professional Drupal maintenance, is often asking for too much.
Firstly, it requires years of experience in Drupal coding and site-building to work across all these roles, and maintain high-quality of software. And even if you are able to locate one such person near you, there is little reason for this rock star Drupaler to be working with you.
If you have found one, most likely (s)he is a mediocre Drupaler, but excellent smooth-talker who has managed his way through the inability of an an internal IT/HR team to shoot holes in his story.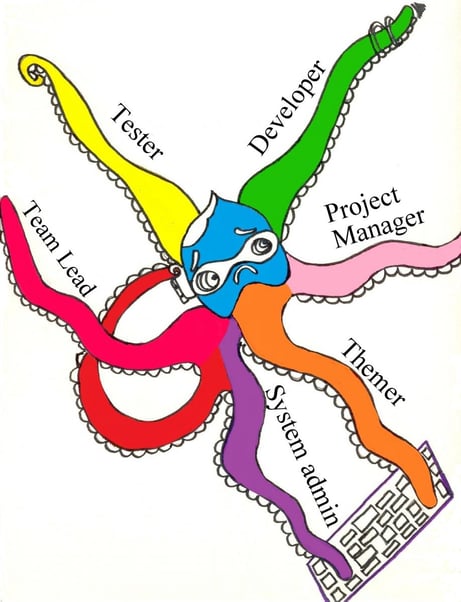 CAN YOU REALLY HIRE SUCH A GUY?
Are you a software company?
Assuming you feel your Drupal support needs are limited and you could do with a medium level Drupal person, perhaps you should still ask yourself if you are a software company?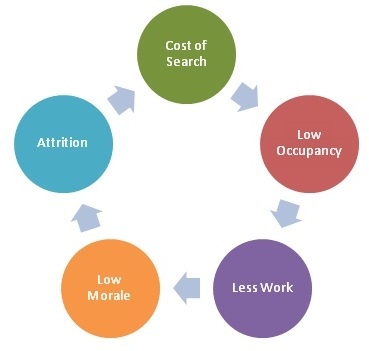 The above are the problems that a software firm generally faces. They are equipped to deal with these problems, and have systems to deal with them. You are not a software company, and chances are would find it very frustrating to deal with these retention and morale issues.
So what is the solution?
We believe hiring a Drupal agency which offers a team and can carve out optimal hours from this entire team's available hours, is the right model.
This is a unique offering that Srijan has. Read more on this unique offering in our next blog post.