Marketing department these days are feeling the heat to make processes faster, agile, and efficient in this fast-paced digital world. That's where the concept of Drupal comes into the picture!
Drupal, since its inception, has been considered crucial for the companies which are trying to get on the digital transformation bandwagon in order to provide a faster and more nimble digital experience to customers.

Drupal comes equipped with a set of marketing tools to target the right audience and increase the overall ROI for the businesses. Additionally, the suite of tools and solutions available, build a solid foundation important for marketers, to unearth its potential and other martech capabilities; making it one of the most powerful and widely approached platforms for all the marketing needs.

The blog gives you insights on how Drupal can be a perfect choice for marketers.
Leveraging Drupal For Marketing
Drupal has become an inseparable part of the marketing space which not only drives the business revenue but also makes a remarkable balance between marketing technologies and its ecosystem with its content first, commerce-first, and community-first marketing solutions.
Creative Freedom
Dependence on the IT team for implementation is the most known problem for digital marketers. With traditional CMS it takes an added effort, time, and resources across design, development and marketing departments to work in sync.

By the time changes are implemented the model already looks outdated to the new situation.
"Drupal seamlessly incorporates with the existing marketing and sales technologies of the enterprises"
The cutting-edge Drupal modules and distributions empowers different teams with to have their creative freedom in order to manage the development of a project at their own pace and convenience.

With Drupal's architecture, organizations have a platform where they can dynamically launch their website. Marketing teams can curate the structure with segment content and visuals to lay the foundation of a strong digital strategy in its backbone.

Drupal turns out to be a useful asset for organizations which are looking for implementing it in their digital business as it seamlessly incorporates with their existing marketing and sales technologies.
Balancing Marketing Ecosystem
CRM systems are important in running businesses and boosting sales management. It is important for organizations to integrate and be able to customize the martech stack to their unique needs.


Drupal offers features that help you create a fine balance between CRM and marketing ecosystem- with content-first, commerce-first, and community-first marketing solutions. Business, technology, and marketing professionals use Drupal to create such agile solutions that are easy-to-use and offer a wide reach across the web. Built fully-responsive, customers and users can discover products and solutions with the help of any device.

It possesses infinite potential with native features and module extensions, including collaboration with third-party digital marketing tools.
In all, it's a platform to help you push your strategy for the upcoming phase of digital customer engagement and digital business.
Responsive Customer Experience
Based on the system of engagement, it gives a solid foundation important, for all the single interactions with customers and people within the organization alike, to provide the ultimate unified experience. Streamlining your business operations and aligning your digital strategies, it delivers on the mobile-first approach. Enterprises' marketing teams can manage the website and administrative pages with ease across multiple platforms.
"Personalized customer experience is evolving at a blistering pace"
Organizations competing in this customer-centric age are putting efforts to provide a personalized experience to customers for keeping them engaged and simultaneously attracting new visitors on board for lead generation.

The digital strategies run by marketing teams majorly focuses on increasing leads, conversions, and revenue percentage of the company gradually via digital channels.

As customers lie at the center of the organization, this can be accomplished by offering them a tailor-made experience across all channels.

The motive is the same but the way it is rendered has evolved significantly and Drupal has a large part to play in it. Here's how-

Have a look at the video to understand more about the Acquia Lift and how it can be beneficial for marketers-
Focus on Personalization with Acquia Lift
There is no denying to the fact that companies are leaving no stone unturned to provide personalized results to users- it's not just about presenting content on the website but rather tweaking the whole experience. Simply put, they are trying to ensure that every single user-prospect or customer - gets what they want, even before they realize it.

Acquia Lift is a powerful amalgamation of data collection, content distribution, and personalization helping marketers deliver on the refined user experience

Acquia Lift bolsters the personalized experiences of the customers. It is a powerful amalgamation of data collection, content distribution, and personalization that helps enterprises' marketing teams ascertain the refined user experience without much dependency on development or IT teams.

Source: Acquia
Acquia Lift encompasses three key elements to boost personalization-
Profile Manager
It helps you build a complete profile of your users right from when they land on your website as anonymous visitors up until the stage where they are repeat visitors or loyal customers. Collecting user info such as demography, historical behavior, and real-time interactions, it complements the collected insights on user preference with best-suggested actions in your capacity.
Content Hub
This cloud-based tool provides a secure content syndication, discovery, and distribution. Any content created within the organization can be consolidated and stored here; readily available to broadcast on any channel, in any format.

Searches on varied topics and automatic updates give insights on a wide spectrum of content being developed within the enterprise- in different departments, across websites, and on different platforms.
Experience Builder
This is the most essential element of Acquia Lift. It lets you create a personalized experience for your users from the beginning.

The Experience Builder is an easy-peasy drag-and-drop tool that allows you to personalize every section of your website to showcase different content to different target audiences, based on the information retrieved from the Profile Manager.
Marketing teams can:
Define the rules and protocol on how content should be displayed to a different segment of site visitors
Carry out A/B testing to determine what type of content drives more conversions for which user segments.
All this can be executed with simple overlays onto the existing website segments, without disturbing the core structure of the site and without depending on IT teams for implementation.
Multilingual
With companies expanding their reach to the international markets, Drupal multilingual features are definitely worth to make capital out of it. As it supports 94 international languages, it can translate the complete website within a fraction of seconds with less than 4 modules in action, enabling marketing teams to deliver localized content experiences; thus increasing the probability of turning a visitor into a customer.
"Drupal multilingual features are definitely worth to make capital out of it"
Despite the features of Drupal site's language for the audience, the editors and admins have the option to choose a different language for themselves at the backend. Marketing and editorial teams have the rights to create and manage multilingual sites, with no need for additional local resources.
Layout Builder
The Layout Builder with its stable features showcased in Drupal 8.7 allows content marketers to create and edit page layouts and arrange the presentation of individual content, its types, media, and nodes. It also lets you feed user data, views, fields, and menus.
"Marketing teams can preview the pages with ease without impacting the user-experience"
It acts as a huge asset for enterprise marketing and digital experience teams-
It offers flexibility to help you create custom layouts for pages and other specific sections on websites. You can override the predefined templates for individual landing pages when required.
Content authors can embed videos effortlessly across the site to enhance user experience and ultimately drive conversion rate.
Marketers can preview the pages with ease and without the fear of impacting the user experience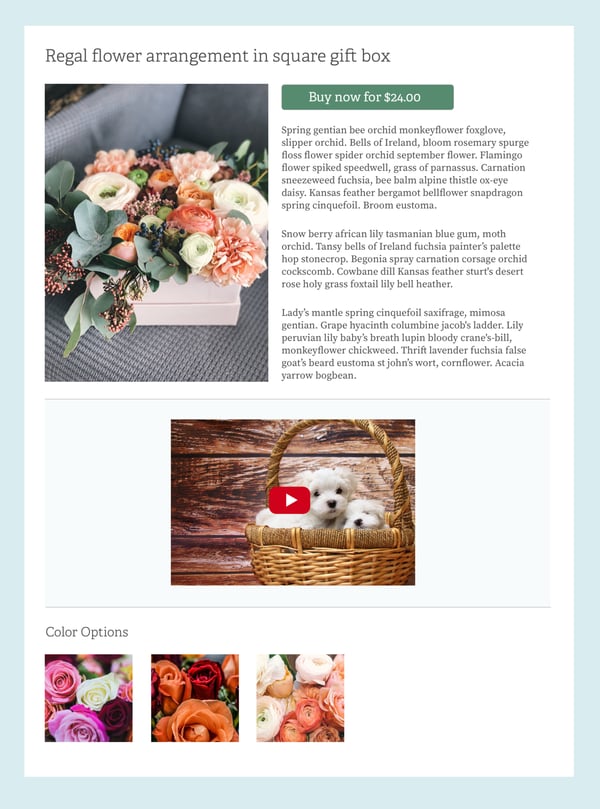 Source: Dri.es
All these features offered ensures that marketing teams have more control over the website and can work independently without needing to take help from developers. This ultimately reduces the turnaround time for launching campaigns and hence the dependency on development teams.
Improved UI with API - First headless architecture
With the ever-increasing demands of acquiring and retaining customers, marketing teams are always in a hurry to redesign and update the backend and front-end in a short period. However, this becomes quite a strenuous task for them to update and redesign digital properties rapidly keeping in mind the evolving customer expectations.

Traditional Drupal architecture could take ample amount of time to make updates and redesigns because the refinement needs to take place at both front end and back end resulting in a dependency on developers and designers for the completion of the project.
"A decoupled CMS strategy can work wonders for a website that is in desperate need for a change"
But now with the powerful feature of Drupal, i.e., decoupled Drupal, marketing teams can become more agile and efficaciously segregate the processes & streamline the upgrades without impacting the user experience at the front end. This uber-cool feature of the Drupal helps in making the design and UX alterations easier to maintain.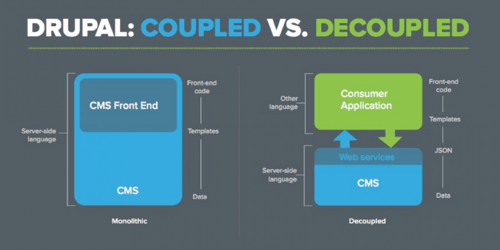 Source: Acquia
Having the flexibility to come up with more ideas and implementing them by being able to easily add them to the website is a huge upliftment for marketers. New requirements can pop up anytime in the marketer's mind that could be added to the site for more customer engagement and lead generation. The decoupled approach gives the extra agility needed to keep improving the public-facing site.
Final Words
Drupal has the potential to provide a promising future for better digital experiences with its every upcoming release. The appending of new features in Drupal will help marketing teams to become more flexible and scalable and yet provide a surpassing customer experience in no time. Consequently, conversion rate, sales, and brand visibility would increase manifolds.

Marketing teams in the organization who are already running their sites on Drupal have a lot to be happy about. Specifically, the development around Acquia Lift and Acquia Journey gives them freedom and hence no reliance on developers for any website updates and making content live, etc, to target the audience at the right time and increase ROI.

And for the marketing teams of the organizations those who are envisaging to roll out a plan for shifting to Drupal due to its all-inclusive features, the culmination from the highly-skilled and empowered team will make it worth all the efforts.
Our Services
Customer Experience Management
Enterprise Modernization, Platforms & Cloud
Data & AI