With websites playing a major role in determining customer needs and impacting business sales, a second's lapse in loading can make a customer think twice about staying on the website.
As per Amazon's findings, it stands to lose up to $1.6 BILLION per year if their site was slowed down by just one second.
A reliable and fast web hosting provider can play a crucial role for your business to retain online users.
While looking for a hosting provider for your website, what qualifies as the best solution? Does CMS specific hosting really have an impact on website performance?
Let's find out!
Why Drupal-Specific Hosting?
Drupal specific hosting is safer and better as it is more compatible out of the box and comes with a bundle of other benefits:
1. Easier Installation For Quicker Website Building
Choosing Drupal-specific hosting providers helps with quick 1-click installs which can be completed within minutes. It's best to to opt for CMS friendly web hosting solutions to sync up easily.
2. No Further Cost Associated
A Drupal specific host can provide a server infrastructure that is specifically optimized for running Drupal websites at no extra hidden cost.
3. Flawless User Experience
The benefit of working with Drupal-specific hosting is that it can notify you of any website performance issues or of any upcoming minor or major release and assures seamless user experience.
4. Strong Community Support
Drupal Community support for your website as well as your hosting provider with a plethora of huge libraries of modules and extensions can support you if you get stuck.
What are Drupal Web Hosting Requirements?
It is essential to choose a hosting provider which can match the setup of the CMS you're using.
With Drupal being a CMS which has numerous modules running, it would need a hosting solution which can offer a huge spacing model. A basic Drupal site will need around 2 GB of RAM and 10 GB of total storage, MySQL 5.5 or higher for Drupal 8 and MySQL 5.0.15 or higher for Drupal 7. Also, the core installation takes about 100 MB on the web server, depending upon the modules, themes and content needed for your website.
What Qualities Determine Best Hosting Provider?
With multiple options of popular web hosting available out there, choosing the right Drupal hosting can be a humongous task. Not just fast server speeds, but qualities to look in a hosting provider include robust security, one-click Drupal installs, migration assistance, scalable hosting, daily backups, and which come with Drupal utilities pre-installed.
We have curated a list of things which you should consider in the hosting provider for your website. They're listed as follows:
Higher Uptime Percentage: While choosing a hosting provider, ensure that it has a reputable uptime percentage, preferably above 99.5%, which shows how much time your hosted website will be online for its users. A weak server and unstable network connections of a hosting provider can often make your website offline.


Better Page Load Speed: Server speed is different than website speed. There's no use optimizing your website if it is sluggish on the server it's hosted on. With only 3 seconds to catch a visitor's attention, you don't want to lose one with a slow server response time. To stand out amongst million websites on the web, a super-fast loading website can transform a visitor to a customer.

Reliable Customer Support: This is an important aspect for your web hosting and should not be overlooked. Your provider should offer support on emails, chat, phone and much more and should have a responsive reputation in their support department.

Automated Backup Restore: A good host will ensure daily website backup of all content, files, and code in case of unpreventable accidents.
Standard Development Workflows: An ideal Drupal hosting solution will usually come with three environments (dev, stage and live) in the cost of the subscription. Dev environment is used only by the development team to build and test new features, stage environment for bug fixes before they are launched to your live/production site, live environment being client facing with live content
Cost-Effectiveness: Well, who doesn't want an affordable and reliable web host?
Srijan's Recommendations For Drupal Website Hosting
We've chalked out a list of some of the best Drupal platforms that are trusted and proven to provide the best service for small to enterprise business.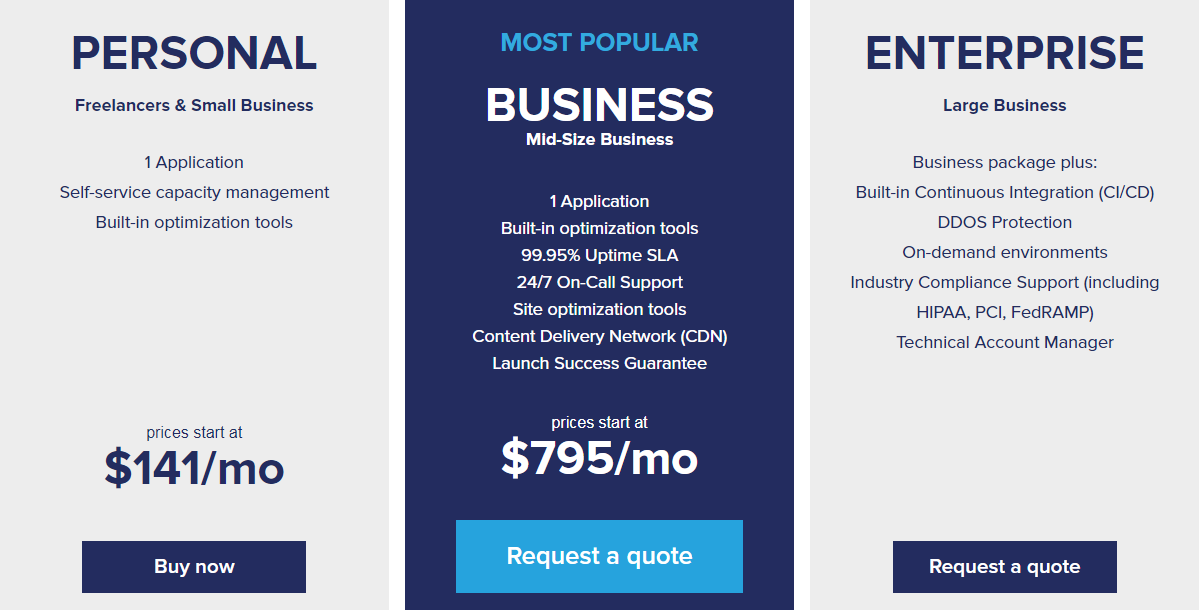 Acquia Cloud platform tops our list of the best Drupal hosting providers. A trustable name in the hosting industry, it is not only secure and compliant, but also is improved to be able to support Drupal 8 sites. The provider has a huge support staff and is the most preferred channel for big names like BBC world. Its starting price for small businesses is $141/month and ranges to $795/month for mid-size businesses. Users could try the free version before deciding to go for it.
Pantheon offers a competitive price for Drupal hosting with uncompromisable performance. Makes your Drupal run faster, this hosting provider handles traffic spikes without any hiccups. Big names like Apigee, Tableau rely on it and stands strong based on user reviews. Offering in-built dev, staging and live environments, it is developer friendly provider helping them deploy code securely, using a continuous integration workflow. Its most popular plan starts from $114/month and is apt for traffic-intensive websites.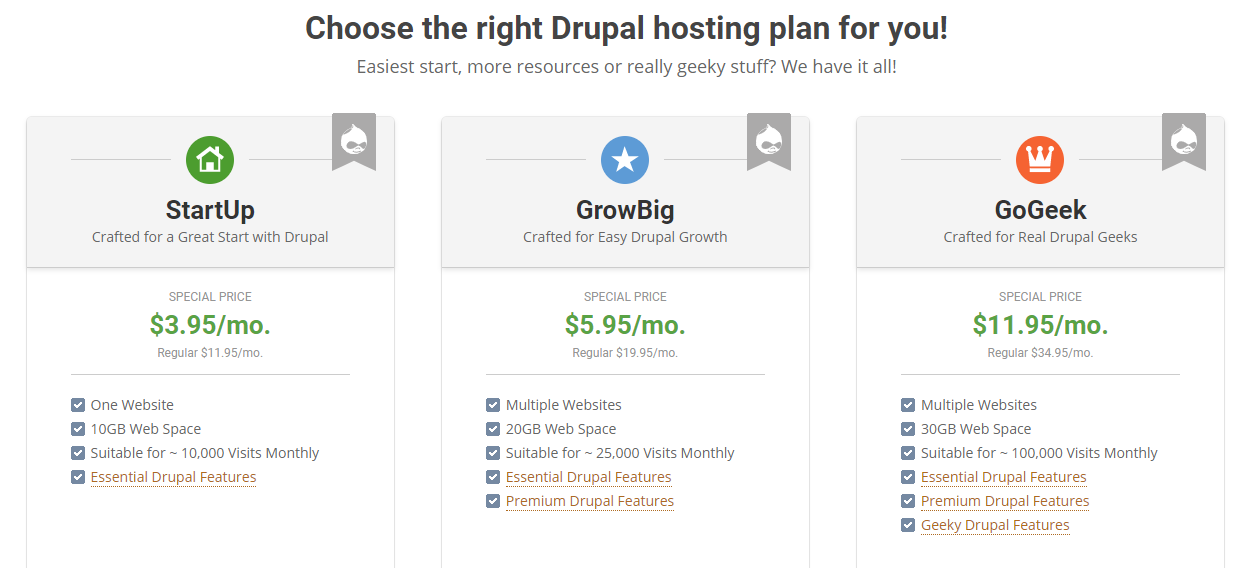 Siteground hosting provider is tailored as per your Drupal website needs. Well backed by Drupal experts, the plan comes with an easier start, alongwith 1-click Drupal install and no-downtime for your website. Here's a list of its amazing features:
30 daily backup of website
100% security from attacks
24/7 uptime monitoring
Latest technology hardware used
24*7 Drupal expert support available
It offers affordable hosting plans starting from $3.95/month.
AWS offers a cloud hosting platform for your Drupal website. Its extensive computing power and faster content delivery can help your businesses scale and grow rapidly. It offers various services to host Drupal 8 in a distributed environment.
It is considered best for medium to large enterprises. You can check the pricing details here and use the calculator to see if the cost suits your budget.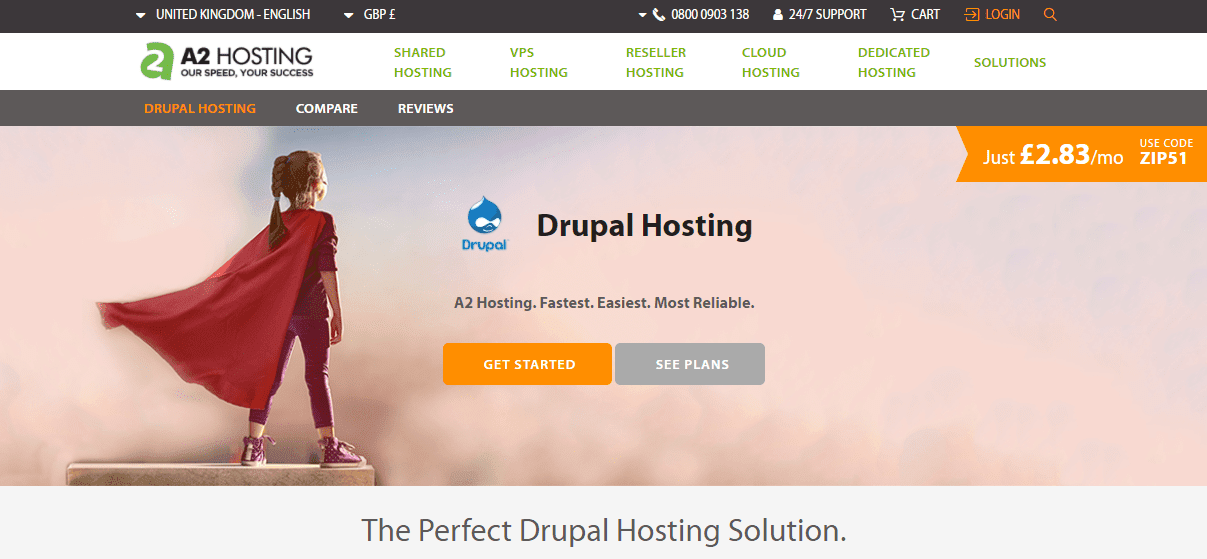 High powered hosting to meet your needs, it offers 20 times faster speed for your Drupal website at four affordable plans for shared, reseller, VPS and dedicated server hosting. It is optimized for speed and performance, with Drupal being pre-installed with every hosting plan. Here's a highlight of what it offers:
Fast servers for a supreme user experience
Friendly and knowledgeable support team available 24/7/365
Completely risk free money back guarantee
99.9% uptime commitment
While there are numerous providers for hosting a site and some of them appearing just tailor made specific to unique needs of Drupal sites, if you need assistance in deciding which one suits your needs, contact us. Experts at Srijan can guide you to opt for the best hosting solution as per your Drupal needs.