Truly, madly, deeply...Dilli ke hain Drupal wale!
The summer of 2019 gave a reason for the Delhiites to rejoice. This time as one of the most conspicuous open source technology events of India, DrupalCamp was back after a sabbatical of two years, in Delhi.
DrupalCamp Delhi was a two-day conference that happened on 15-16 June at JNU Convention Centre. The event proudly hosted 350+ people, 20+ sessions, 7+ Founders speakers, and 3 trainings and a Drupal contribution sprint. Sponsored by 7 top Drupal companies across India and partnered by 10 technology/open source communities, DCD had some power packed Drupal talks by the brightest minds in Drupal and in India.
As an insignia of community inclusiveness, it had the presence of specially-abled artists from KPCT Foundation.
Participants appreciated the spectacular paintings by specially abled people from Kalpana Charitable Trust (KPCT)
We started with the prenote where we introduced DrupalCamp Delhi and discussed the flow of event. More importantly, we threw light on the very beginning of Drupal, the first Drupal event in Antwerp and how DrupalCamp community has grown to 1.3 million people globally.
Following this, the Keynote was delivered by Sudhanshu Mani, the man behind the conceptualization, engineering and manufacturing of India's first engineless train, Train18.
He enthralled the audience by sharing his journey (talking about culture, structure and processes) as the General Manager of the Integral Coach Factory (ICF) and some to-the-point Shayari.
Day 1 witnessed a total of 18 sessions ranging from business & leadership, community, frontend & web design, coding & development, CI/CD & QA automation, beyond Drupal and case studies. People loved the session by Mathieu Spillebeen on - Frontend United: The energy of the people- which also took the audience by surprise since it was a virtual session. The attendees participated throughout by asking questions through the online platform, Slido.
Mathieu Spillebeen in action
Another notable event in the camp was the launch of Drupal India Association (DIA), by Shyamala Rajaram, a local chapter for Drupalites to contribute in India.
The official launch of DIA
At Birds of a Feather (BOF), we discussed the reasons for the inability to contribute to the community and what should be the action plan. Participants didn't shy away from stating that it was the lack of exposure, mentorship and time which was holding them to contribute effectively.
Two parallel workshops were also running throughout the day for - beginners in Drupal and content writers.
Day 2 was filled with sessions, contribution workshops on Drupal and Gatsby, BoF, and Trivia Night. The day gave way to camp's second keynote speaker Prashant Singh, VP - Product Management PayTM, take the podium to talk about the importance of technology in building a better track for India.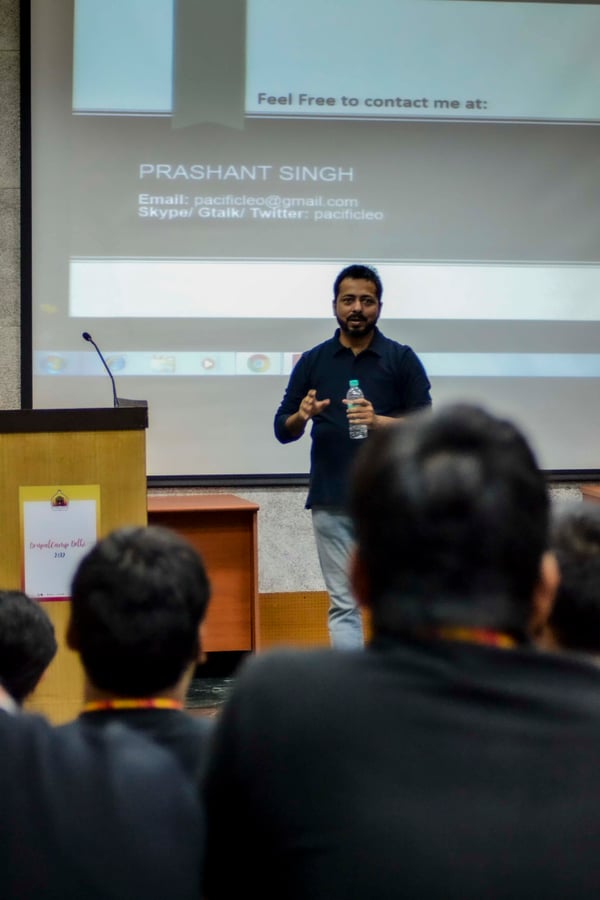 Prashant Singh, VP - Product Management PayTM talking about the importance of technology in building a better India
The Contribution Sprint by Axelerant let people know how and why is it important for them to contribute to Drupal as much as possible. The two-hour-long contribution sprint, which was guided by mentors, saw people from coding as well as non-coding backgrounds joining to network with peers.
The event wrapped up with Drupal Trivia, which kept the audience engaged with some mind-boggling Drupal questions. It was adorable to see two cute kids join as co-hosts, to Tanisha and Akanksha, and were adamant to share no clue when asked for one! The winners of the evening were announced and team Srijan won by answering maximum questions right.
Team Srijan with hosts and the prize
#DCD19 remains special to my heart, for being able to carry out the whole thing successfully, whilst bringing in new set of volunteers to contribute, and for receiving a special note of appreciation from Shyamala Rajaram, Director and Co-founder Unimity Solutions.
Community events fuelled by passion, such as DCD, are always special. Here's why:
For professionals, organisations and students, this is the best way to learn and reinforce your commitment to Drupal. These events create leaders, showcase the importance of non-code contributions and help us in propagating Drupal around the globe. DrupalCamp Delhi would be bigger and better in 2020. Would you be with us?
Time for a groupfie!