The media landscape is transforming the way content is being produced and consumed, which is giving rise to user expectations to have more personalized experiences, from anywhere, anytime and on any device.
This is leading to huge operational changes for media companies to migrate from traditional broadcasting method to digital distribution model. Several media giants are increasingly adopting new cloud technologies to manage the explosive growth of the digital content.
Media enterprises are making a shift to AWS, which is the pioneer in cloud hosting, to take advantage of its high scalability, elasticity and secure cloud services.
But, how beneficial is AWS in terms of solving challenges of media and entertainment industry? Let's understand the benefits of moving to cloud and why AWS offers the best services in the cloud service arena.
Why Media Enterprises need to Shift to Cloud?
In a survey, 35% of respondents replied that their enterprises moved to cloud for easier collaboration for post-production tasks.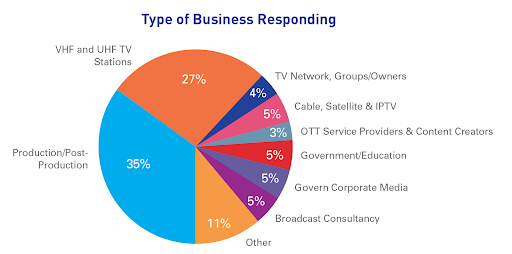 Source: Backblaze
The constant pressure among media firms to invest resources in generating high-quality, creative content and the need to prevent data losses due to natural and artificial catastrophes is pushing them to move to cloud.
So, how is cloud helping the Media and entertainment industry with its major challenges? Let's review them one by one.
1.Huge Consumer Demand
Today's consumers of media and entertainment content expect huge content choice, with their demand varying rapidly, which have to be dealt with in real time.
The media and entertainment sector needs to cost-effectively meet volatile demand, and remain flexible in terms of automatically spinning servers up and down as demand increases or decreases.
2. Continuous Supply of Content
In order to stay competitive, content creators in the media field are under constant pressure to produce and/or distribute original content more frequently, at an accelerated rate.
With cloud, it's easier to store, manage, and deliver gigantic amount of digital content. Hybrid and multi-cloud deployments can provide an even greater measure of flexibility, allowing workloads to be shifted seamlessly across public and private infrastructures.
3. Cost Benefits of Cloud Computing
Cable or broadcast television section of media and entertainment sector are being challenged by new trends in television broadcasting. Agile and low-cost over the top (OTT) companies selling and/or delivering streaming media content directly to consumers over the Internet are competing against the traditional media distribution methods.
Other factors that are challenging media content are the rising costs of content licensing, as well as shortened technology lifecycles.
By shifting to the cloud's OPEX model, media companies can reduce their costs involving storage and delivery technologies and infrastructures.
4. High Performance With Minimal to Zero Delays
It is critical in terms of user experience for viewer content to stream with minimal delays and downtime. A six-second delay in streaming an ad for a show can cost a huge loss, with customers likely to switch to another entertainment channel.
The cloud provides architectures which supports high availability and un-compromised performance SLAs.
Advantages of AWS for Media Enterprises
Media enterprises can help their users monitor, manage storage and compute usage and costs with the tools and services with AWS.
For major tasks around content production, storage, processing, and distribution, AWS brings scalable, elastic and secured cloud services. Equipped with deep learning, NLP, ML, NLU it delights the digital media creators with personalized experiences through smarter content investments.
Secure, Scalable and Cost-Effective Solution
66% of respondents say security is their greatest concern while adopting an enterprise cloud computing platform
AWS remains the best choice for media companies who are looking to adopt private cloud model. As per Cloud Security Alliance report, Amazon Web Services is the most popular public cloud infrastructure platform, comprising 41.5% of application workloads in the public cloud.
Multinational entertainment firms have become scalable and are also making content available to consumers anytime and from anywhere on leveraging AWS cloud services.
It remains a cost-effective solution for media enterprises which can follow pay per use model for the services leveraged.
Simplified Content creation and Production
Media enterprises need not worry about geo and resource constraints. The only focus should be on creating quality content with HDR, VR, AR and beyond, to keep viewers engaged.
With AWS, you can connect with world-wide production talent, unlimited capacity, unsurpassed security and the most innovative cloud technology partners in the industry.
Now, you can optimize valuable insights to improve production investment decisions tailored as per consumers' needs with the help of machine learning and analytics. Pre-processing and optimization for false takes or cuts comes easy with AWS. ML production edit provides quick turn-around for dailies and editorial review. Prohibited content can be easily flagged for filtered viewing.
Efficient Storage Provider
The media enterprises now have a one-stop solution for their storage concerns by opting for AWS multi-tiered storage solution, which includes Amazon Simple Storage Service (Amazon S3), S3 Infrequent access, and Amazon Glacier. These solutions allow for massive data storage, allowing huge data ingestion and elasticity satisfying the ever-increasing demand for storage, along with cost management.
Easens Digital Distribution and Post Production Process
AWS can solve the concerns of broadcasting quality video workflows in the cloud and ensures seamless delivery to any device, at anytime and anywhere.
Media enterprises need not worry about live, linear, and on-demand content, as AWS specialises in delivering and in creating professional quality media experiences for the viewers in much less time, effort and expenses required in a traditional data center.
Pay-as-you-go pricing and fully-automated resource scaling lets you handle any sized audience without upfront capital investment and instead of managing complex infrastructure, AWS video solutions lets you focus on creating user-engaging content.
Live Streaming, Subtitling, Video on Demand Service
Making content understandable to a large audience is easy with AWS cloud solutions which helps generate multilingual subtitles for live over-the-top streaming.
With AWS, the viewers will be given a choice to choose a movie/video from a wide array of options with the help of video-on-demand (VOD) content. VOD can be available for broadcast and multi-screen delivery.
Migration of VFX renderings to AWS will help media companies to shorten content production times and foster collaboration with contributors from around the world.
Let's understand how AWS has been beneficial for giant names in media and entertainment.
Company Description
Business Challenges
Solution and Benefits

Prominent name in streaming online content on smart TV, game console, PC, Mac, mobile, tablet and more.

Unable to scale
Unable to meet user increased demand
Huge infrastructure unable to manage data storage

Accelerated deployment of servers and data storage
Stream high-quality content from anywhere, any device
improved scalability, with a better architecture
Containers optimized their microservices architecture

Leader in nonfiction media, reaching more than 1.8 billion cumulative subscribers in 218 countries and territories.

Required easy to manage website infrastructure
Was seeking cost-effective solution
Wanted to consolidate multiple delivery engines
Needed scalable and flexible solution
Wanted to switch to pay-as-you-go model

Migrated more than 40 sites to AWS
Highly scalable architecture
Entire continuous delivery system and development platform built around AWS API
Low latency along with cost savings of 20-25 percent and better manageability


Media and entertainment have begun to embrace cloud computing as their technology of choice. Reducing IT operational costs and providing anytime and anywhere accessible high quality content will soon trigger global adoption of cloud solutions by media and entertainment.
Srijan is an AWS Advanced Consulting Partner. Contact us today to discuss how our AWS trained professionals can help you in migrating your media and entertainment-based apps to AWS.