CDPs are meant to integrate customers' data beyond digital and physical technology warehouses to provide valuable insights into the data and help enterprises in delivering substantial engagement at every touch-point.
With Customer Data Platforms (CDPs) witnessing more activity and investment heavily from companies like Adobe and Salesforce in the technology, the acquisition of AgilOne by Acquia to enhance its open digital experience platform capabilities can help companies and marketers deliver seamless digital experiences to their customers.
The greater flexibility and more control over the tools will allow marketers to apply advanced machine learning and analytics to get valuable insights and deliver top-notch experience across all touchpoints- no matter how the customer engages with a brand.
This blog will give you a glimpse of AgilOne's capabilities, what value it can bring for marketers together with Acquia's products, and how it can improve customer experience.
Benefits of CDPs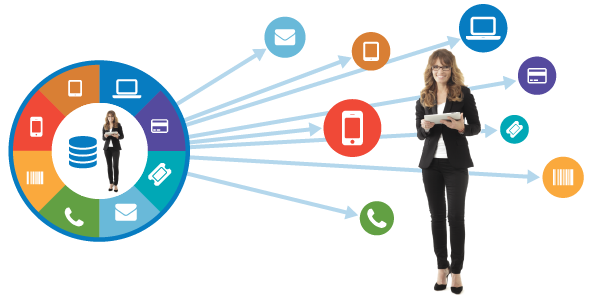 Source: Tealium
CDPs facilitate enterprises to deliver high-quality engagements with customers as well as fortifying the capabilities of marketing teams. Its benefits include:
Increased ability to gain a competitive advantage

Customer data not only brings value to the marketing department but also to business intelligence, customer service and beyond all who rely on the availability of data to drive the business forward. A CDP changes the way customer data and touchpoints are accessed and leveraged across organizational departments.
This transparency across platforms will ensure that teams react more quickly to changes in markets or customer preferences.


Greater customer loyalty

While you understand the customers' needs, you should also have the ability to anticipate their future needs. This way, there would be a higher probability of customers coming back to you again. This report clearly shows that a customer data platform is assisting companies to drive customer loyalty and ROI in their organization.


More Effective Customer Experience and Marketing

With customers accessing more channels every day through several devices than ever, businesses are expected to deliver a more consistent customer experience across all. They don't like it when they are shown products online that they have already purchased in-store.

However, with CDP in place, organizations can obtain a 360-degree view of customers' profiles including their interest, buying pattern, and demographics, to help in leading the most detailed customer experience possible without any blind spots.


Operational Efficiency

Putting new technology into use by consolidating point solutions and tools can require a considerable amount of resources, which also might not be effective as custom solutions can be complex to maintain.

Thus, CDPs act as a one-stop solution for centralizing customer data to eliminate the extra efforts required in integrating the data from various sources. Besides, it has also defined audiences and business rules centrally to further apply it across various tools saving huge amounts of duplicated effort between.


You can measure too

CDPs ensure that everything is available under one roof, facilitating enterprises to measure several metrics across a range of marketing initiatives such as website visits, campaign results, content performance, and customer journey analysis.
So, enterprises can consider CDP when-
They need direct access to first-party datasets of the highest quality
A platform-based technique to manage a unified customer database
A centralized space for storing and managing record, be it online or offline
A scalable platform that evolves in tandem with the technology stack
Reduced cost of ownership for handling and activating customer data
Features of AgilOne
AgilOne facilitates enterprises in easily configuring unique business rules, data elements, metadata, and scripting directly into the platform for higher performance results.
It is the only CDP that can be upgraded to the enterprise level. Built for large, multinational companies, its Privacy API is compliant with GDPR and other privacy guidelines.
Here are some of its features-
Single customer view

Integrating customer data from online and offline sources to create a centralized network of records, AgilOne simplifies interactions with existing and potential customers.
It comprises pre-built connectors and APIs to fetch profile data from customer-facing systems, transaction information from order management and point of sale systems, and engagement data from websites, mobile applications, email, and call center systems.

Once data is pulled, it removes duplicate information from it and put together customer data into a single ID.

Enterprises can also refine and standardize customer data across all sources by categorizing it with first and third-party attributes such as income, demographic, social profile data, and later amalgamate it into modifiable, searchable customer profiles available in AgilOne UI and as an API to leverage across the enterprise.


Analytics and machine learning

Machine learning provides valuable insights into customers' profiles that further help in understanding their buying patterns for analysis, smart categorization, and action.

AgilOne's metadata-configurable engine calculates metrics from any transaction or event data to let teams gain insights useful for the business niche.

Besides, it also assorts customers through supervised machine learning models that speculate events such as purchase, subscription, and engagement while the unsupervised models classify customers together based on interest and behavior.

You can provide direct access to data to help marketers and scientists leverage it for business growth.


Customer data activation and orchestration

Integrate your messages and offers across all points of engagement for customers alongside their profiles and insights for real-time interactions.

Enterprises can strengthen their outbound marketing systems such as email, SMS, push notifications, and direct mail. Smartly target audiences by enhancing addressable media systems across display, search, and video advertising.
Fetch this AgilOne data to CRM and other support systems in real-time to view comprehensive profile data such as analysis, identity graph, real-time events and transactions, active offers, and messages.
What value it can bring for marketers together with Acquia's products
With Acquia's aspiration to create a multi-channel digital experience platform, i.e. ensuring support from all channels to have a proper customer-level database at the core, their existing products, Acquia Lift (personalization tool) and Mautic (automation and personalization tool) had some behavioral data capabilities but neither one was close enough to what enterprise customers are going to need to consolidate a real-time behavioral profile.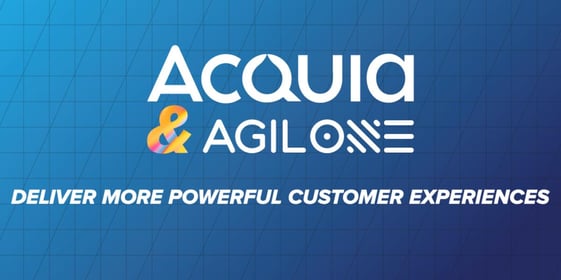 Thus, acquiring AgilOne helped Acquia further in providing advanced segmentation, personalization, and campaign management.
Besides, it complements Acquia's Open Digital Experience Platform, seamlessly integrates into its open marketing cloud to provide an amalgamated solution to a marketing organization instead of juxtaposing point solutions.
Such capabilities make it an indispensable solution for marketers trying to make sense of the overwhelming sea of data from multiple diverse systems.
Further, the addition of AgilOne into Acquia's entire open DXP will give marketers a significant opportunity to integrate actionable data in real-time and leverage it for personalized multichannel marketing to customers.
After all, a good data set quality and size are crucial to ensure personalization and relevance, thereby improving customer experience extensively.
It's use cases include-
Outbound Marketing
Outbound marketing enables the classification of customers to an advanced level based on value, behavior, and attributes to power 1:1 content on every outbound marketing message.


Digital Advertising

Digital advertising enables marketers to consider acquisition-focused, audience-based targeting for leveraging first-party data for DMPs, retargeting, and ad networks.


Customer experience

This allows marketers to use real-time personalization during any direct interaction with customers.
Analytics and API

It evaluates and predicts vital marketing metrics while giving customer intelligence to teams who need it.
Conclusion
Customer data platforms have become an integral part of digitally savvy enterprises to gain a comprehensive view of customers and engage them across all channels.
However, all the CDPs are not similar; they need to be scalable, secure, and competent enough to manage diverse customer data.
Thus, to manage everything from end to end, enterprises will need to focus on leveraging such capabilities to scrutinize all of it and then act on relevant customer journeys.
Acquia will enact as an accelerator, aspiring other enterprises to either become DXP providers by acquiring a CDP or risk being left behind!