Drupal, one of the prominent WCMS in the world, delivers its services to giants like AL-Jazeera, URRWA, and Georgetown University. Having an impressive network of committed developers, it makes up as a robust, flexible, scalable, and highly secure WCMS for small and big businesses alike. Migrating to Drupal 8 can prove a nice pull for enterprises if they are looking to enhance their workflow efficiency, however, the move must be undertaken with utmost care.
SEO plays a crucial role in building your brands' credibility digitally, alongside a huge impact on traffic, leads, conversions, and sales
Further, a continuous concern that looms while migrating is whether the SEO and the content value will remain integral and unharmed or not.
SEO plays a crucial role in building your brands' credibility digitally, alongside a huge impact on traffic, leads, conversions, and sales (ROI). And failure to protect SEO assets may likely result in a reduction of all the above-mentioned factors to the new website.
Therefore, enterprises planning to carry out the migration to Drupal 8 must not only pin down the exemplary solution in prior but also put content auditing into effect and strategize around safeguarding the SEO value on a priority basis.
Also, before you initiate your venture of shifting into a newer Drupal version, make sure all the modules are updated. This, in turn, will add to the smooth Drupal installation process.
1 . Perform a complete site audit
In order to know how your current site is doing, it is imperative to perform a complete audit of your website. An in-depth site analysis should include the evaluation of every component on the website and how they appear to search engines, thereby providing you an overview to help you maintain and improve search engine rankings essential to your business.
Google Analytics tool is a good choice to evaluate the site as it detects pivotal issues on your top pages and can help you prevent traffic loss.
Further, you can also set up a priority list for fixing your pages and get actionable information on how to fix issues.
The following elements are evaluated-
Page titles
URLs
Headings on Pages
Internal Links
Site Map
Navigation on your website
Structure of your website
Paging
Meta tags
Robots.txt
Optimization of graphic element
Page loading times
There can be more components also apart from the above-mentioned ones, which can be included for some possible changes on the website.
During this step-I, you should also get your page score via the Google Lighthouse tool. The site score ranges between 0 and 100, 0 as the lowest and 100 being the highest score. The score depends upon the page performance, accessibility, best practices followed, and SEO tactics. This site score, however, will be checked post-migration also to comprehend the changes.
Post analysis, the audit report is prepared which encompasses an extensive list of recommendations on how to optimize your site effectively, depending upon the scope and structure of the website.
Download your pre and post-migration SEO checklist now!
2. Keep every stakeholders and decision-maker on the same page and agree upon goals for the newly migrated website
Post the site-audit, all the stakeholders and decision-makers must be informed about the stats of the current website. Considering the same, the marketing goals must be set that you wish to achieve while migrating to Drupal's newer version. These could be leads, traffic, rankings, sales, etc.
Companies should align their strategies mindfully to recover traffic in the first two-three months itself
Besides, all sites experience a slump in traffic post-migration. Therefore, companies should align their strategies mindfully to recover traffic in the first two-three months itself. They can also set up pay-per-click campaigns to keep the lead numbers up during the migration process.
3. Review content: keep, improve or redirect
Creating effective and relevant content takes both time and effort and hence, enterprises must apply all the measures meticulously which involves preservation and refinement of the content pieces during Drupal 8 migration processes.
Also, enterprises should not make the impulsive decision of removing something just because it's old. Old does not imply that it's bad but teams should keep a keen eye out for ways in which it can be updated. Because sometimes, even old content is valuable and can contribute largely to SEO value.
Enterprises must apply all the measures meticulously which involves preservation and refinement of the content pieces during Drupal 8 migration
So, filter out the content and push obsolete content only to trash while uncovering and retaining everything that is of great importance for user-engagement and conversion.
Teams can use a reliable content audit tool like SEMrush, or Google Analytics to track all URLs and content and learn about their usefulness as well as limitations. The content audit exercise will also facilitate in achieving your long term business objective, as it will help in
Identifying pages that need editing/copywriting
Access to a variety of metrics like visits, conversions, PA, risk score, etc.
Identify pages that need improvement/updates
Uncover content marketing opportunities
4. Focus on technical SEO part for the new website - handy Drupal SEO modules
Now that you've crafted valuable content on the foundation of solid keyword research, it's important to make sure it's not only readable by humans, but by search engines too!
Technical SEO bears no connection with content, however, it ensures that your website is optimized for the crawling and indexing phase. It also helps search engines access, crawl, interpret, and index your website without any problems.
Here are the Drupal modules that contribute towards SEO-

A. Metatag
The Metatag module allows you to set up Drupal 8 to provide title tags and structured metadata, (meta tags) on each page of your site.
It gives you complete control over your HTML title tags and also creates meta tags for your website. Meta tags are snippets of text that illustrate a search engine about your web pages by illustrating them and social media as well what each page on your website is about and how you want them to describe in it the search results.
B. Pathauto
The Pathauto module generates URLs for your website content without needing to enter the path alias manually. Simply put, if the title of your new blog post is "My Big Cat" then Pathauto will set the URL to your Drupal8site.dev/my-big-cat instead of yourDrupal8site.dev/node/87.
Keeping the URL neat and relevant with the right words in the URL is great for SEO, thereby this module is a must for your project.
In case you don't use the Pathauto module, you must remember to create every single content URL on your website manually.
The Google Analytics module empowers marketing teams in tracing the footprints and general behavior of users concerning their interaction with the landing pages and the content available on the website. It adds the Google Analytics code snippet to the website and allows you to control how and when it is used.
Additionally, it provides insights into your visitors including demographics, where they found you online, what keywords they used to find you and a lot more. It also eliminates the tracking of in-house employees who might be visiting the website very often and could be counted as visitors and unique sessions.
You can improve your Drupal SEO by optimizing content around keywords in a fast, natural, and non-spam way.
The Real-time SEO module works best in combination with the Metatag module. Besides, it also checks whether your posts are long enough or not, or if you have used any subheadings within your post or not - to make sure that your content is approachable by both search engines and users.
Improve your SEO by optimizing content around keywords in a faster, natural, and non-spam way
E. Node Noindex
This module lets the administrator set the HTML robots metatag to Noindex for a specific node. As a result, it will ask search engine robots to not index the node, preventing it from appearing in search engine results.
This module comes handy in not indexing those pages which are:
Unimportant
Transitory
Contain personal or sensitive data
Note: The same functionality is not achieved by disallowing a node in robots.txt.
F. Smart Paging
Smart Paging ensures that you split up long Drupal content pages into subpages based on the number of characters, words or by a placeholder HTML tag for the node, user, and taxonomy term entities.
The URL for subpages have become more SEO friendly now and works even for aliased URL paths.
This module enables you to rewrite the URL query parameters into Clean URL components on specified paths.
Also, the URL path gets unwieldy quickly if there are multiple filters and filter values used. Also, as the path contains query parameters, t can impact SEO results.
Learn more about Drupal SEO from here:
H. SEO Preview
Shows preview of how your title tag, URL, and meta-description will appear on popular search engines to those who have permission. It also generates best practices and warnings for titles and descriptions.
It is always considered a best practice to link your valuable pages within the website for establishing site structure and redirecting the link juice to valuable landing pages.
This module also does the same! You can map your high ranking keywords into links within the content of other pages on the site. This way the first occurrence of the keyword in the content is dynamically replaced as a link.
J. HitTail
This module provides integration with the keyword tracking tool HitTail.com.
It helps you target the most promising search terms based on your existing traffic in real-time with the help of an algorithm that is tuned by analyzing over 1.2 billion keywords.
It analyzes your visitor stream in real-time and provides you with a simple, actionable list of precise keywords that you can use to target audience and grow your organic search traffic.
It determines broken links by visiting the destinations and evaluating the HTTP response code
Stop Broken Link in Body makes up a great module for editors & content publishers by which they can check embedded link's validity before publishing the content. In case the content has broken links in the body field, then it won't get published.
It determines broken links by visiting the destinations and evaluating the HTTP response code.
L. Search 404
This module instead of showing a standard "404 Page not found", performs a search operation on the keywords in the URL for instance, if a user searches for http://example.com/does/not/exist, this module will search for "does not exist" and will come up with the result instead of the 404 pages.
This approach helps in retaining visitors coming in from old URLs linked from other sites or search indices.
5. Evaluate your landing and transaction pages responsible for conversions
The ultimate goal of improving traffic on websites with SEO and user-friendly content is to generate leads and revenue. To execute the same, you need to keep a tab on your landing & transaction pages and the conversion rates of each one of them on your site.
Also, figure out the approach that you can take to improve these rankings, for instance, you can check your call to actions (CTAs), contact-us forms, shopping carts, and lot more. Make sure that you don't put too much emphasis on filling forms or information in the first step only, that annoyed users leave your site.
Executing these techniques will certainly lead to a proliferation of sales. Further, you can also download your SEO pre and post-migration checklist to avoid missing out on any important step.
6. Let search engines know about your site
When you are migrating a website and planning to change the domain name also in any way, it is imperative to let Google know what you are up to.
Google provides a mechanism in its search console to inform them that a site is going to move to a new address. However, if all the URLs remain intact, then you need not tell Google.
Google Analytics is also another key place where you would require to make some adjustments. The GA or Google Tag Manager module for Drupal will install the Javascript tracking code on every page of your new site. You can also run a crawler to find out if the code is showing up or not.
In addition, there are some Drupal modules that you can implement to help search engines crawl your website smoothly-
The Redirect module ensures that visitors are redirected from old URLs to new URLs whenever a content piece is moved to another section of your site or inadvertently changed the URL. It also creates 301 redirects to make sure that any URL which ranks in Google gets resolved when a visitor arrives. If you don't install this module, you will have to regularly look for URLs manually that have changed to fix them.
This module highlights the power of Drupal, automating what used to be a strenuous and constant SEO chore.
2. Robots txt
You can use this module whenever you are running multiple Drupal sites from a single code base. However, you'll need a different robots.txt file for each one. Robots.txt generates this file dynamically and enables you to edit it, on a per-site basis, from the web UI.
Note: It is mandatory to delete or rename the robots.txt file in the root of your Drupal installation for this module to display its robots.txt file(s).
It maintains structured data and tags so that you can add them to your HTML code to improve the way search engines read and represent your pages on SERPs.
4. XML Sitemap
Drupal XML sitemap module helps in SEO as it provides your website a sitemap on its own to make it searchable and crawlable by search engines. This practice helps search engines in understanding the hierarchy of your website and accordingly crawl in a tree sort of manner, which otherwise could have missed pages or even whole sections due to its huge size or complex structure.
The module is highly flexible also as it allows you to include or exclude certain pages from the sitemap of your website. This means that you don't need to get those pages indexed which you are not using anymore.
Further, you can set up Cron too. It is an in-built system in the server which is responsible for running maintenance tasks regularly. Drupal Cron ensures that your site is spic and span, updated, and whether the content is indexed or not or if there is a requirement of rebuilding XML sitemaps.
It's up to you whether you want to use a separate sitemap for listing images or add the required info to an existing sitemap; the whole purpose is to let Google (or any other search engine) easily discover images on your site for effective indexing and crawling and hence be able to showcase them in image search results.
7. Measure and monitor your new website pre and post-migration
Analysis post the deployment of solution or in this case, migration, will give you a better picture of what worked for you and whatnot. Also, it would be wise enough if you keep your site under observation post-migration, at least for three months to fix the errors and bugs being discovered now and then.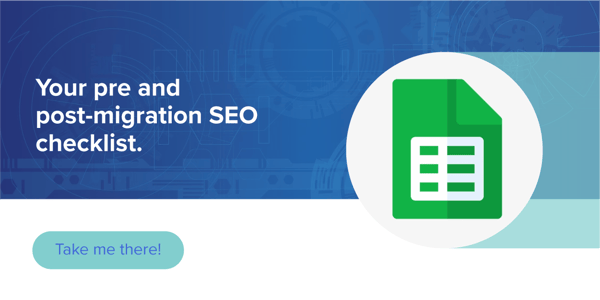 Final Words
It's not over yet! In fact, SEO has just begun post-migration. It is an ongoing process that enterprises need to pay attention to for enhancing their digital presence and boosting growth.
Drupal 8 is a dynamic open-source software platform for site-building. Organizations that have outgrown their existing non-Drupal CMS should consider migrating to Drupal 8. However, migrating has its unique challenges, including data migration, and SEO retention.
Srijan is an award-winning Drupal web solutions provider that can assist you in navigating through the process of migrating to Drupal efficiently, without compromising on data and SEO. Contact us now!