Media websites are enormous and owing to the large amount of data, they have big expectations from their content management system. While monetization remains a key factor when a media house decides to go online, there are other issues related to content management, responsiveness, etc which need to be take care of.
Here are the 7 things you should ask before making your website using Drupal.
Monetization: Most of the clients that come to us have a single problem statement – "I have a website and a lot of online traffic. Now how should I monetize it?" Monetization is an extremely critical aspect for any media company because developing and managing such a big website is any day a costly affair and media houses expect their website to make at least 10% of their total revenue online. Drupal has themes where you get various options to earn revenue. Advertising, subscriptions, promotions or one-time purchase interactions are some of the most used ways to monetize the website. Srijan has been helping media companies do this.
Understanding of Content Management: From the content management perspective you want your service provider to understand the workflow of your company, various challenges in managing the content and the nuances of the media sector. You need a Drupal company who has plenty of experience of working with media clients and can convert your business requirements into web technology.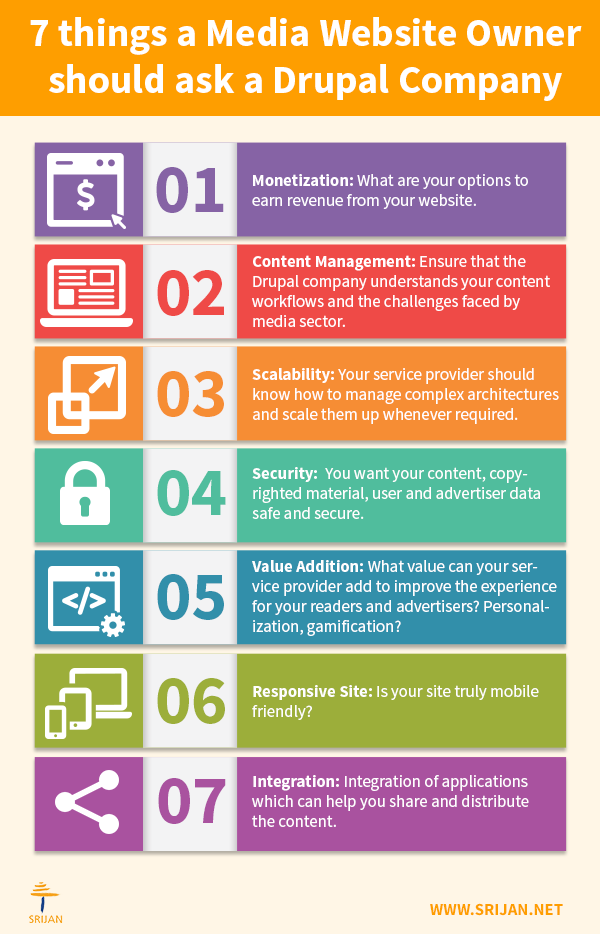 Scalability: Some of our very customers like Zee News, CNT and India Today Group came to us wanting to understand how we could scale up their websites with Drupal. Your service provider should know how to manage complex architectures and can scale them up as the traffic and business grows.
Security: Like any other product or service, security cannot be neglected. There is a large chunk of data on the website and also at the backend which needs to be protected. Security thus becomes a prerequisite. We have a large team of certified team engineers who take care of security aspects and maintain data privacy.
Value Addition: Media industry is very competitive and you need to keep adding value to get user stickiness. Personalization plays a key role here. We create a user profile and try to understand what a user likes to read and arrange the content accordingly. So each user gets customized content. Read our blog on different types of customization for media Websites. Then as a Drupal consultant, we also guide our clients about user generated content and other trends like gamification.
Responsive sites: Since the world is going mobile, you don't want to lag behind. With a majority of people consuming news through mobile devices, getting a responsive website has become a need for media companies. In fact, mobile sites have been performing better than desktop sites. Our media clients, for whom we have developed responsive sites, have witnessed lower bounce rates and higher engagement.
Integration: Shareability is as important as generating content. There are various apps which help you achieve the same and Drupal has modules which can help you to integrate these apps. For some of our media clients we have integrated applications like Flipboard.