With every new release, Drupal is emerging a valuable asset in the enterprise marketing stack. The additions to Drupal core, especially with Drupal 8 and after, have made it a digital platform that comes equipped for all the standard marketing best practices right out of the gate. In addition to that, the larger Acquia ecosystem is also delivering new solutions that empower Drupal be more than just a CMS. These bring in some powerful martech capabilities that have made Drupal into a platform that's ready to deliver the results that enterprise marketing teams want.
This post delves into the key modules and solutions that enable smart content management in Drupal, both in terms of creating and publishing content, as well as leveraging that content in diverse ways to drive results.
Smart Content
Smart Content is a Drupal toolset that can help deliver anonymous website personalization in real time, for Drupal 8 sites. Essentially, site admins get the ability to display different content to site visitors, based on whether they are authenticated or anonymous users.
Some examples of how you can leverage it include:
Displaying a smart block showcasing your latest offer or most popular blog to a first time visitor to the site
Displaying a smart block that showcases different industry specific case studies for different users in your database
Displaying a smart block only for mobile viewers of your site, maybe asking them to view it on your mobile app
Now this module in itself has limited functionality, but becomes very useful when used in combination two other Drupal modules:
Smart Content Blocks
Included within the Smart Content module, these allow you to insert a Smart Block on any page and set up conditions that govern the content being displayed within the block. These conditions can be used to hide or show a specific content in certain cases, and form the basic personalization rules for your Drupal site. The blocks have an easy interface within the Drupal 8 backend, giving you the flexibility to add any number of blocks, anywhere on a page.
It's important to note that all of your content, irrespective of format, is available to show and promote through Smart Content Blocks. Ebooks, videos, images, blogs, service pages—anything that's already in the Drupal CMS can be delivered to a block.
A complete set of conditions grouped together to achieve a reusable composite condition. For example, a set of the following three conditions:
showcase only on desktop

showcase if location is France
showcase for anonymous users
will create a smart content segment that can be applied to any smart content block to ensure that it's displayed to anonymous users from France, viewing the site on a desktop. This feature saves you time as you don' have to set up the same set of individual conditions every time.
At the heart of Smart Content are the conditions, editable rules that allow you to govern the display of content. The interface is easy to manage, and familiar to marketers working on a Drupal site.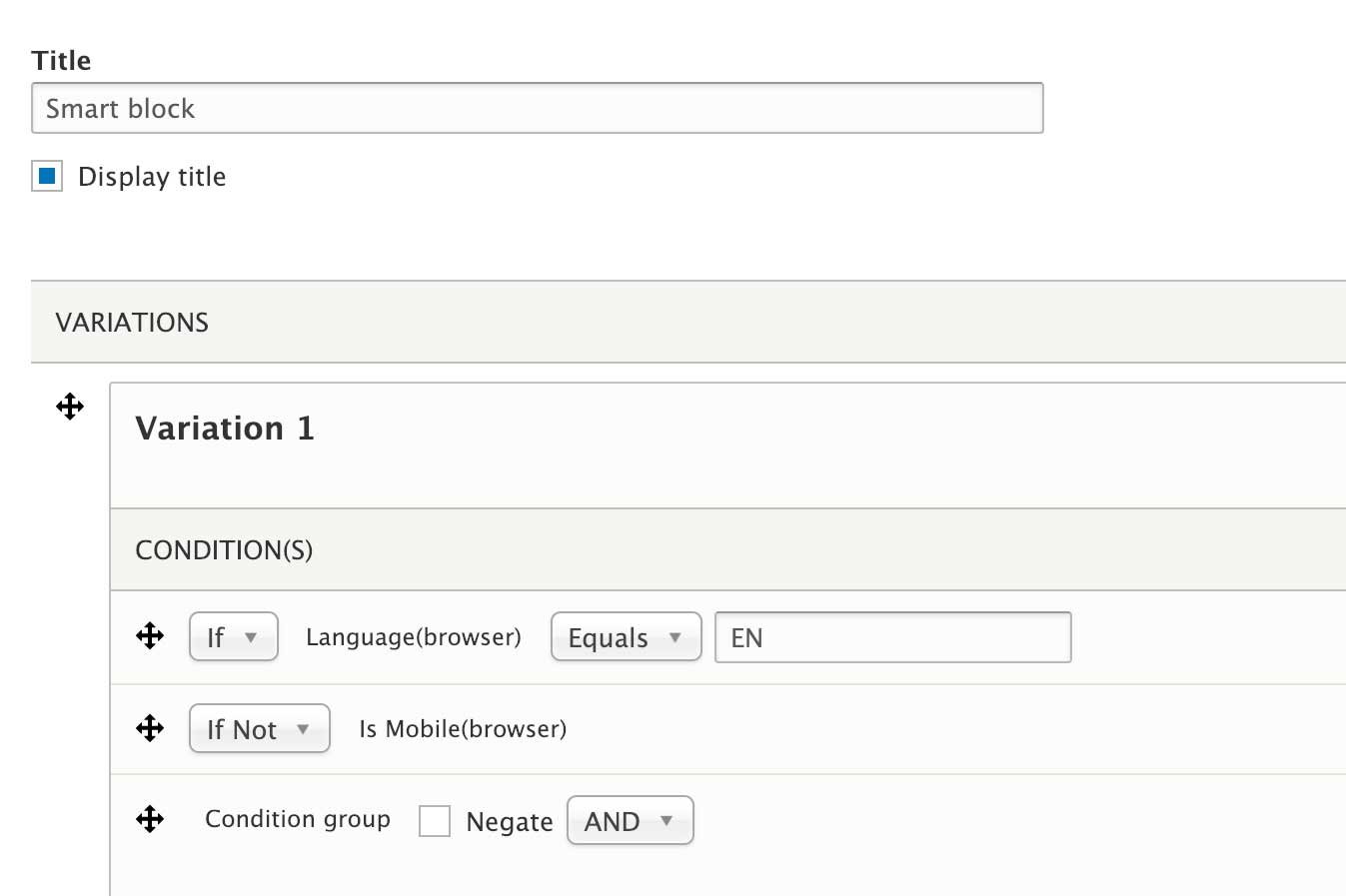 You have your choice of the basic conditions for personalization like the browser, language, device type etc. You also have the more advanced options like targeting different industries based on third party IP lookups, or tapping into existing segmentations or campaigns from a marketing automation system. Essentially, anything that has an API with available data can be used as conditions to help drive your personalization strategy with Smart Content.
Layout Builder
The Layout Builder module, experimental in Drupal 8.5 and 8.6, had a stable release with Drupal 8.7. This module allows content authors to easily build and change page layouts and configure the presentation of individual content, content types, media and nodes. It also allows you to add user data, views, fields and menus.
This is a huge asset for enterprise marketing and digital experience teams because:
The module gives a drag-and-drop interface to create custom layouts for specific websites sections and pages, with the ability to override templates for individual landing pages when required
Content authors can seamlessly embed video across the site to create a more interactive user experience, and increase engagement and conversions
Marketers can now build and preview new pages at their own pace, without the fear of negatively affecting the existing user experience.
All of this means that marketing teams now have more control over the site, and can make changes and additions independently. This also reduces the turn-around-time for new campaigns by reducing, or even eliminating, dependencies on development teams. Think high-impact landing pages designed exactly as you want, but without the waiting around or constant back-and-forth with developers.
Media Library
With the release of Drupal 8.7, the CMS now has a stable media library module.
It provides a visually appealing interface for browsing through all the media items in your site. With the new version, multimedia properties can be added to content either by selecting from existing media or by uploading new media through bulk upload support. Once uploaded, users can remove or reorder any images ready for import.
It provides an easy way to upload several media assets in your Drupal website quickly. Let's you add alt-text, check the images before uploading.
Powered by Views, it allows site builders to customize the display, sorting, and filtering options.
Acquia Lightning
As enterprise marketing teams launch large scale campaigns, they often need to put together new microsites that work flawlessly. And they usually have to do it at a short notice, to leverage critical marketing opportunities in time.
Having to depend upon the development teams to create one from scratch, and the constant coordination required to make that happen, can lead to the marketing team losing precious time.
Acquia Lightning, an open source Drupal 8 distribution, is the perfect solution for this challenge. Lightning give you a basic ready-to-launch site with pre-selected modules and configurations that can cut development time by 30%. This allows:
Development teams to publish optimized Drupal 8 sites in short time frames
Editorial teams can easily work with layout. Media and content on these sites, and have them campaign-ready in no time
Some of the key features in Lightning that are particular great for marketers are:
Moderation Dashboard
This dashboard gives you complete visibility into your Drupal content status, with a structured overview of where every pieces of content is in the editorial process. Besides tracking content status, you can also manage access controls determining who can access which pieces of content at the backend.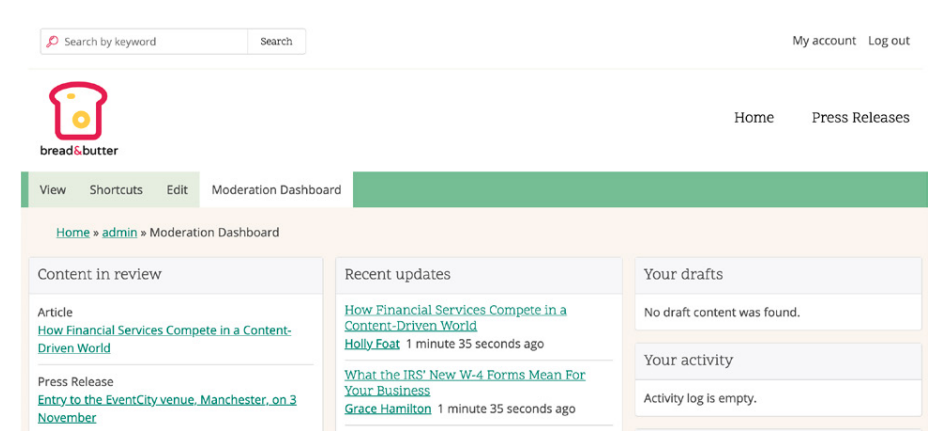 The key pieces of information you can view of the dashboard are:
Current drafts in progress
Content you created
Content needing review
Recent site activity
Individual editor activity in the last 30 days
Moderation Sidebar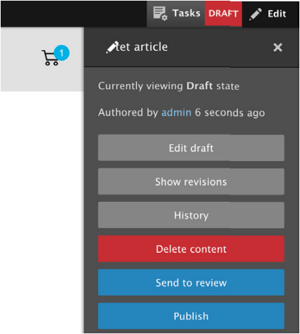 The moderation sidebar allows you to stay on the website frontend as much as possible while making edits and managing the editorial process for any piece of content. Actions like editing text and layout, publishing a piece, creating new draft and more can be easily achieved with the sidebar. And it's quickly accessible by clicking "New Tasks" on any piece of content. For marketers no really keen on getting into the backend, this sidebar is a simple way to make the edits they need, with minimal chances of error.
Scheduled Publishing
As the name suggests, this feature in Acquia Lightning allows you to set a piece to publish at a future date. This functionality give you a better view of when content is set to launch, and also ensure that it launches at optimal times, according to reader preferences. And this happens without you having to be on the job at odd hours, just waiting around to publish content.

You can schedule publish times from on individual pieces by editing the 'Current Status' to select "Schedule a Status Change" . Then choose "Published" and select your preferred publishing date and time.
Acquia Lift
We cannot talk of smart content management with Drupal without talking about Acquia Lift. For enterprise sites built on Drupal, there's nothing more suitable for the personalization than Acquia Lift.
Acquia Lift is a solution designed to bring in-context, personalized experiences to life. It's a powerful blend of data collection, content distribution, and personalization that enables enterprise marketing teams to closely tailor the user experience on the site. And all this without excessive dependence on development or IT teams.
Acquia Lift gives enterprises three key elements to drive their personalization and reflect it with their website content:
Profile Manager
This helps build a holistic 360 degree profile of your users, right from when they are anonymous visitors on the site, up until the stage where they are repeat customers. It collects user demographic data, historical behaviour data, and real-time interactions so you can get a complete understanding of who your users are, what they want, and then work on how best to deliver that.
Content Hub
The Content Hub is a cloud-based, secure content syndication, discovery and distribution tool. Any piece of content created within the enterprise can be aggregated and stored here, ready to be pushed out to any channel, in any format.
Faceted search and automatic updates give visibility into the entire gamut of content being created within the enterprise - in different departments, across websites, and on different platforms.
Experience Builder
This is the heart of Acquia Lift - the element that allows you to actually build out a personalized experience from scratch. The Experience Builder is a completely drag-and-drop tool that lets you customize segments of your website to showcase different content to different target segments, based on data pulled from the Profile Manager.
Enterprise marketing teams can
set up rules that define what content should be shown to which segment of site visitors
perform A/B tests to accurately determine what type of content drives more conversions for which user segments.
All this can be done with simple overlays atop the existing website segments, without impacting the base site, and without depending on IT teams for implementation.
With a commitment to creating ambitious digital experiences, every new Drupal release has brought in new features to add to the marketing ecosystem. While the overarching focus is on being flexible and scalable, these solutions are creating real impact on customer experience, conversions, online sales and brand proliferation.
And for enterprise teams contemplating shifting to Drupal for diverse proprietary CMSes, the payoff from empowered marketing team alone makes it worth the effort.
While most of the features mentioned here can be accessed by your teams easily if they are already using Drupal, some require guidance. Especially Acquia Lightining and Acquia Lift will need skilled teams to set it up for you, before marketers can start reaping the benefits.
If you are looking to deploy Lift or Lightning, just drop us a line and our Drupal experts will be in touch.