Using cloud is about leveraging its agility among other benefits. For the Drupal-powered website, a right service provider can impact how well the website performs and can affect the business revenue.
A robust server infrastructure, such as AWS, when backs up the most advanced CMS, Drupal, it proves to accelerate the website's performance, security and availability.
But why AWS and what benefits does it offer over others? Let's deep dive to understand how it proves to be the best solution for hosting your Drupal websites.
Points To Consider For Hosting Drupal Websites
The following are the points to keep in mind while considering providers for hosting your pure or headless Drupal website.
Better Server Infrastructure: Drupal specialised cloud hosting provider should offer a server infrastructure that is specifically optimized for running Drupal websites in a way they were designed to run.
Better Speed: It should help optimise the Drupal website to run faster and should have the ability to use caching tools such as memcache, varnish, etc.
Better Support: The provider should offer better hosting support with the right knowledge of a Drupal website.
Better Security and Compatibility: The hosting provider should be able to provide security notifications, server-wide security patches, and even pre-emptive server upgrades to handle nuances in upcoming Drupal versions.
Why not a traditional server method?
There are two ways of hosting Drupal website via traditional server setups:
a shared hosting server, where multiple websites run on the same server
or a dedicated Virtual Private Server (VPS) per website.
However, there are disadvantages to this approach, which are:
With a lot of non-redundant single-instance services running on the same server, there are chances if any component crashes, the entire site can get offline.
Being non-scalable, this server does not scale up or down automatically and requires a manual intervention to make changes to the hardware configuration and may cause server to go down due to an unexpected traffic boost.
The setup constantly runs at full power, irrespective of usage, causing wastage of resources and money.
Hosting Drupal on AWS
Amazon Web Services (AWS) is a pioneer of cloud hosting industry providing hi-tech server infrastructure and is proved to be highly secure and reliable.
With serverless computing, developers can focus on their core product instead of worrying about managing and operating servers or runtimes, either in the cloud or on-premises. It eliminates infrastructure management tasks such as server or cluster provisioning, patching, operating system maintenance, and capacity provisioning. It enables you to build modern applications with increased agility and lower total cost of ownership and time-to-market.
With serverless being the fastest-growing trend with an annual growth rate of 75% and foreseen to be adopted at a much higher rate, let's understand the significance of the AWS components in the Virtual Private Cloud (VPC). Each of these components proves it to be the right choice for hosting pure or headless websites.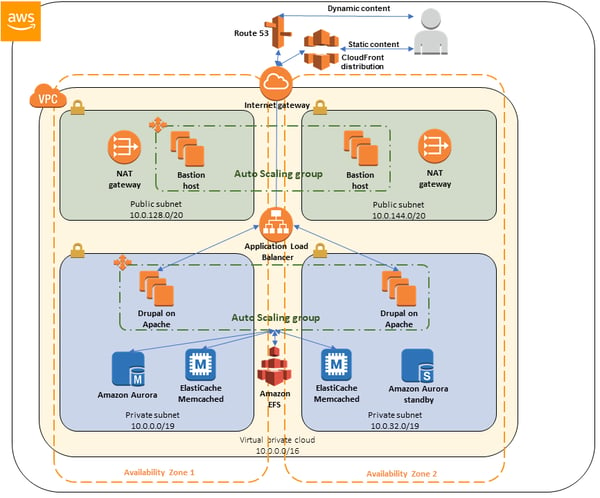 Architecture diagram showcasing Drupal hosting on AWS
Restrict connection: NAT Gateway
Network Address Translation (NAT) gateway enables instances in a private subnet to connect to the internet or other AWS services. Hence, the private instances in the private subnet are not exposed via the Internet gateway, instead, all the traffic is routed via the NAT gateway.
The gateway ensures that the site will always remain up and running. AWS takes over the responsibility of its maintenance.
Restrict access: Bastion Host
Bastion hosts protects the system by restricting access to backend systems in protected or sensitive network segments. Its benefit is that it minimises the chances of any potential security attack.
The Aurora database provides invaluable reliability and scalability, better performance and response times. With fast failover capabilities and storage durability, it minimizes technical obstacles.
Upload content: Amazon S3
With Amazon S3, store, retrieve and protect any amount of data at any time in a scalable storage bucket. Recover lost data easily, pay for the storage you actually use, protect data from unauthorized use and easily upload and download your data with SSL encryption.
Memcached/Redis: AWS Elasticache
Elasticache is a web service that makes it easy to set up, manage, and scale a distributed in-memory data store in the cloud.
Edge Caching: AWS CloudFront
CloudFront is an AWS content delivery network which provides a globally-distributed network of proxy servers which cache content locally to consumers, to improve access speed for downloading the content.
Amazon EC2 is a web service that provides secure, resizable compute capacity in the cloud.
Amazon Route 53 effectively connects user requests to infrastructure running in AWS and can also be used toroute users to infrastructure outside of AWS.
Benefits of Hosting Drupal Website on AWS
Let's look at the advantages of AWS for hosting pure or headless Drupal websites.
High Performing Hosting Environment
The kind of performance you want from your server depends upon the type of Drupal website you are building. A simple website with a decent amount of traffic can work well on a limited shared host platform. However, for a fairly complex interactive Drupal site, a typical shared hosting solution might not be feasible.
Instead, opt for AWS, which provides a server facility and you get billed as per your usage.
Improved Access To Server Environment
Shared hosting environment restricts its users to gain full control and put a limitation on their ability to change configurations for Apache or PHP, and there might be caps on bandwidth and file storage. These limitations get removed when you're willing to pay a higher premium for advanced level access and hosting services.
This is not true with AWS, which gives you direct control over your server instances, with permissions to SSH or use its interface control panel to adjust settings.
Control over the infrastructure
Infrastructure needs might not remain constant and are bound to change with time. Adding or removing hosting resources might prove to be difficult or not even possible and would end up paying for the unused resources.
However, opting for AWS will let you pay for the services you use and can shut them off easily if you don't need them anymore. On-demand virtual hosting and a wide variety of services and hardware types make AWS convenient for anyone and everyone.
No Long-term Commitments
If you are hosting a website to gauge the performance and responsiveness, you probably would not want to allocate a whole bunch of machines and resources for a testing project which might be over within a week or so.
The convenience of AWS on-demand instances means that you can spin up a new server in a matter of minutes, and shut it down (without any further financial cost) in just as much time.
Refrain Physical Hardware Maintenance
The advantage of using virtual resources is to avoid having to buy and maintain physical hardware.
Going with virtually hosted servers with AWS helps you focus on your core competency - creating Drupal websites and frees you up from dealing with data center operations.
Why Choose Srijan?
Srijan's team of AWS professionals can help you migrate your website on AWS cloud. With an expertise in enhancing Drupal-optimised hosting environment utilising AWS for a reliable enterprise-level hosting, we can help you implement various AWS capabilities as per your enterprises' requirements. Drop us a line and let our experts explore how you can get the best of AWS.