A decade ago, the media and enterprise industry looked completely different. Those were the times when print media ruled, blockbuster (video store) had around 100 stores around the UK, and barely anyone had heard of Netflix or Spotify. During those times, consumers preferred physical media and the mere thought of even accessing video content through the internet was considered as engaging in flights of fancy.
However, the time has changed dramatically- publishers of every kind are finding it difficult to deal with the digital incursion. Blockbusters exist no more, while Netflix on the other hand, is a gleaming example of how to engage customers in this digital age.
In fact, last year saw the downfall of traditional satellite and cable services worldwide and subscriptions to online streaming services at a breakneck pace.
Given the huge pace of change recently, this blog will run through the challenges that the media and publishing industry is facing right now, and how can it be resolved.
Challenges that Media & Publishing Companies Are Facing Currently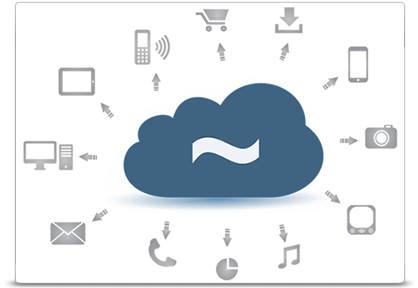 Source: Tildeworks

Content plays a paramount role in building a brand's online presence, engaging customers, and reaching new audiences altogether, provided it is in sync with the business guidelines. However, there have been some challenges that media and publishing companies especially are facing currently in achieving the same. Look what those are-
delivering personalized results to keep readers engaged
standing out in the crowd with a unique content approach
improving the mobile experience
adopting new technologies
print versus digital
revenue recognition
Delivering Personalized Results To Keep Readers Engaged
Media and publishing enterprises have not yet been able to leverage the power of personalization to its full extent. With personalization, enterprises can push a different set of content based on the users' preferences, that too at the right time, and on the right devices.
Big data analytics and predictive technologies can serve as the basis for personalization but since multiple customer data points are stored in different repositories, enterprises are having a hard time getting valuable insights about the customers, thereby making effective personalization a mere reverie.

Standing Out In The Crowd With a Unique Content Approach
The proliferation in websites and a shedload of content on them have crowded the online world for years. Further, the rapid expansion in the number of ways information is disseminated has made it challenging for media & publishing enterprises to cut through the noise and reach, attract, & retain their target audiences.

Improving the Mobile Experience
As per this report, the consumption of online content on mobile devices has been steadily growing for years already now, but many prominent digital publishers are yet far short in this game. Enterprises are behind the curve in adopting "mobile-first culture", which, as a result, is leading to an unpleasant end-user experience on screens of all sizes.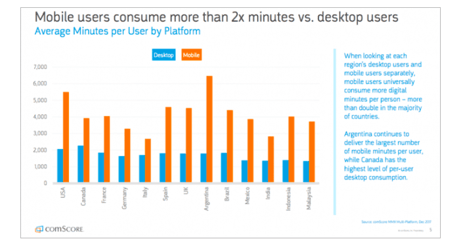 Source: Smartinsights


Adopting New Technologies
Merely catching up with all the latest technologies available to digital content creators is challenging enough, never mind their evaluation and deployment!
Media and publishing enterprises need to gain expertise in information technology as a business can only be disrupted once companies move over conventional approaches.
It is normal to presume that print media is obsolete as digital publishing continues to blossom. However, it is partially incorrect. For example, 58 percent of online subscribers are primarily found interested in reading print. Additionally, publishing revenues are generated from 60 to 80 percent of print sales.

Simply stated, enterprises need to utilize the available information on their readers to better understand their preferences and the way they want to interact with their sites and products on a daily basis.
Addressing multiple sources of revenue in different ways proves challenging for a business. For instance, subscription revenues are only recognized when the product or service is delivered whereas advertising revenues are taken into account when the ad is published or broadcasted, while events & exhibitions are paid for on delivery of the event.
Whether small or big, companies can find it difficult to manage these variations as it is a very time-consuming and inefficient way as well. Relying wholly on Excel spreadsheets is an error-prone approach, making the enterprise vulnerable to reporting inconsistencies in their accounts as well as suffering from discrepancies across key information.
The repercussions of such inaccuracy and mismanagement of accounts can be serious enough that it can even threaten the existence of a business.
What Features the Best CMS Should Include
When building websites that are focused on content, one should opt for a content management system which is easily maintainable, free (e.g. open-source CMS), and user-friendly at the same time. Below are the features that an "ideal" CMS should possess-
1. Flexible Content Repositories


Segregating content and presentation layers in CMS is a requisite to do away with the concerns of content creators on how every single front-end would display content. Rather, they can work with structured content. That's how repositories come into play and ensure that your content is structured and accessible. Structured content enables you to separate your content into independent parts so that every single entity can be edited or repurposed. Following this;
Your visitors will easily find what they are looking for on your site or app
You can recommend visitors the associated content apart from their searches, to let them explore the other offerings and content on your site
You can create meaningful relationships between content pieces to fortify the user experience significantly
You can focus on delivering personalized user experience through dynamic content for a particular set of audience


2. Open APIs
API, Application Programming Interface, ensures easy interaction of application programs with each other in order to share data.
A combination of flexible repository and open APIs implies that one can deliver content beyond the web. The CMS' APIs can be leveraged by the app developers to build a targeted app using available content beyond the web. This way, it becomes a five-finger exercise to repurpose the existing content in an eBook, on websites, mobile, native apps, Facebook Messenger, and other platforms.
In addition, with APIs, you can integrate your CMS with other internal and external systems such as ERP, CRM systems that you already have established.
For instance, Federal Election Commission (FEC) uses API to allow users explore the way candidates and committees fund their campaigns. You can search candidates and committees and use their IDs to find reports on line item details with the other endpoints.


3. Personalization
Marketers delivering personalized web experiences to their users are getting double-digit returns & loyal customers in marketing performance and response.
More and more CMS vendors are adopting stronger, and more tightly integrated personalized capabilities to fulfill the demand for personalized experiences.
A significant role in enhancing the user experience comes down to verifying the content on your website. For instance, Ez content uses predictive analysis and intelligence to understand users' preferences and accordingly showcase results.
Acquia's product, Lift is a personalization tool, designed for Drupal, to help marketers quickly optimize user experiences.
Similarly, the merger of Acquia and AgilOne will help enterprises deliver powerful customer experience via AI, to ensure higher engagement levels.
4. Multi-lingual
Enterprises already targeting an international audience, or have plans to cross borders in the future should consider a CMS that can meet your multilingual requirements. Many CMS vendors provide multilingual capabilities through plugins or extensions. However, the problem with this type of offering is that it can go unmaintained and hence introduce vulnerabilities.
A CMS having multilingual capabilities should be able to fully customize URLs, support more translations than currently required, and has a language switch option, to enhance the user experience even after changing the language.
For instance, Drupal 8 offers multilingual capabilities (modules) to facilitate enterprises deliver seamless customer experience.
5. Multi-platform Capabilities
If your WCMS only facilitates you to manage one platform (i.e. a website), then that multi-platform management is either beyond reasonable capability or unwieldy to maintain with separate administrative platforms.
For instance, when you decide to run a seasonal campaign with a microsite, you would like to track your content, analytics, and general web management from your existing system. But if your CMS can only handle one site, or if the cost of additional sites is off limits, then it won't be possible.
Contrary to it, Multi-platform functionality gives your organization flexibility and space to grow.
One of Srijan's clients, Crain, wanted it to build multi-platform capabilities (11 sites) for them, with each site being managed centrally to reduce inefficiencies and enhance ROI at the same time.


6. Tiered Permissions That Suit Your Organization


WCMS should have some form of tiered access so as to permit users access the platform as tailored for each one of them. For example, some organizations have many content writers but only one or two content publishers.
Other organizations might need their content writers to be able to upload only certain types of content, while others might be able to publish-but only on certain parts of the site.
So, enterprises should ensure that the CMS should have tiered publishing options- what each level can do, if users can be designated with multiple roles, and how many users are there for each permission level.

7. Business Alignment
Ensure that the CMS you have chosen for your enterprise should meet your unique business requirements. The secret however is, there is no perfect CMS, it can be only made perfect for you.
Therefore, it's crucial to understand and pen down your requirements from CMS and use it as your guiding star. Because at the end of the day, you will be the user and not any sales guy offering you upgrades free of cost to an e-commerce storefront, and not the huge community of support and plugin creators, and not even the end user who would love the design.
8. Security
Security is a vulnerable issue for multinational organizations. On ensuring maximum security on their websites, they will not just protect their data but also their customers' and business from a very public- and potentially devastating exploitation.
So, while considering various WCMS, keep the following points in mind-
What does that CMS platform offers
How much efforts your team will have to put to achieve your security standards
Whether this approach will protect your customers' data or not
Customers can carry transactional activities without any security concerns.
9. Detailed Analytics
Content marketing team's work does not limit to pushing content only. Rather they also track engagement on your platform to either continue or tweak their content strategy. WCMS should integrate seamlessly with the most popular analytics tools- like Google Analytics, so that you can track your KPIs right from your dashboard.
A good WCMS should enable your team to gather and analyze the business insights they need.
For instance, Ez Content is built on top of one the most SEO friendly CMS, which takes your SEO and VSO efforts to the next level.
10. Powerful Publishing Tools
Much like the content you publish is the foundation of your interaction with the key audiences, publishing tools, in a similar manner, make the core of any WCMS.
A good WCMS can be identified as the one which can adapt to any type of content you want to publish- from short news items to long form articles with custom layouts to landing pages with embedded documents, while simultaneously integrating this into an overall publication workflow.
In addition, it should be capable of handling SEO, content tagging, inserting images, video, and more from within the publishing interface.
A CMS should be intuitive and easy to understand even for novice users. When working with content, it is also essential to be able to move articles around when needed.
11. Versioning for Quick Rollback
Versioning ensures that you always have an alternate of rolling back to the previous one when something gets published by accident.
A valuable feature in WCMS especially when you plan to update a page or section of your site for an upcoming event or promotion, and want to roll back to the previous version when it's over.
Summing Up
With continuous evolvement of content management systems, enterprises can expect the addition of the new features to the existing set, primarily focusing on meeting customers' demands.
From being capable of creating multiple robust websites, easy-to-use publishing tools to delivering personalized content, your next CMS should possess all these cutting-edge features - to ease the burden of content marketers and help customers as well in finding what they have been looking for!