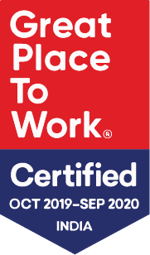 Great Place to Work is the global authority on building, sustaining and recognizing high-trust, high-performance culture at workplaces serving businesses, non-profits, and government agencies in more than 60 countries, across all six continents, touching more than 10,000 organizations every year.
Feedback is an important part of workplace culture, it ensures that the employees feel heard. Taking part in such programs is a gesture which goes a long way in maintaining the work-life balance and employee satisfaction.
Resonating the same sentiment, Rahul Dewan, COO, says "Continuous improvement has been among the key driving principle for us at Srijan. No improvement happen without an effective culture of giving feedback and receiving feedback across all levels in a formal 360-degree retrospective setting. Retrospectives and project reviews are the life-blood for us at Srijan. Our values of respect, authenticity and courage get demonstrated in such settings. Further, a lived culture of collaborative decision making helps in bringing greater transparency in our actions and thus increased the sense of fairness among our people. Getting GPTW certified for the third year in a row is an acknowledgement that we're on the right path, even as we remain cognizant that we have a lot more work to do to be among the best in the world."
Srijan has been recognized as a great place to work since 2017 and continues to thrive its employee expectations for the third time.
An elated Ashish Goyal, CEO, believes it's a badge of honour for the team and pushes the boundary to drive & deliver even better employee experience. He says, "Great Places To Work was a detailed exercise and in-depth survey, far more involved and scientific than I had imagined initially. It provided a great opportunity for us to introspection on the insights collected from a cross-section of our employees. We are excited to be selected in the Great places to work and exceed expectations in almost all categories in the Survey. This is a badge of honour for all Srijanites & helps us reach out and continue to recruit excellent engineering talent that continues to drive & deliver excellent employee experiences."
Taking care of the employee needs, among other employee benefits, Srijanites receive health and family insurance, interest-free loan, maternity and paternity leave, access to the employee assistance program, and easy travel and relocation policy
One of the most prestigious achievements for any organizations across the globe. To get certified, 70% or more of its employee respondents should rate the organization as a great workplace and its people practices should be rated 2.5 or more on a 5 point scale by Great Place to Work Institute.
Srijan is the largest Drupal company in the Asia Pacific region with a 350+ employee workforce, distributed across 4 continents and 12 nations. An Advance AWS Consulting Partner, Apigee Services Partner and Signature Supporting Partner to the Drupal Association, Srijan builds and modernizes digital systems to help enterprises adapt to changing business models.