The client wanted to increase engagement and conversions for their eye contact lenses range. Their current buying journey lacked the functionality to offer a unique, immersive experience to younger lens wearers, and eventually led to low conversions. Hence, they wanted to introduce an interactive and engaging digital platform to showcase the product line. The goal was to make product trial selection a smooth and hassle-free process, for both consumers and eye care professionals.
Srijan team worked with the client to develop an AR-powered virtual try-on solution for its lenses. The solution also scaled-up to try on complete make-up looks with the lenses, and offers personalized product recommendations.
The Challenge
The client was keen on increasing engagement with their range of lenses, and increasing purchases. However, they were faced with three key challenges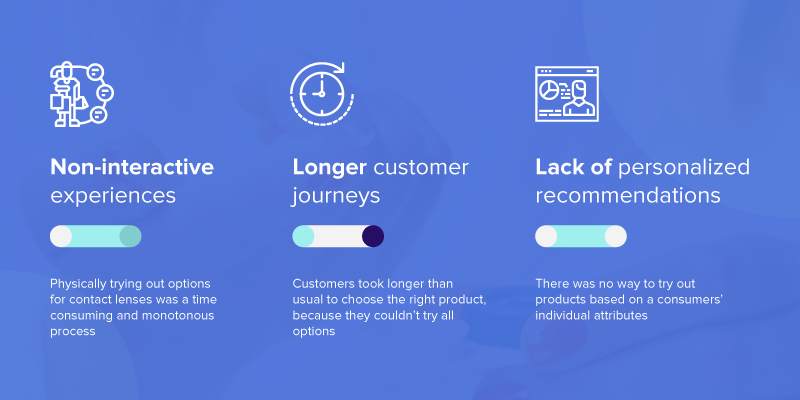 Non-interactive experiences
Choosing the right pair of contact lenses was a monotonous and time-consuming process. Having to physically try out multiple lenses at the store was a hassle that millennials, Gen X, and Gen Z buyers wanted to avoid. And that led to lower engagement and conversions.
Longer customer journeys
Given the tediousness of the trial process, customers took longer than usual to decide and buy lenses as per their requirements. The resulting inertia led to confusion and prevented purchase.
Lack of personalized recommendations
The target audience (18-24 Years) also wanted to choose lenses based on their appearance (skin complexion, hair color, lips, etc.), and understand the kind of make-up looks that would go with it. However, there was no capability to provide such personalized recommendations.
The Solution
As the client prepared to align themselves with the evolving customer expectations, a futuristic solution was required, one that could integrate the requirements around beauty, lifestyle, and eye health for unmatched in-store and out-of-store experience.
Comprehending the requirements, Srijan created an interactive digital platform, to help the client deliver a personalized try-on experience for consumers. The solution went beyond the simple lens trial feature and offered buyers a holistic customer experience, where they could learn more about lens care, try on different make-up looks and get personalized product recommendations.
The Business Benefits
The interactive digital platform transformed the customer experience and buyer journey for the client.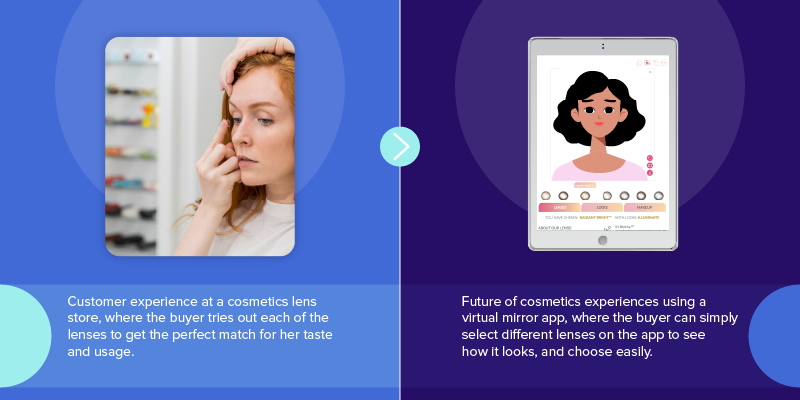 Here's a look at what happened next:
The interactive and holistic AR experience led to increased conversion rates by ~9%
More personalized user experience helped in increasing customer engagement. The combination of make-up recommendations, look previews, and comparisons enabled by AR, all worked to create immersive in-store and online experiences
The platform also helped improve brand awareness and customer loyalty through features like social sharing of looks, make-up tutorial downloads, and lens usage and care information.
The ability to try on and analyze different lens and make-up options also led to reduced returns and increased satisfaction among consumers as they made informed purchase decisions

Behind the Scenes
Here's a breakdown of exactly what the interactive digital platform enabled for out client:
Enhanced virtual try-on, in-store and online

The AR-powered virtual try-on experience was delivered seamlessly on online and offline channels, to enable hassle-free omnichannel shopping for the buyers. Customers and beauty advisors can use the virtual try-on feature on a web or mobile application online, or on a virtual mirror in the store, or even at a standalone brand kiosk.
Personalized recommendations

An algorithm-based Digital Quiz Advisor was deployed across 8 ASPAC regions. It captures hair and skin color related inputs from consumers and accordingly recommends a lens, and its associated makeup look. The quiz enabled a better understanding of consumers and their preferences, and thus helped the client offer tailored and holistic shopping experiences that ultimately increased engagement.
Created a value-added shopping experience

The platform also empowered the client to cater to customer expectations around product knowledge and usage. Information on how to don a particular makeup look with a specific type of lens and how to care for contact lenses is shared with consumers, creating a more valuable and interactive shopping experience.
Offering multilingual, multi-region experiences

Given that the client's target market spanned 8 countries, the digital quiz advisor was implemented as a multi-region, multilingual solution. This allowed the client to expand their reach and effectively engage with new customer segments.
Collaboration with eCommerce partners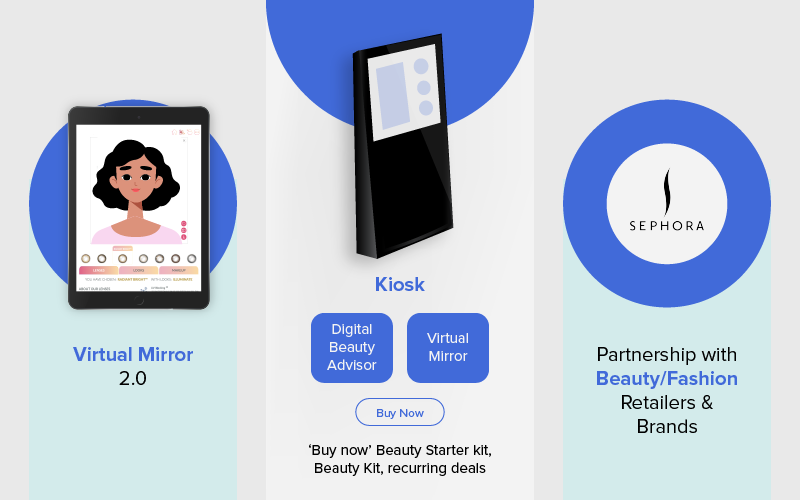 The integration of eCommerce partners within the application helped the brand leverage customer details such as orders, payment methods, and shipments, to gain new insights into the buying patterns of users. An essential way to acquire loyal customers, we ensured that the brand delivers a seamless shopping experience.
The interactive digital platform leveraged a range of technologies to deliver an enhanced customer experience.
Powering the enhanced virtual try-on experience at the backend was a third-party application, YouCam Makeup (VM Box). Srijan leveraged React.js for the application frontend and enabled an intuitive user experience.
Bringing these two together allowed the client to render the platform as a seamless service on their website, mobile application, or even on kiosks to drive acquisition, engagement, and ultimately expedite the customer buying journey.

To further amplify the consumer experience and provide high-fidelity visualization, the contact lens virtual try-on solution also includes an AR makeup try-on feature. So, apart from trying different eye colors on themselves or the model, users can virtually apply eyeshadow, eyeliner, mascara, lip gloss, blush, and other makeup products for a full AR makeover experience in real-time.
There are sweeping transformations in how consumers discover and buy beauty products. Srijan is already helping global beauty and personal care brands start delivering on these evolving customer expectations. Our experience and understanding of the beauty industry and evolving market needs, combined with deep technology expertise, makes us the ideal choice for beauty brands starting on this journey.
Ready to explore how exactly your brand can leverage technology solutions at key junctures in the consumer experience? Start a conversation with our expert teams.