Situation
Monotype has been helping enterprises around the world with their brand expression. However, it needed to refresh its own creative expression when it came to their website.

Their existing CMS required frequent technical interventions, and thus longer turnaround times for any changes sought by the brand teams. The website interface limited the users' capability to explore Monotype's offerings and services, thus delivering a less than ideal user experience. Monotype has a huge repository of different content types, including multimedia, but was limited in being able to serve them in an easy and visually appealing format to the website users.

Monotype was looking to redesign the user interface of the website, and replace the existing CMS with a versatile one to enable them to overcome these challenges. Monotype's internal team did the new designs, and chose Srijan as the development partner.
Challenge
The existing CMS limited the Monotype team's ability to be flexible and deliver a fluid experience to the users. They could not create multi-media rich content in a versatile manner and were limited in their ability to create different page layouts.

The CMS restricted the team from performing recurring tasks by themselves; tasks such as translations and being able to publish content independently. It also didn't allow for a smooth workflow for translation, reviews and approvals, thus causing delays in taking content and campaigns live. The CMS also wasn't flexible enough to deliver a personalized experience based on user preferences.

Monotype had multiple CMSs deployed for its different brands. These required frequent developer intervention, security updates and involved difficult maintenance.

Monotype 's website is multimedia-rich. However, the images and multimedia content were not optimized which led to sub optimal page load times, especially on mobile devices. This not only impacted the user experience but also adversely impacted the organic traffic and search engine rankings.

Monotype was looking for a platform that offered a conducive environment for the content, design, and brand teams to be able to express their brand identities and offerings in their own authentic way, across geographies.
Solution
The combination of Drupal 8, Acquia Cloud hosting, Acquia BLT, Acquia Lightning and Acquia Lift enabled Monotype to have a flexible, scalable, and robust platform, with industry-leading personalization capabilities. Drupal as the backend platform, leveraging a component-based approach with layout builder brings in versatility while simplifying the process of content creation for brand managers.
Acquia Cloud Hosting
While Drupal is scalable to support content-rich sites and experiences, Acquia Cloud was chosen for its performance, easy management of the development, staging and production instances, and smooth deployment workflows. Dedicated and extended support with server-side security patches and pre-emptive upgrades ensured that Monotype could channelize its resources on serving its users better. Features such as monitoring of the application, log management, and security alerts ensured that the digital property remained available and free from errors.
As Acquia Cloud is a specialized Drupal hosting provider, it was easier to collaborate between website architecture and server-side infrastructure to deliver a high performance website.
Quick development using Acquia Lightning and Acquia BLT
The website was developed using Acquia Lightning profile, which comes with out-of-the-box functions like workflows, media management and security audits. This reduced the development time significantly.
Acquia BLT, an open-source build and launch tool by Acquia was used for ease of on-boarding developers on the project without them needing to worry about multisite architecture complexities. A tool to facilitate application build, testing, and deployment to Acquia servers, Acquia BLT was integrated to save setup and onboarding time for future brands.
Fast and versatile, component-based content creation
Srijan recommended the use of a component-based approach. With this approach, a rich profile-linked library of components with different view modes was created to be used by the brand managers to deliver different layouts and content rendering, easily.

Drupal's visual design tool, Layout Builder was chosen to create custom layouts. Layout Builder has an easy to use drag-and-drop interface that allows content editors and brand managers to easily and quickly create layouts.

Brand managers can now create custom landing pages, customize how content is arranged across websites, and the types of content they want to display. This has removed the dependency on IT teams thus accelerating the turnaround time and has allowed for a creative and dynamic content presentation.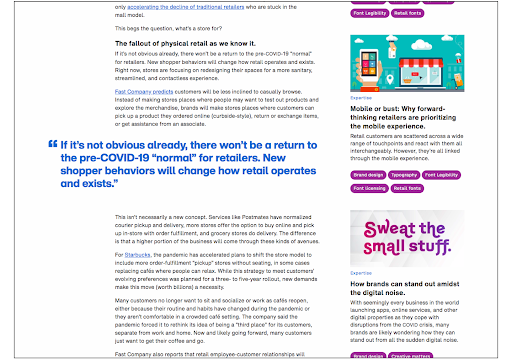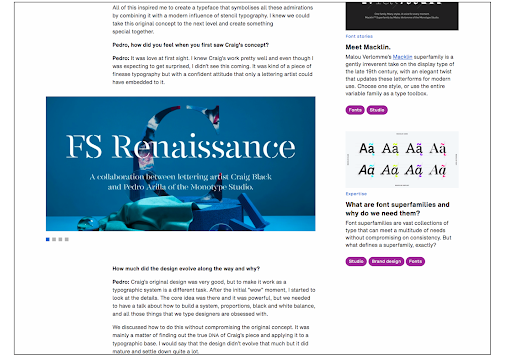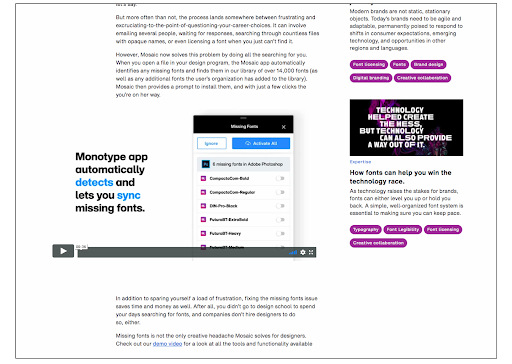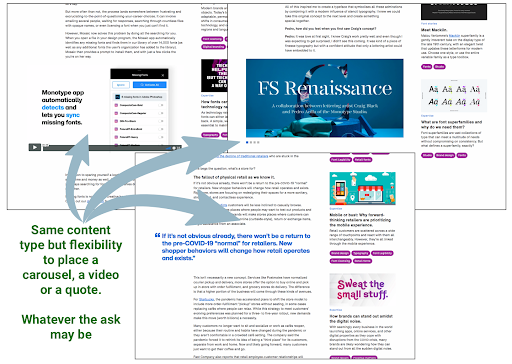 Same content type with the view-based flexibility for creating versatile content presentation
Improved site performance
Since Monotype is a media heavy website, the optimization strategy included implementing multilayer caching, both on the server as well as the application layer.

While Drupal has many modules to improve performance, its bootstrap caching often doesn't deliver the required speed optimizations. Srijan identified the right Drupal modules and leveraged them to achieve the desired goal of a low-latency delivery.
At the application level, Srijan implemented a variety of techniques to optimise performance. This included Brotli compression of HTML, a component based approach to minimize the size of JS and CSS, lazy loading, loading images in a next-gen format such as webP
, and static asset caching.
Through Acquia Cloud, modules like Varnish and Cache were deployed to cache content directly, to improve site performance significantly.
Freedom of creativeexpression with improved content management
By providing streamlined organization and governance of content, Drupal acts as a central repository from where different content can be accessed by the brand teams as required. Its end-to-end process for asset creation and delivery, easy-to-use interface, and advanced filtering eliminates the need to conduct tedious manual searches, thus saving them a lot of time.
Workflows are simplified and streamlined. All aspects of the asset creation process now run smoothly. The new CMS not just allows the integration of rich media within content but also differential rendering with different view modes.
Improved translation workflows with third-party integration
As an agile global brand, Monotype's objective was to deliver its offerings to its users in their local languages quickly.

Drupal's centralized system with workflows for streamlined reviews and publishing processes has simplified content creation and management for Monotype now. The third-party integration with the translation service has removed the tedious process being followed earlier which required follow-ups with external translation teams. By integrating the preferred translation tool with the CMS, Monotype's teams have gained direct access to the translation tool and now use professional-grade translation in real-time.
Results
With Drupal 8, Acquia Lightning and Acquia Lift, Monotype now has a future-ready website that is flexible enough to deliver a range of immersive experiences based on user preferences.

With the new website in place, Srijan has enabled Monotype to improve the organic traffic to the website. The deployment has led to a website that is 7 times faster than their old one.

Monotype has seen the following results after the website has gone live.
Improved editorial capabilities: With a rich component library, brand teams now have the flexibility and choice to display content in various formats for various user preferences. They are also now able to do quicker campaign rollouts.
Significant increase in site speed: The new Monotype site loads up in 2 seconds, compared to the earlier 15 seconds. This has improved the Lighthouse score to >85. The accessibility score now is 85 and SEO above 90.
Ready for the redesign of the other brands: The profile-based architecture was adopted for the ease of onboarding of other brand sites in future. They would be able to share the same content types and component repository and other functional modules. This would save a considerable amount of time in their development process.
Working on digital transformation projects? Let's start a conversation on how Srijan can help.