The Project
CureMint.io wanted to build an eCommerce platform that would serve as the core of their business. Their key requirements from the project were:
Set up an eCommerce website that offers a simplified experience for customers and suppliers
Build custom functionalities for a key client DSO:

All order invoices uploaded directly into their invoicing system on Microsoft Dynamics
Allocate budgets to individual clinics which come into force when they are placing orders on the platform

Build custom integration for a key supplier - where the shopping experience is on the supplier's website while checkout is on CureMint platform
The last two requirements were scrapped midway through the project, as business strategy pivoted. Now, the requirement was:
Build separate eCommerce microsites for major DSOs, each showing only a pre-approved set of inventory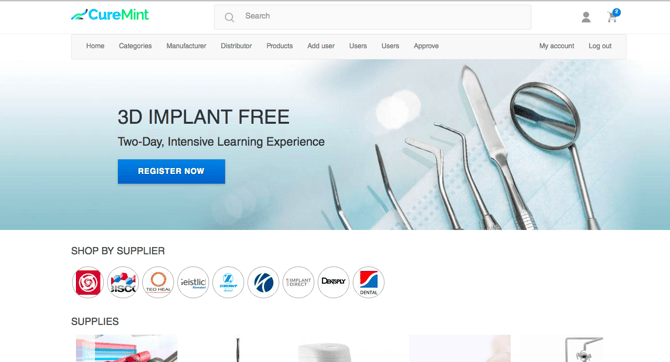 The Solution
One of CureMint's co-founders had already worked with Srijan while at a previous organization and was keen to bring Srijan on board for this project. Additionally, they evaluated proposals and wireframes from several other vendors, before finally choosing Srijan.
The CureMint eCommerce Portal
Once onboard, Srijan helped the CureMint team choose the right eCommerce platform. They evaluated several before settling on Drupal Commerce. It was chosen for
its out-of-the-box features that served both customers and suppliers
its compatibility with Drupal 8
The final solution was to build an eCommerce site with Drupal Commerce that allowed:
Easy listing for various products from manufacturers and distributors
Quick product search and simplified selection and checkout
Email notifications for suppliers for each order placement
Order viewing and receipt confirmation by customers on the portal
Streamlined management of all orders placed, with an order-approval mechanism
Delivering Custom Requirements
Email Notifications: A key challenge with Drupal Commerce is that emails are not delivered to the inbox, and land up in spam. Srijan teams opted to work around this issue byintegrating Sendgrid email solution with Drupal Commerce. This ensured that emails from the CureMint portal were delivered to customer and suppliers' inboxes.

Custom Integrations: The CureMint team had certain custom requirements for their key customer and supplier. While these were dropped midway through the project, the Srijan team managed to deliver some work on those as well:

Successful integration of invoices generated in CureMint with the customer's Microsoft Dynamics database was demonstrated with a PoC
Ability to allocate different budgets for individual practices/clinics under a DSO was also demonstrated with a PoC
An integrated buying experience with the ability to seamlessly browse for products on a supplier's website and checkout via CureMint

Creating Customer-Specific Microsites

One of the major requirements for CureMint was the ability to offer a personalized solution to each of their customer DSOs. This would include:

Separate inventory, from a pre-approved set of suppliers, visible to each customer. Not all products are visible to all customers
Variable prices visible to each customer, based on their individual contract with their suppliers

Srijan leveraged Pantheon Upstreams to build their microsites to specification. Some notable pointers in this implementation were:

This enabled the team to use the same Drupal codebase for each microsite, meaning each site is standardized with the core CureMint eCommerce portal
Each microsite simply had a different database to cater to changing specifications

Automated Workflow for Microsites

Srijan built three microsites over the course of the engagement. But they also created a solution to help CureMint teams create and launch new microsites independently, as and when required.

The team used QuickSilver, in addition to Pantheon Upstreams, to create automated workflows for publishing new microsites. Previously, launching microsites were done via the command line interface and required a developer. With the automated workflows, CureMint now has a visual, point-and-click interface to launch new sites. It can be used by anyone, and hence new microsites are not dependent on the availability of a developer.

The Engagement

The project was a 3-month engagement, broken into 2-week sprints. A 5-person Srijan team worked on approximately 50 story points per sprint and kept 15 story points as a stretch goal per sprint.

During the course of the project, Srijan consistently delivered on sprint goals, plus some stretch goals. The team was working in an agile manner, with enough time to change course midway, as client requirements evolved.

The Business Benefits

For CureMint, this Drupal Commerce project delivered:

Fast and Efficient Delivery: The project moved from discovery to delivery in just three months, with a core Drupal site and three microsites being delivered within the project timeline

Agile Processes: Agile delivery methods meant CureMint was able to change direction midway as requirements evolved, and yet keep the project on track. The CureMint teams were able to test out the eCommerce portal and place orders within two sprints from the start of the project.

Independent Scaling: The automated workflows created by Srijan gives CureMint the freedom to quickly launch as many new microsites as required, without getting developers involved.

Srijan is currently working with enterprises across media, travel, retail, technology and telecom to drive their digital transformation, leveraging Drupal and other emerging technologies. Our Drupal Commerce expertise enabled us to launch FINDIT's massive online marketplace with over 5 million SKU and 250 merchants.

Launching an ambitious eCommerce project? Let's start a conversation on how Srijan can help.