The Situation
In the pharmaceutical industry, selling the products is itself a costly affair for the companies. This involves a huge supply chain including multiple sales representatives. Procuring these supplies is another tedious task. Understanding this gap, the client conceptualized a solution that can serve both parties. The client wanted to create a platform that would streamline and quicken the dental supply procurement and management of the orders. This was also meant to evolve as a cost-effective way for the vendors to sell their products directly to the DSOs.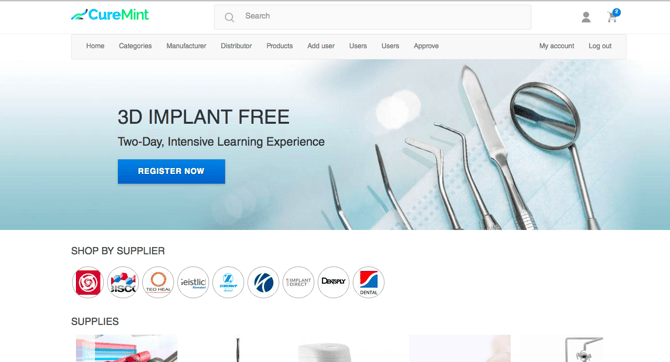 The Challenge
We had to begin from scratch to build the platform. Right from defining the MVP to defining the workflow and implementing these, the task was gigantic. We directed our efforts to launch the first phase of the site within 3 months of planning. The project was meant to be highly time compliant as this platform would kick-start the actual operations for the client. Moreover, since this was a start-up idea we ensured that our agile processes could accommodate the changing expectations as more DSO and suppliers come on board.
The Solution
We began with selecting a platform that would be able to serve such dynamic needs. After careful brainstorming we arrived at the conclusion of working with Drupal because of the following reasons:
An open-source platform that makes it free from the obligation of license renewal fees.
Numerous community-supported modules that would enable easy implementation of features.
Also, Drupal has a huge active community that contributes to interesting module development. This would also ensure better upgrades time to time.
The readily available out-of-the-box features
DrupalCommerce was Drupal 8 compatible
Email Notifications: A key challenge with Drupal Commerce is that emails are not delivered to the inbox, and land up in spam. We opted to work around this issue by integrating the Sendgrid email solution with Drupal Commerce. This ensured that emails from the CureMint portal were delivered to customers and suppliers' inboxes.
We also successfully integrated an invoice generation in CureMint with the customer's Microsoft Dynamics database that was demonstrated with a PoC. Also, the portal reflected the number of supplies available at your local vendor. As soon as an order was placed, this would change the inventory number at the portal database as well as at the vendors'. This was accomplished by incorporating CureMint into the vendor's ERP system using PO2GO.
We leveraged Pantheon Upstreams to build their microsites to specification. Some notable pointers in this implementation were:
This enabled the team to use the same Drupal codebase for each microsite, meaning each site is standardized with the core CureMint eCommerce portal
Each microsite simply had a different database to cater to changing specifications
Automated workflow for Microsites
We provided for the creation of three microsites over the course of the engagement. But this also enabled the CureMint teams to create and launch new microsites independently, as and when required.
Our team used QuickSilver, in addition to Pantheon Upstreams, to create automated workflows for publishing new microsites. Previously, launching microsites were done via the command line interface and required a developer. With the automated workflows, CureMint now has a visual, point-and-click interface to launch new sites. It can be used by anyone, and hence new microsites are not dependent on the availability of a developer.
Business Benefits
Within brainstorming and effort, our experts delivered a dynamic solution that enabled the stakeholders to accomplish the following:
For Distributors and Vendors:
Cost-effective product placement to the audience
User-based access (like headquarter, regional office, practitioner) and preferences
Automated inventory updates on ERP with integration
Easy product listing
Email notifications for suppliers for each order placement

For End Customers:
Quick product search and simplified selection and checkout
Order viewing and receipt confirmation on the portal
Streamlined management of all orders placed, with an order-approval mechanism
Shop by category or vendor for faster procurement
Buy procurement-specific inventory
Manage their spend dashboard and budget visibility to monitor their purchase
The automated workflows created by Srijan gave CureMint the freedom to quickly launch as many new microsites as required, without getting developers involved. Thus adding to the scalability of the product and enabling faster expansion.
Srijan is currently working with enterprises across media, travel, retail, technology, and telecom to drive their digital transformation, leveraging Drupal and other emerging technologies. Our Drupal Commerce expertise enabled us to launch FINDIT's massive online marketplace with over 5 million SKU and 250 merchants.
Launching an ambitious eCommerce project? Let's start a conversation on how Srijan can help.