The Challenge
Open banking is becoming an emerging trend for the BFSIs owing to the changing customer needs, Fintech competition, as well as GDPR regulations. It provides them with the opportunity to improve, inform, and further the value of their analytics and data securely, while also driving customer engagement and increase in revenue.
To leverage these benefits, and have an edge over their competitors, Yes Bank wanted to build a fintech ecosystem atop its core banking services.
The client had a set of 45 internal SOAP services, in the form of WSDL files. They wanted to onboard this to a fintech sandbox in order to expose their APIs to third-party developers, and make it easy for them to integrate the client's services into their products.
But doing this involved some inherent challenges:
Each WSDL file involved a series of steps to be converted into REST APIs-
Understanding the service
Configuring it for the chosen API management platform
Publishing it
Checking hierarchy and security
Getting approvals
Even for an organization with a relatively simple hierarchy, the process would take an average of one week per file.
The SOAP to REST conversion required particular expertise in Apigee and Node.js, which the client did not possess in house
The client did not want to write custom code for the conversion
Another main objective was to have a developer portal to allow third-party developers to work with these APIs and access all published documentation.
Srijan team was well-equipped for the project given their in-depth expertise with Apigee, Node.js and experience in creating developer portals, and helped the client develop a solution to meet their requirements.
The Solution
Given the the specific requirements of the project, the Srijan team proposed a solution with the following key aspects: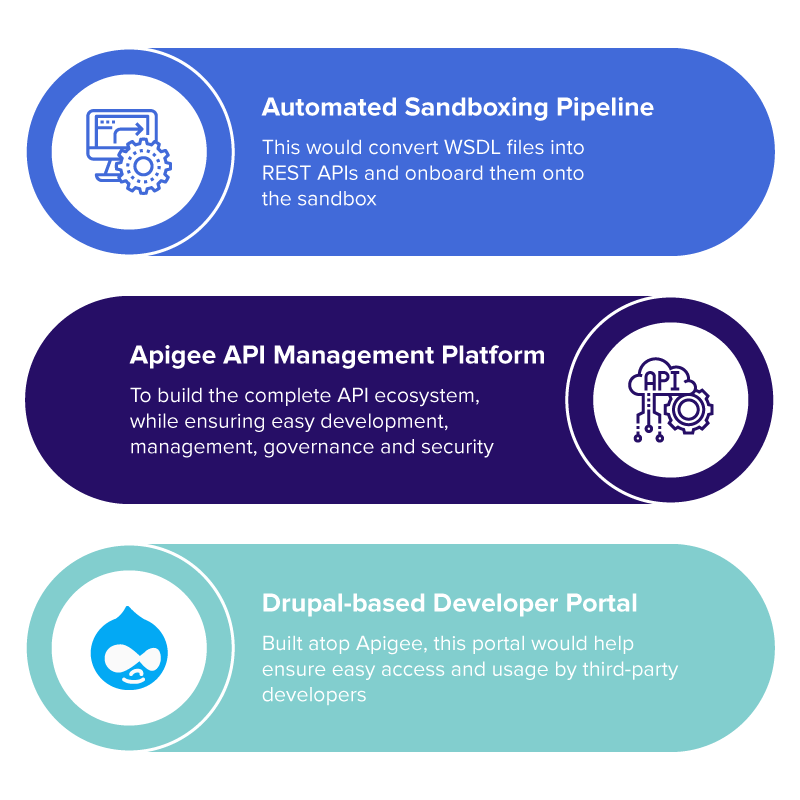 How We Did It
The Business Benefits
Less time was spent on training or hiring new specialized resources in house for the job, owing to the automated pipeline for converting and onboarding WSDL files
End to end API management on the Apigee platform, thus ensuring a well-functioning API ecosystem in place
Enabled better adoption of client APIs with a easy-to-use developer dashboard
How We Did It
Automated Sandboxing Pipeline
An automated pipeline which would convert WSDL files into REST APIs and onboard them onto the sandbox. This enabled:
Automatic sandboxing of core services with mocks generated from SOAP API introspection

Exposure of sandboxed core banking services with OpenBanking + PSD2 compatible REST facades - covering account, customer information, payments and bank products

Automated onboarding cycle for new services with automatic WSDL to Open API IDL, proxy creation and API product assignment
Apigee API Management Platform
The complete API ecosystem was build on the Apigee API Management platform, to ensure easy development, management, governance and security. This included:
API foundations & security including origin authentication, AD registry and mTLS for various southbound services

Consistency across sandboxed services ensuring high integrity developer experience, engineered with an orchestration tier

Creation of fluent SDKs & starter kits for client applications in various languages
Drupal-based Developer Portal
To ensure easy access and usage by third-party developers, the Srijan team built a Drupal-based developer portal atop Apigee, customized to the client's branding. Few salient features of the portal:
Business Process Management (BPM) workflows to ensure smooth onboarding

Complete API documentation with API catalogs and Swagger docs

Support for community and social features around API portal to enable hackathons and API product summits
Srijan is working with leading enterprises in the US, Europe and APAC regions, assisting with their API lifecycle management - creating and exposing APIs and building custom developer portals. Our teams also work closely with digital experience leaders to create a tailor-made API monetization strategy to enable enterprises to leverage the growing digital economy.
Ready to execute a profitable API strategy? Drop us a line and our expert API team, and explore the next steps.