The Challenge
Online travel sales was a 44.63 billion USD industry in 2019, in the Middle East and Africa. Almosafer was ready to gain a strong foothold and expand customer base in this high-growth segment. With the launch of their travel booking portal, their goal was to steadily increase their market share and brand presence in the region.
The challenge was to attract and engage visitors on a new travel portal, in a highly competitive industry. Almosafer was looking for solutions to acquire visitors in a scalable and efficient manner, while also delivering on the unique requirements and expectations of the Middle East market.
The Solution
The only way to attract and convert new users was to become easily discoverable online, on the exact search engines that their potential customers used to search for travel services. Hence search engine optimization became the key objective for Almosafer.
However, the kind of SEO that works for generic websites with pages and blogs was not going to work for Almosafer. As a travel portal, they had to optimize their portal for a long list of destinations, flights and hotel searches. And doing it all manually for every new city or hotel or flight they add would be very time-consuming, and not sustainable or scalable in the long run. Additionally, they also had to take into account the market they were trying to address, and ensure that Arabic was the language for which all the optimization was being done.
Given these requirements, Srijan crafted a website content management solution with Drupal that ensured:
Easy discovery of Almosafer's services, on the right search engines and in the right language, for the Middle East market. This would help them ensure maximum exposure, brand presence, and rising visits and conversions on their website
Reduce the manual effort involved in content creation and SEO management, so the solution is efficient and highly scalable.
The Business Benefits
Almosafer launched a revamped website, ready to attract, engage and convert a larger share of the travel booking market.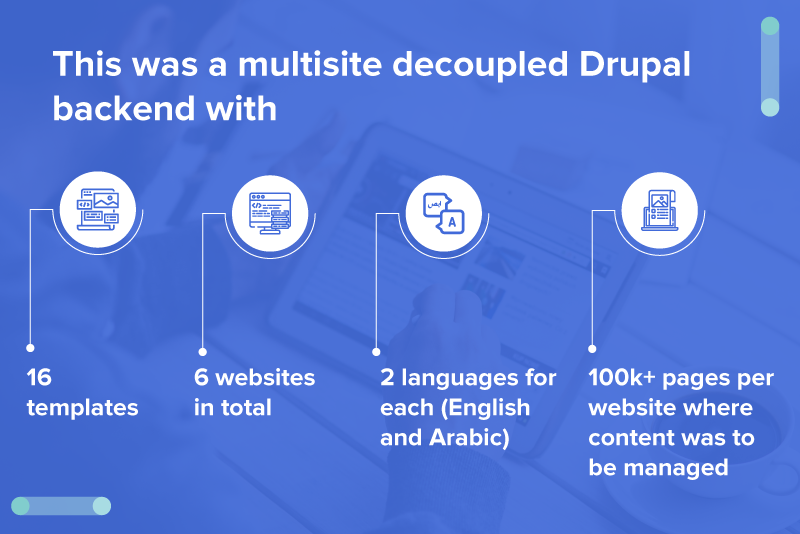 In addition to this, the Almosafer team had the ability to configure, control and manage content & widgets on new SEO optimized pages.
This solution delivered: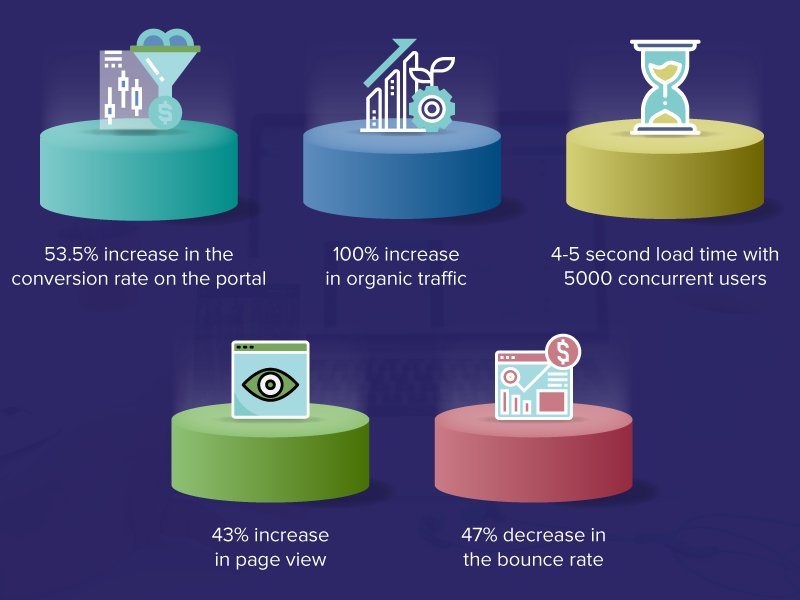 How We Did It
Srijan started with developing an in-depth understanding of the client's problem. Two weeks were spent in the discovery phase during which Srijan teams worked with Almosafer's team in the following areas:
Defining the project goal
Detailed high-level project scope with Epics and Stories
Scaling and signing off project architecture keeping in mind sustainability and scalability of the project
High-level project plan with resourcing keeping in mind Ramadan Launch target of the marketing team
Detailed SEO plan keeping in mind the SEO related goals of the project
Detailed competitor analysis
Then the project was started, with Drupal being selected to manage content, SEO and expose REST API, while the frontend was to be built using React.
Content Creation on Drupal
Optimized content creation was simplified for Almosafer's editorial team, so they could quickly add and edit any type of pages. For this, all pages were mapped to different purposes (booking, payments, etc.) and themes (hotel, flights, holiday booking), to identify 16 different templates. These were analyzed from a user-interaction perspective, and broken down into key components and widgets. Finally, these templates were revamped, with all pages created in a widget-based approach.
A decoupled Drupal architecture was implemented, with NextJS used for servicer-side rendering. Drupal at the backend delivered:
Multilingual content creation and management, in both Arabic and English language
A mobile first approach for SEO
Automated excel import features for all heavy contents
Easy to use system overall for all content editors, for easy changes and quick go-to-market for new pages
SEO Optimized Pages
Drupal was used to manage SEO for the pages. Srijan team ensured that each widget and page had its own SEO elements and configurations i.e. internal linking, meta tags, canonical tags, etc. All industry standard SEO requirements were implemented to generate maximum visibility and increase website traffic.
Along with these complexities, the performance of the site was also managed to be under 2 - 3 seconds to ensure that the user experience is not hindered and accessibility of pages is maintained.
Multilingual Content Support & URLs
Using Drupal as backend, the team was able to develop a multilingual content support for all the website pages across 6 websites in both English and Arabic language. Even the URLs for Arabic pages were generated and maintained in the Arabic language to get a higher preference in Google ranking over the other applications.
Frontend using React
The website frontend was built using ReactJS, which solved the flexibility and standardization issues for the client:
All the components were built to be reusable, like widgets which could be placed anywhere on any page. And a combination of these widgets could be used for the creation of a completely new template with minimal frontend development efforts
Future scalability on pages was guaranteed by building a bank of extra widgets which could be used as and when needed
Apart from these, existing components like Header, Footer & Search Component, which were used by both the current application & their existing platform, were reused.
Is your enterprise looking to drive growth with transformational digital experience solutions? Tell us a bit about your vision, and our expert teams will be in touch.