The Project
Estee Lauder's beauty advisors are their first, and in most cases only point-of-contact for their customers. Given this, the brand wanted to ensure that these teams were well versed with all their products, and were delivering the right customer experience.
To achieve this, they wanted to create an advanced enterprise LMS (Learning Management System), to train beauty advisors across all geographies, and for all their brands. The key goal of the projects was to:
Build a unified repository which contains all their product information and knowledge resources

Make sure that all resources are easy to access and consume by the target audience

Put in place a system to measure the efficiency of the learning ecosystem, based on how people are using it, and how it impacts sales
Here's a look at what Estee Lauder wanted, and the vision we set out to achieve:
The Solution - Digital Learning Ecosystem
Given the client's requirements, Srijan worked closely with another vendor to design an open-source, multilingual, global platform where beauty advisors could consume and interact with a vast set of learning resources.
The teams worked to create a scalable learning platform, that was designed to:
Save time and costs on classroom sessions
The platforms curates all sessions, videos, and information documents that can be be accessed 24x7. So the client does not need to conduct periodic classroom sessions to train its people, or repeat a session across different locations. This eliminates the time and cost investment in ensuring all teams can be present a certain session, at a particular time.
Make learning resources more accessible
The platform is available to beauty advisors and counter managers anytime, anywhere, online or offline. So the learning is no longer confined to a time slot, or only at work.
With short videos and quick quizzes, they are free to complete learning modules in between their daily activities.

The resources are available on both web and mobile platforms, giving people the flexibility to learn on the go
This gave people the freedom to learn at their convenience, and hence the solution was better adopted by them.
Track the ROI from their learning ecosystem
All learning content - videos, modules, quizzes were xAPI-based. This allowed the brand to understand how people are interacting with the learning resources, by track micro learning moments like:
Which videos have been watched

How much of a video has been watched

Which modules are completed

The scores on each module and more
When this information is mapped against each learner, the client has a better view of who is learning what, and how to better aid their learning. They can also better map the learning needs of different geographies.
The Technology
The core enterprise LMS and the rest of the learning ecosystem was built as a decoupled Drupal architecture. All the information and resources, as well as most learner activity is stored in Drupal, acting a backend repository. The frontend is entirely decoupled from the backend, with APIs to render the pages.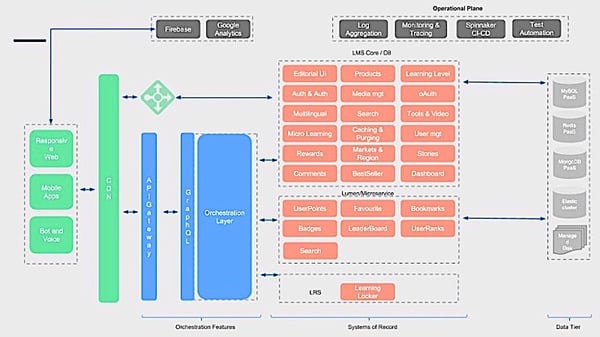 The Frontend
The solution is designed to work across three channels - web, mobile apps, and chatbot or voicebots. Information is pulled to the frontend via APIs and rendered using ReactJS.
The delivery channels and the orchestration layer, i.e. the frontend for the advanced digital learning ecosystem was handled by the client's second vendor, who work in close coordination with Srijan teams.
The Backend
Srijan team developed the backend system consisting of three components:
The Enterprise LMS in Drupal 8
The core enterprise LMS was developed in Drupal 8. It would provide the users with an organized knowledge repository, easily accessible through different devices. This was decoupled to allow easy integration with other systems. It also allowed greater flexibility in designing the frontend presentation layer.
Some of the prominent features included in the LMS:
Multilingual learning modules, with videos and quizzes

Personal dashboards for learners to track their progress, scores, rewards etc

Complete repository of all products, best seller lists

Varying content for different regions and brands
The Drupal LMS is also linked to the client's internal personnel management systems, and used data from there to map individual learning progress.
Lumen
The Lumen microservice framework was used to add additional functionalities to the platform. It specifically dealt with user activity data like user points, favorite courses, bookmarks, badges, and leaderboards.
Learning Record Store (LRS)
The Srijan team used Learning Locker as the LRS, the data repository to store learning activity statements generated by all the xAPI-based content. Learning Locker also has a host of out-of-box reporting formats that are being used by the client to analyze the collected data.
Besides this, MySQL, Redis, Mongodb, Elastic cluster and Managed Disk were used for overall data storage and management.
Moving forward, the platform will incorporate additional channels to enable learning:
Chatbots: Asked-and-answered approach where people can find any information immediately, without traversing the site
AR: Allow people to scan a product image and get all information on that product, without having to ask anyone log into the site or consulting manuals
Business Benefits
The platform is being continuously improved, the client is already starting to see the benefits of an integrated learning ecosystem:
5 brands have already moved on to the new platform, reducing the need for separate LMSs and providing a more integrated learning system

The client has seen a 30% reduction in classroom training sessions, and an associated reduction in costs

The beauty advisors' engagement levels with the learning resources have risen considerably

The platform is completely reusable and can be easily rolled out for all of the client's brands, and different markets, with content structured specifically for each market
Srijan regularly works with global enterprises to modernize and optimize their internal operations, whether it's by upgrading existing systems or intertwining them with emerging technologies like xAPI, chatbots, AR/VR and more.
Wish to drive greater ROI from your enterprise learning systems? Let's start the conversation and explore how Srijan can help.