Zoho.com is a marketing website that showcases all the Zoho products, and gives users more information about them. This site is also a gateway to all the product websites, where users can find plenty of information to help them make a buying decision. Zoho has several products under its ambit, and every product needed a huge number of pages, which included sections like pricing, features, etc. The CRM page alone has close to 300 pages, and together, all the pages of the different products have more than 2,000 pages.
The marketing and technical writer teams for each product draft the content for their product pages, which is then passed to a central creative team. This centralized team then creates the layout, and makes the content live on the website. The entire website was managed directly using static files, without any CMS. To make any changes in the existing pages, the central team again had to get involved.
As a collaborative company that doesn't believe in unnecessary hierarchy or bureaucracy, Zoho's marketing, technical, communication, and creative teams work together to create content for their central website, zoho.com. Since Zoho has over 30 applications, this page acts as a gateway to each product's website, which provides hundreds of pages of information for users, from pricing to help guides. The website for their most popular product alone, customer relationship management (CRM), has close to 300 pages, and the websites for all the products have more than 2,000 pages in total. Because the company managed their entire site using static files, without any CMS, the creative team had to step back in to make any changes in the live pages.
The existing process was cumbersome, and, as the number of pages were increasing with the products, it was not scalable. Zoho wanted a simplified solution which could ensure easy content management and render web pages directly. The ZOHO team decided to implement a new CMS that makes it easier to manage their content and render web pages directly.
They sought out Srijan to demonstrate a Proof of Concept (POC) and used Drupal as the CMS to power certain pages of the website. In addition, a workflow was also created for the home page so that only specific users had the rights to access and manage the content. Zoho liked the POC and was convinced that Drupal was the CMS to go with. They also felt confident in Srijan's capability to implement the solution for the list of products it specified.
Solution
First and foremost, to prevent any loss of data during website migration, Srijan scraped it all from the website. Scripts were used to pull the content, which was cleaned to extract the right information. Then the new CMS was populated.
To address the challenges Zoho was facing, Srijan used Drupal to create organizational structure mapping so that different groups and user roles could be created for each product team to give them specific rights.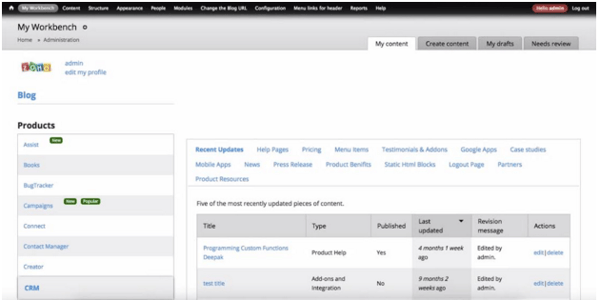 The solution implemented by Srijan has the following features:
Easy‐to‐use interface: A simplified user interface ensures that users only have to work with content, not code. This eliminates the dependency of the communication team on developers.
Dynamic content management and maintenance: A customizable editorial workflow, integrated with access control features, lets users seamlessly manage the content. Based on the organization's structure, it gives different access rights to each user editing the content. Also, the user is given access only on the basis of the product groups they are designated to handle.

Customized content management and maintenance: Depending on the organization's structure, only users who are given certain access rights are allowed to manage and edit the website's content, based on the product groups they are designated to handle.

Handling all phases of content: The solution supports different stages of content development: producing fresh content, managing and distributing existing content, as well as archiving vast amounts of content.

Flexibility: To allow content creation from multiple sources, Srijan implemented panels. This provided the flexibility to add blogs and HTML‐based content in the product pages.

Responsiveness: With Drupal, Zoho got a responsive layout, allowing their site to function across platforms such as mobile devices, tablets, and desktops.
All these features made it an ideal solution for Zoho to handle the massive data on its website.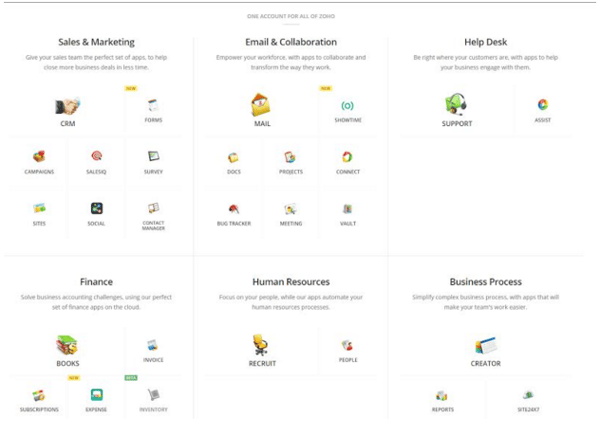 Benefits
Huge time savings: With a simple user interface, the new Drupal solution has decreased training and support time for the communication team. The developent team doesn't need to get involved in the content editing process anymore.

Scalable: The new Drupal CMS allows Zoho to manage its existing architecture, with its large number of pages, and scale them up as the business grows.

Real‐time changes: With the CMS instantly rendering pages, Zoho has eliminated issues related to information delay on the web. They've also avoided the possibility of a mismatch between the database CMS and web pages in cases where information was not passed on or was missed by the developer team.

Complete control over systems: The entire process is automated, and, with this project, Zoho continues to have full control of how they manage publishing on their website.
For more of Srijan's work, have a look at our other featured success stories.