The Requirements
They wanted to:
Relaunch their global website in three languages - English, Spanish, and French
Migrate 200+ websites with 30K multi-lingual pages to a scalable, flexible, and responsive CMS
Deliver user-friendly experiences to web admins, content creators, and users
Enhance developer experience with reusable components
Deliver frictionless experience to their marketers by providing features like content sharing and localization capabilities
Improve editorial experience
Optimize the overall website performance
The Challenges
Some of the challenges were:
Inconsistent UX across regional websites and microsites
Difficulty adding new sites to the existing infrastructure
Lack of reusable components
Inability to modify and update content in real-time
Lack of flexibility to carry out advanced searches
Inability to share and localize content
Absence of multi-site website infrastructure
The Solution
We worked closely with the team during the discovery phase to understand their needs at a granular level and delivered the following solution:
Built a unified, secure, and scalable Drupal-based platform and migrated their corporate websites to the new platform with negligible impact on ongoing operations.
Created an impactful no-code platform with Acquia Site Studio that enabled authors and marketers to quickly create rich pages in the production environment with the drag-and-drop content authoring capability and roll out content faster to provide a better user experience.
Leveraged Acquia Site Factory to manage multi-site deployments, including their custom micro-sites.
Enabled the digital platform team to build, provision, and maintain their global sites using the benefits of Acquia Site Factory's centralized cloud management console.
Provided advanced and flexible search capabilities with Acquia Search to deliver faster search results.
Overall Approach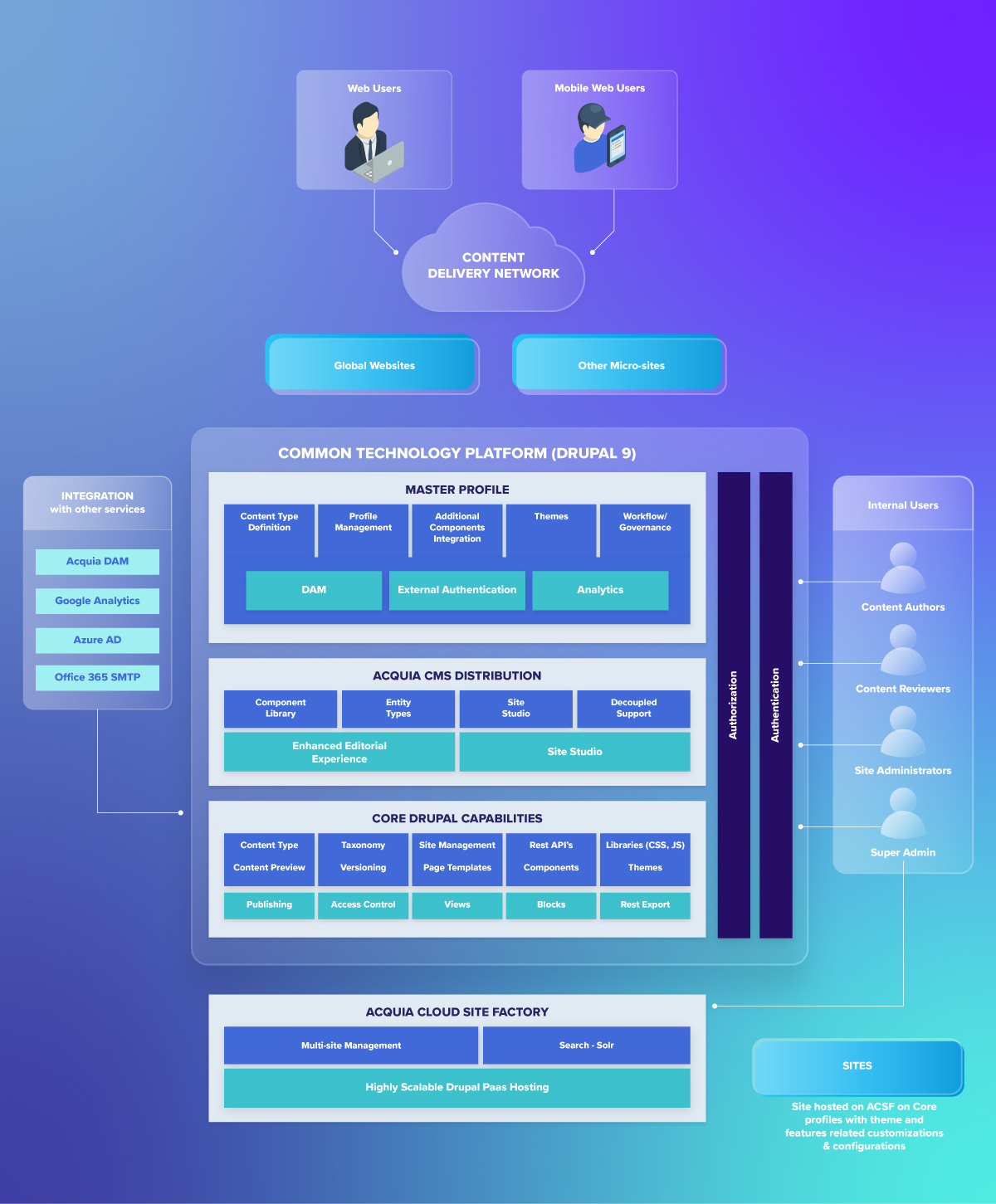 The Business Benefits
Here are some of the notable results:
Provided web editors, content creators, and users a feature-rich, highly responsive, scalable, and multi-lingual website with optimized performance
For Website Admin and IT Teams:
Easy and seamless hosting of multi-site platforms
A centralized hosting solution to manage all digital properties from a single interface
For Content Editors/Creators:
Faster development of content pages with the help of reusable components greatly reduced developer dependency
Collaboration and consistency across the websites led to faster publishing cycles
For Content Consumers (website users):
Consistent experience across all websites due to standardized UI/UX
Advanced search capabilities leading to a 150-200% increase in response time to queries