Procuring medical equipment and medicines is a costly affair in the dental industry due to a complex supply chain. Being plagued by inefficient procurement technologies and practices, the spending of the Dental Support Organizations (DSOs) suffer. The clunky legacy systems do no good either and cost an absorbent amount of time and money to dental practitioners. This includes multiple sales representatives reach out to Dental Support Organizations (DSOs), leading to the formation of a complex and expensive process. Our client wanted to build a platform that could streamline and accelerate this procurement process.
Requirements
The client wanted a platform that would establish a transparent, cost-effective, & faster procurement and budget management of the dental supply orders for DSOs.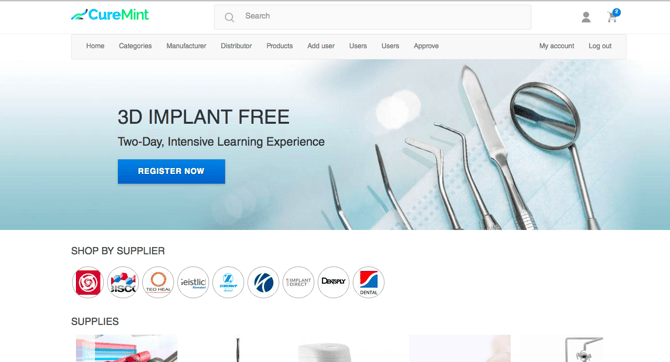 The Challenge
Carving out a viable MVP and defining the workflow from the seed idea to create an expansive platform in 3 months
The need for high time-compliance owing to operational dependencies
Accommodating the changing expectations as more DSOs and suppliers come on board.
The Solution
Srijan built a scalable product that enabled faster expansion in terms of launching more microsites
Integrated the Sendgrid email solution with Drupal Commerce.
The platform comprised of pre-defined packages that are dental surgery-specific.
Built microsites with an independent database to cater to changing specifications.
Automated workflows for Microsites
Specially designed product combinations based on surgery type for the ease of purchase
Overall Approach
The work began with Drupal Commerce and Drupal, owing to its out-of-the-box features, extensive community support, and the availability of a huge number of plugins. An invoice generation mechanism was integrated with the customer's Microsoft Dynamics database. The vendor's ERP system was integrated using PO2GO. We leveraged Pantheon Upstreams to build their microsites to the required specification.

Previously, microsites were launched via the command line interface and required a developer. With the automated workflows, CureMint also has a visual, point-and-click interface to launch new sites, reducing developer dependency.
Tech Stack
Drupal
Drupal Commerce
Pantheon Upstreams
Business Benefits
A dynamic solution that enabled the stakeholders to accomplish the following:
For Distributors and Vendors:
Streamlined access with user-based accesses (like headquarters, regional office, practitioner) and preferences
ERP integration facilitates automated inventory update, leading to easier inventory management
Easy product listing
Streamlined communication with automated email notifications for every order placement

For End Customers:
Quick search and order across vendors
One-click procedure-specific purchase
Cost-effective purchase
Faster procurement of products with options like shop by category, shop by vendor, and user-level favorites
Easy budget management and visibility, real-time access to data using spend dashboard
Schedule custom delivery date of the purchased items
Streamlined workflows by User, Office & Group for the purchase approval
Launching an ambitious eCommerce project? Let's start a conversation on how Srijan can help.