Requirements
Khan Bank wanted to go digital in a big way to position itself as a modern, tech-savvy digital bank. However, their delivery challenges were accentuated by the dynamic nature of business, the constantly evolving technology landscape, and shorter cycles for time to market. Khan Bank wanted to adapt and change its delivery model to an agile way of working.
Overall Approach
Using our proven transformation model, we covered all relevant aspects needed with a completely bespoke strategy based on our customer's real-time on-the-ground scenarios.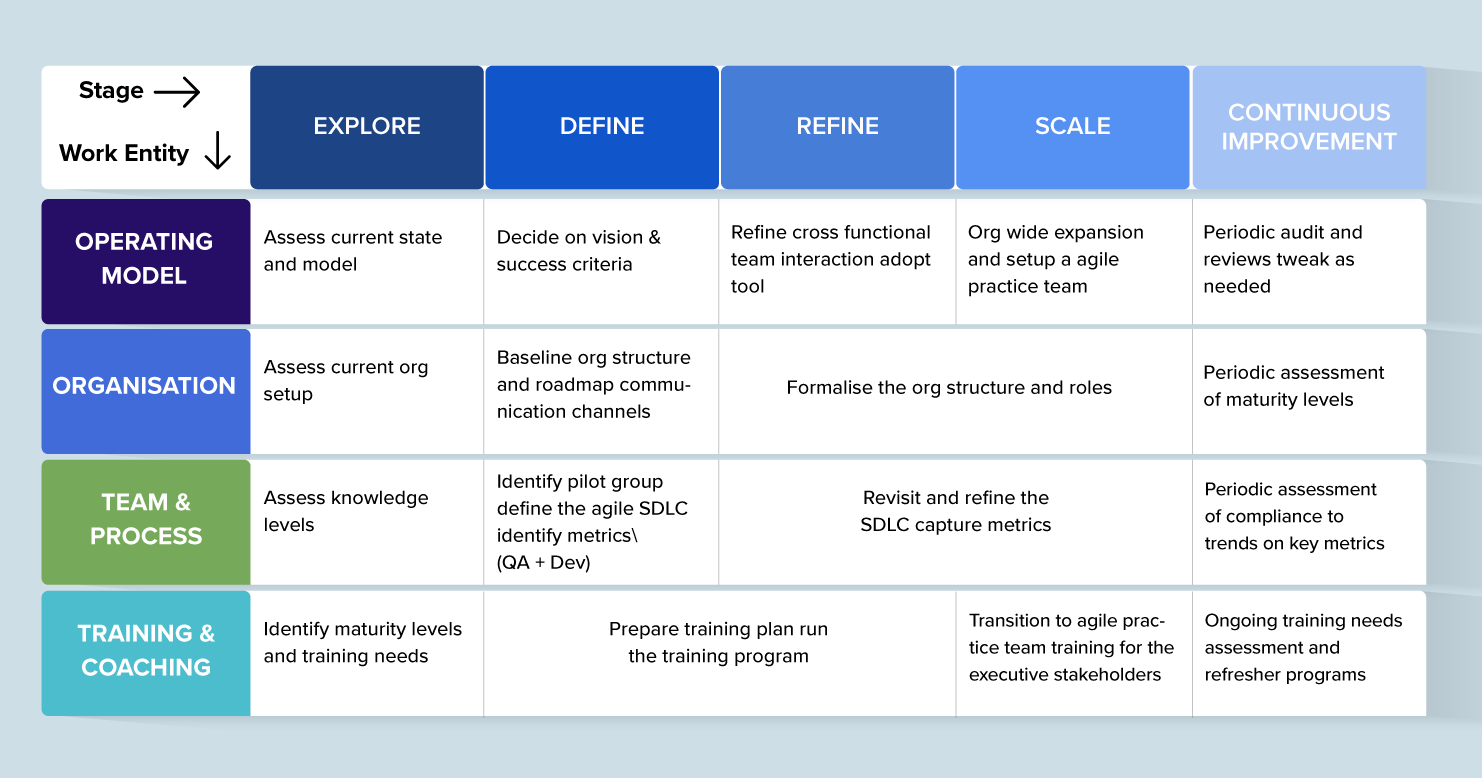 As part of our preliminary survey, we did a generic assessment of challenges and wants with various stakeholders from the delivery unit. Once we had a high-level understanding, our first step was to lay the foundation for the Agile Center of Excellence (ACoE). The ACoE was a counterpart team working on the ground, helping us build a good connection with Khan Bank's internal teams. This team provided the required understanding of coverage and scope to implement and execute the agile approach.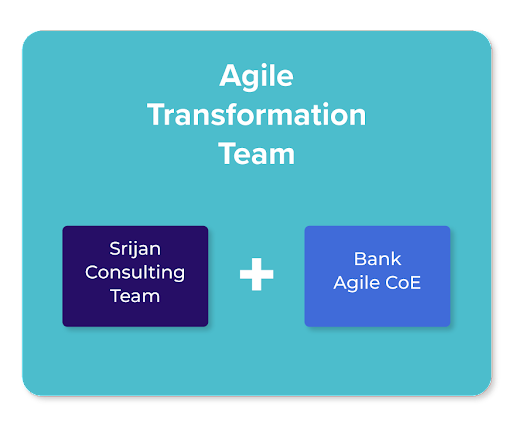 The agile transformation was carried out by:
Having 1-on-1 sessions with the stakeholders and team members to understand needs and challenges;
Training ACoE groups, which in turn trained other groups and their downstream departments;
Dual track coverage, where the Enterprise Coach took care of the strategic and management side and the Agile Experts managed the operational side;
Creating bespoke processes and artifacts based on the input from ACoE team members, who had hands-on knowledge of the ground-level needs and challenges;
Identifying post-training pilot projects that can be managed parallelly by two teams, the one that can be run directly under Srijan and a few other teams following and replicating the teams' pilot projects;
Revisiting and reviewing all processes and artifacts while running the pilots for effectiveness and modification as needed;
Fortifying the on-the-ground ACoE team with the knowledge to take over and run things in phases during the pilot project sprints
Over a period of six months, the ACoE was fully equipped to run standard agile projects and built a repository of tools, artifacts, and processes by working in collaboration with Srijan.
With the standard agile model in place, the next big step was to move to a scaled agile model. We identified value streams with the help of our agile release trainers and trained all required teams and stakeholders on adopting the scaled agile model.
The phases of our transformation approach are depicted below: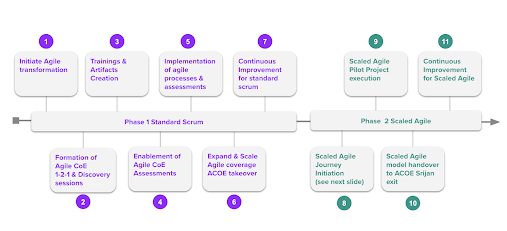 Business Benefit
10+ successive trainings run by the ACoE group
Created value streams for large enterprise project using a scaled agile methodology
Increased collaboration within teams and stakeholders
Increased the visibility of the product development progress
Enhanced transparency from agile methods made teams happier
Accommodated changes triggered by business factors as needed
Teams are able to get started immediately once requirements have been identified
Centralized all project data for increased visibility for all concerned stakeholders
An empowered in-house team that runs agile, i.e., ACoE
Recorded upward trends in ESAT, CSAT, and agile maturity score month on month