The Challenge
SIPI had been successfully delivering brand monitoring and intelligence services to its clients. However, their internal processes for identifying counterfeit products and brand infringements had the following drawbacks:
Resource insensitive: Manually sifting through a ton of product listing to spot counterfeits was costing them an immense amount of resources. This also did not allow them to scale up and service more clients, because of the high cost of hiring and training new resources
Error-prone: Because of the manual work, there were frequent incidences when they couldn't spot brand infringements, due to human error
Lack of insights: In the absence of proper reporting, it was impossible for SIPI to share any business insights with the client
Because of these, the biggest challenges that SIPI faced were:
Inefficient, expensive processes which created a huge operational and financial strain on SIPI, as they worked towards delivering value for their clients.
Inability to scale up and serve more clients, to better serve their existing clients, without investing more into hiring and training new resources
The Solution
SIPI wanted to break free from the resource constraint, and have the ability to scale up and serve their clients better. Srijan got into the game with the goal of making this happen.
The core solution proposed was Intelligent Process Automation that could automate the bulk of their manual workflow. This solution was designed to automatically scan through hundreds of product listings to accurately spot and log counterfeits, while delivering significant savings in both time and money.
Srijan conducted various inter-departmental interactions at SIPI to thoroughly understand their processes—the counterfeit identification workflows, key parameters involved, and reporting. The team then analyzed the feasibility of introducing Intelligent Process Automation (IPA) to reduce efforts and mitigate errors.
The team identified several key processes that could be automated for faster turnaround, solving scalability challenges, and time-critical needs. Keeping the client's business objectives in mind, Srijan designed a solution that could automatically scan online marketplaces to accurately identify counterfeit brand products. It had three main features: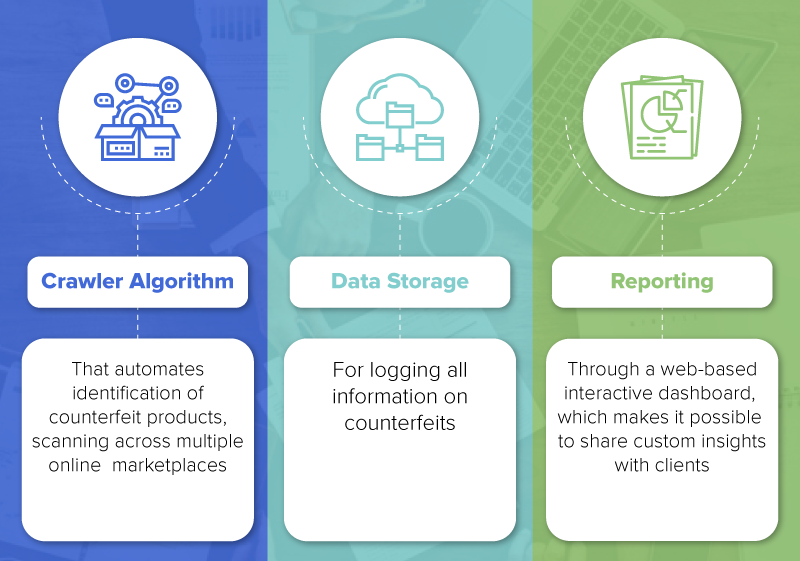 Crawler Algorithm
The algorithm was designed to scrape through diverse online marketplaces searching for counterfeit brand products with different auto-generated combinations of keywords. It can be customized to continuously run searches in the background, and populate suspected counterfeits for further processing.
The crawler algorithm can:
Enter various combinations of spelling, price, and other factors to look for counterfeit product results, based on keywords fed into the system
Automatically compare counterfeit product images to real ones
Convert prices listed in global marketplaces to common currency, for easier comparison
Smart Data Storage
Srijan automated the data transformation and storage processes for logging all information on counterfeits in a single repository. So data from dissimilar websites with varying categories, languages, currencies, and compliances were automatically transformed into a uniform format for storage.
Easy and Fast Reporting
Srijan simplified the reporting format into a web-based interactive dashboard which, unlike the conventional PDF, was responsive to be viewed on different devices and allowed users to generate custom insights.
The Business Benefits
With Srijan's work on a proprietary crawler algorithm, and reporting dashboards, SIPI was able to get more work done and serve more clients with the same amount of time and resources, and without compromising the service quality that they are renowned for.

Srijan helped:
Automate their highly manual counterfeit identification, logging and reporting process using IPA
Streamline dashboards to simplify reporting for the clients they served
Build proprietary algorithms from the ground up, by leveraging industry leading technology
This lead to: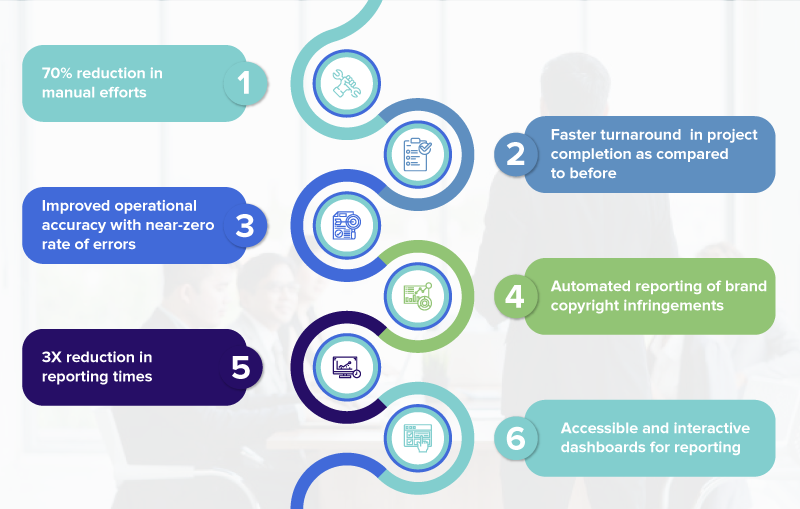 The IPA solution made SIPI's processes more accurate, and allowed them to deliver more value to their client in the form of customized insights and reports.
Looking to automate tedious manual processes at your enterprise? Let's do a little brainstorming to see how Srijan can help.