The Requirement
They wanted to build an informative website targeted for US-based medical professionals, with the following capabilities:
Easy to use content authoring and asset management
Customizable workflows to facilitate editing or content updates
Access control for better user administration
The Challenges
Identifying the CMS that could cater to the dynamic and expansive range of content and admin requirements was not an easy task for the client. With our extensive experience in Drupal based websites and solutions, we recommended Drupal CMS, as it could cater to all the client's content generation/moderation and workflow needs.
The Solution
We built a Drupal-powered website with the following features:
Ability to publish different content types like R&D reports, PR, and news articles
Drag and drop layout builder to build pages from scratch
Custom page blocks to create the page layout of choice
Content preview for reviewing content and layout before publishing
SEO modules to ensure SEO best practices for the content
Role-based access to manage users
Define publishing workflows
Overall Approach
We hosted Drupal on AWS with Staging and Production environments.
Content authoring is to be done in Staging and once approved it can be moved to the Production environment automatically using workflows.
Tech Stack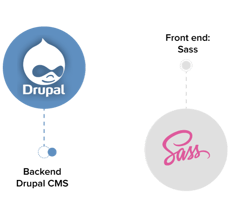 Business Benefit
Substantially shorter publishing cycles due to easy authoring experience for research, PR, and news articles
Lower developer dependency and accelerated turnarounds due to the drag and drop layout builder.
Enhanced team coordination on account of defined workflows.