Requirements
Quality and on-time delivery are the two major brand factors that our client was looking to build on. With this perspective, their business team wanted to swiftly build a functional site that could help them strike the iron while it was still hot. The metaphorical stance here was to acquire new opportunities (sell new units) and position themselves firmly in this wavering market scenario.
Challenges
There were setbacks in project release dates due to the COVID-19 situation. So they wanted to get a new site up and running to hit the market with their new project to capture more engagement and conversions. However, they faced three key challenges-
Designing and developing the website are the game-changers for the timely launch of a website. A smart and optimal solution was needed to implement these two areas in the most optimized fashion for expediting the schedule and breaking into the market.
Exploring the right accommodation or housing space should not be an unpleasant experience for anyone. However, till date, our client had a non-interactive experience, which led to lower engagements and conversions.
Lack of editorial experience/capabilities
Editors and marketers had difficulty in creating a landing page, website page, or doing a small but crucial content edit on the site by themselves. They had to always rely on the developers even to make minor changes. Thus, the inherent requirement was to create a platform that supports content creation, review, and hassle-free publishing on the site, without having a dependency on website developers.
The Solution
To address the above challenges efficiently, we recommended Acquia Site Studio to the client to achieve the desired functionality and outcomes. The solution empowered the client's teams to build brand-compliant websites - faster, easier, and at a lower cost. Some of the key benefits of the solution are given below:
1. Create Once, Use Anywhere with Acquia Site Studio
We identified the common reusable components that can be used across our client's website. We built them on Acquia Site Studio in a flash and implemented it on the new brand site.
Media, hero banner, carousel, sliders, social elements, forms, etc. are some of the reusable components that we created. Along with these standard components, we also created other interactive ones like parallax effect, maps, calendar, etc, to provide creative flexibility while maintaining brand guidelines. With this method, the development time was reduced significantly and time-to-market was fastened.
2. Empowered Editors and Marketers with Acquia Site Studio
The solution helped the client streamline editorial and marketing processes like reviewing, approving, scheduling and publishing content. It also ensured an effortless content creation process on various digital touchpoints with in-line editing and preview functionality. This simplified the collaboration between editorial and marketing teams and also for teams spread across different geographies.
The reusable components empowered marketers and content creators to create pages on-the-go with drag-and-drop functionality, thereby reducing the dependency on developers/IT teams.
3. Organize digital assets effectively with Acquia DAM
Managing digital assets for our client who was running multiple websites was always a cumbersome task. Their old system required custom development to integrate with Drupal, whereas with our new solution Acquia DAM seamlessly integrated with Drupal.
We created a custom module on top of the Drupal 8 Acquia DAM module to automate the assets syncing. The module provides an option to sync assets via a cron run and a sync button to help editors pull assets quickly from Acquia DAM to CMS. Effectively, the solution was designed to deliver engaging customer experiences, foster creativity, and promote collaboration among teams.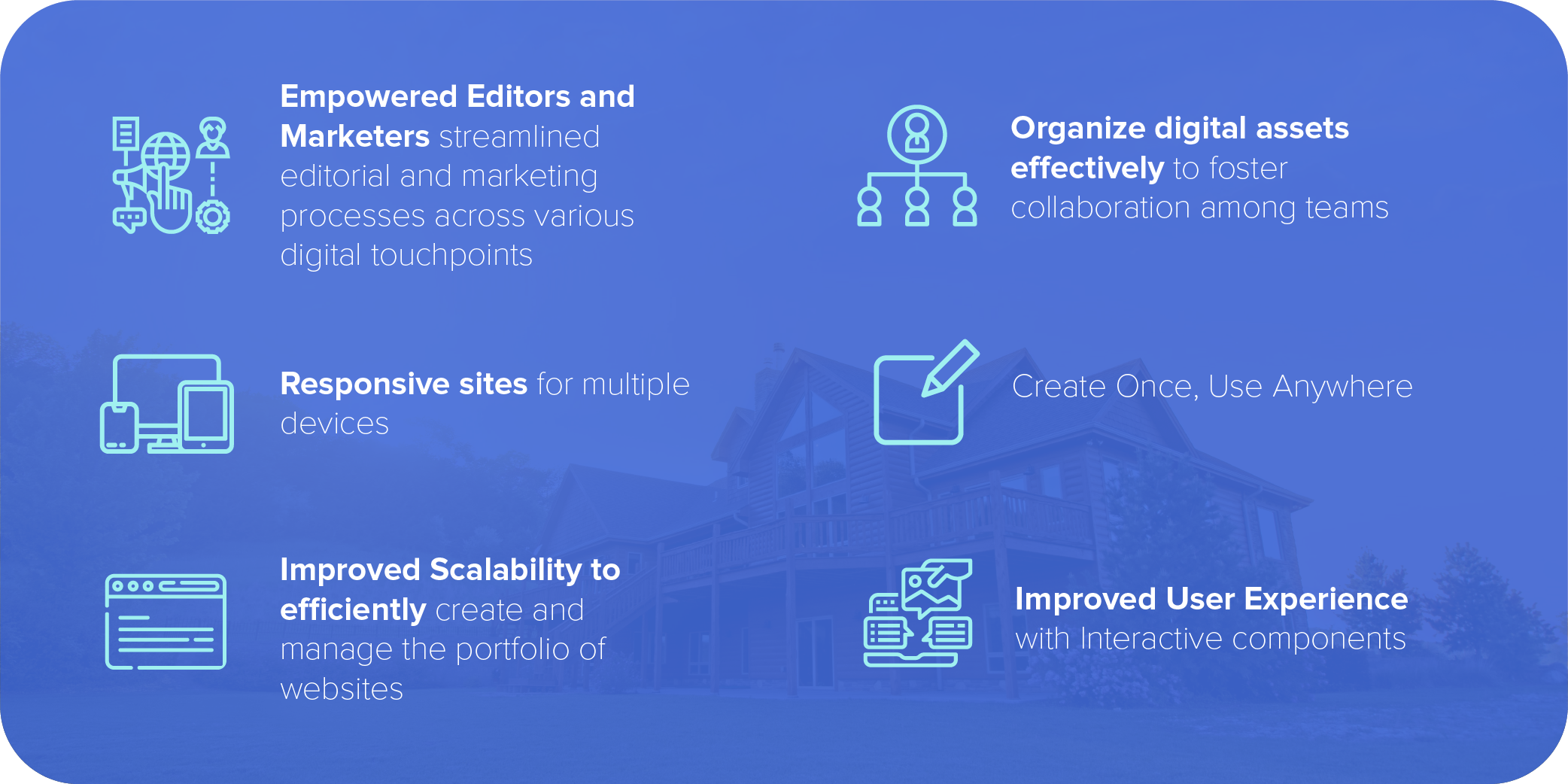 4. Responsive sites for multiple devices
With innumerable devices sprouting every day in this hyper-connected world, the solution offered various techniques to build a site whose layout adapts to the width of the users' screen, ranging from mobile devices to large monitors. The CSS properties and selectors in Site Studio offer responsive layout previews for multiple devices to ensure increased user engagement for the client.
The style guide manager enables the teams to set up configurations according to brand style guidelines. At the same time, designers can set up a single base theme across multiple sites for global configurations. With the intuitive drag and drop layout canvas, even developers with little coding experience can create unique layouts with ease and speed.
5. Improved User Experience with Interactive components
Acquia Site Studio empowers people from various departments to design user-friendly and optimized customer experiences. From digital marketers to UX designers to developers and site architects - it offers the right suite of tools via Site Studio to create, design, and deploy content.
With this feature, we built interactive components like waterfront areas, kids amenities for the client's project to engage users and improve their digital experiences.
6. Scalability with Acquia Cloud
Acquia Cloud delivers unparalleled performance, simple management of the development process, and smooth deployment workflow.
This enabled the developers and marketers within the client's teams to streamline their workflows, secure their data, increase efficiency and meet their growing demand. Overall, it ensured that the client could efficiently create and manage its portfolio of websites.
Architecture Overview
We deployed Acquia Site Studio to enable component-based development and utilized Acquia Cloud Site Factory to deliver and govern digital experiences for the multisite platform at a global scale. Here is an overview of the architecture:
We used the Drupal Profile-based approach and created a new Acquia Cloud Site Factory (ACSF) Profile on top of Drupal 8. The idea was to build the base profile once with identified features and components and reuse it to create new sites. This profile includes-
Site studio (Cohesion) module and all its dependencies with all the component configurations and settings.

Using Cohesion as the base theme to create a custom theme and provide additional features

Leveraged the Site Studio to create custom elements for external integrations

Used Acquia DAM to manage all the assets for seamless integration with Drupal and deliver a compelling customer experience
Results
Some other business benefits that the client was able to achieve with us were-
Availability of templatizations and configurations expedited the work of development by 35-40% with Site Studio.

The client was running multiple sites, each having different themes. However, now with reusable components and configurations, the client can easily export these elements across other brand sites to save cost & time in addition to maintaining brand consistency.

Since the client website is a media-heavy website, the optimization strategy included caching at different layers. At the application layer, we used Drupal Bootstrap caching to improve the application performance at the server level. Modules like Varnish were used to cache content directly.
Srijan also contributed to the community with a new module, Photo Sphere Viewer, that could easily be integrated with Acquia Site Studio. It also benefited the client in increasing engagement due to its ability to showcase images with panoramic effects.