The client has earned global renown for its humanitarian work globally. They are responsible for providing aid, relief, and protection to as many children as possible. Organizations of this size utilize their websites as primary channels to publish their releases and updates. Their vast system of 170+ websites suffered from the lack of uniformity in content workflow and page distribution. They required a dependable system that allowed them to curate and repurpose content across their multi-sites in a simple manner. Therefore, Srijan helped facilitate a consistent pooling method with inter-connected channels among the microsites for better usability and enhanced visibility.
Requirements
The client wanted to:
Enable page translations for their paragraph-based components to expand their reach
Repost existing content from regional sites to their original site using a single-click extraction method.
Maintain consistency in the delivered content across their multisite system.
Challenges
Fixed-term projects and releases had strong deadlines. The scope of migration at 170+ websites and 80+ languages was huge.
The team was restricted to use a single environment for development and testing. No dedicated testing environment was in place.
It was practically not possible to test every website. So the test samples had to be carefully selected.
The stakeholders for the websites operated in multiple time zones. This constrained the deployment window.
Solutions
To address the needs of the client:
We provided support in implementing a solution that would enable asymmetrical page translations to have all the required paragraph components.
We enabled content curation from all of the 170+ websites to enhance better distribution for global and regional campaigns using complex Drupal components.
Srijan helped the client's multisite be equipped with multilingual support and optional distribution of accompanying assets.
Overall Approach
The client's content delivery was siloed. We helped transform and streamline the content delivery for which we used a single Drupal codebase.
Srijan took a Test-Driven Development approach to manage the deployment process and handle the migration of all the existing content across 170+ applications in 80+ languages to support asymmetric paragraph translations.
We built a common federated content search using SOLR. This feature is capable of searching the indexed content across their sites and applications, in all the required languages.
Technology Stack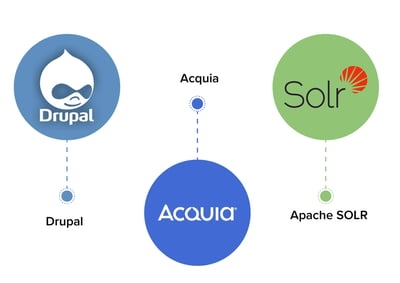 Business Benefits
Improved content delivery across multiple sites
Enabled asymmetric paragraph behavior across the content ecosystem
Maintained good website ranking on search engines
Simplified content maintenance across 170+ pages
Indexing of all content across the microsites at one place for easier availability of content
Ready to explore how exactly your brand can leverage technology solutions at key junctures in the consumer experience? Start a conversation with our expert teams.