The success of any Content Management System depends on its flexibility to present content in a multitude of ways, on a variety of devices and on the ease of integration with software that generates the content, and with hardware that delivers the content output.
For well over a decade Drupal has served the traditional web (accessed on desktops and laptops) so well that it captured a market share of 5% of the total websites in existence globally. Drupal also has been the CMS of choice for enterprises, thereby being pitted directly against the likes of Alfresco and Adobe Experience Manager.
But today, if you asked the question, "What is Drupal used for?", the answer is going to be "definitely much more than a CMS."
With the mobile device becoming the ubiquitous way to access the Internet, Drupal has had to find its existence around them. Moreover, the emergence of newer technologies like the Internet of Things has created new avenues where Drupal can be used extensively.
To keep Drupal relevant for the majority of Internet platforms, it had to diversify and expand its applications. With content being a critical asset for most businesses, having a highly flexible and scalable content management system becomes a key piece of the digital strategy for enterprises.
Drupal 8 was redesigned to power experiences beyond the traditional web. As more data-rich APIs are becoming available, Drupal is being used to source data from a variety of devices/ sensors present in an Internet of Things network and then route data to the dashboards present in enterprise applications.
Drupal now supports use cases which were unimaginable earlier. So, let's take a look at what is Drupal used for today:
Drupal for e-commerce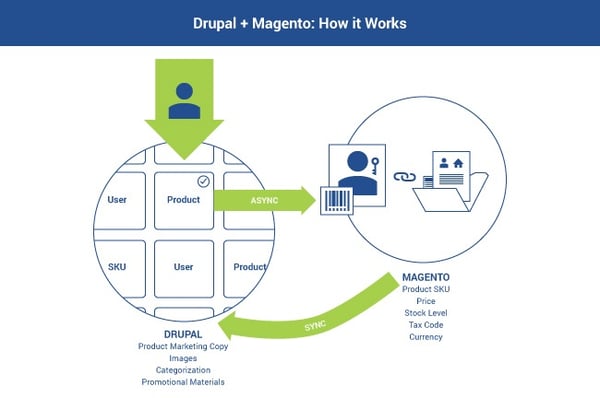 Magento is great to handle e-commerce workflows. However, Magento has hard-coded functionalities rendering it expensive for businesses to get custom features. Drupal fits in here really well, as most of these desired features are available out of the box. So an integration with Drupal as the back-end and Magento for all the e-commerce features makes for an ideal business solution. While Magento manages all the transactions related content (product SKU, price, stock level, tax code, currency, etc), Drupal handles all the content like product marketing copies, images, categories, promotional materials, blog posts, etc.
Drupal for the Internet of Things
Adoption of IoT technologies is going mainstream. There are technologies like Alexa Echo, Siri by Apple, which now support the voice Interaction Model. Users are now able to query voice assistants for which Drupal is being used as the CMS.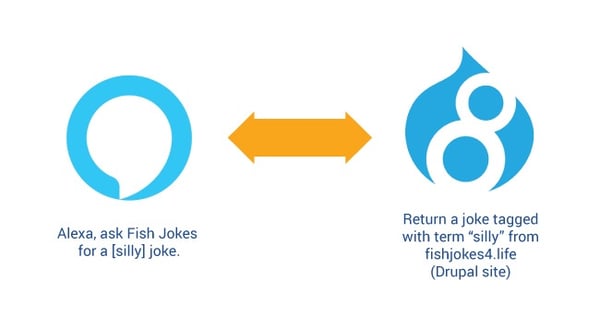 Drupal handles the requests from Alexa and sends the response to Alexa.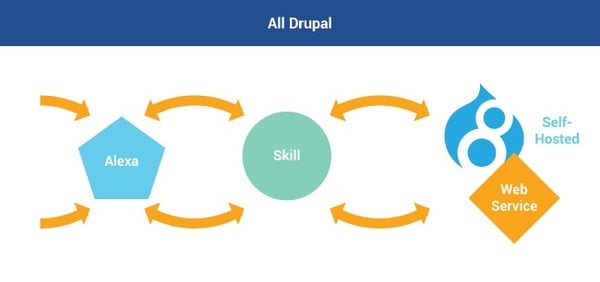 Drupal as a Mobile App (iOS / Android)
Native mobile applications have a lot of control to a device's features than websites do. Now it is possible to turn Drupal websites into mobile apps for both Android as well as iOS devices. Some of the use cases are:
Websites which require user registration will now be able to upload photographs by accessing the mobile device's camera to click the photo and upload to the device
Web form fields can now have GPS coordinates filled in automatically by the device
Now, the possibilities are enormous
Drupal for Digital Signages
Digital displays and signages are everywhere, be it in the public transit systems or hotel lobbies or all kiosks. Drupal can now get connected to them and push content whenever users interact with these displays or during emergencies or any pre-determined event.
There are technologies like NodeJS, React and Symphony that can be used for digital signages, but they are development frameworks. So while they do deliver a great developer experience, the user experience can be challenging. Hence, Drupal scores over these technologies. Also, instances where external data and feeds through API have to be processed, it is Drupal that stands out.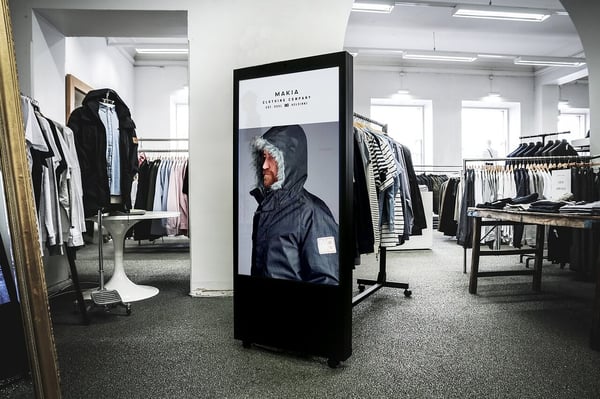 The users who will be managing or using these devices and content would be non-developers. This is where Drupal's brilliant UX comes into the picture. Users will be able to create, manage or edit content without getting into technicalities of the framework. It doesn't matter if there are dozens or hundreds of digital signages across, say a shopping mall. Content from Drupal 8 can be sent and received in real-time, as it is easy to syndicate the data using web services.
At Srijan, we have worked with global corporations across industries to solve business challenges. From a multi-site architecture for a travel website to improving site performance for an online gaming brand; from building a massive online marketplace to creating a business collaboration and data analytics platform; we have done it all.
Now, as Drupal evolves to serve more complex and diverse use cases, our teams are uniquely placed to take up the challenge. We combine a deep Drupal expertise with a keen understanding of business and industry nuances. This allows us to harness the right mix of Drupal and other emergent technologies to cater to your enterprise needs.
But engaging a Drupal team isn't just about the technical expertise. So, take a look at our new guide that outlines eight key questions to ask a potential Drupal partner, to make sure they are the right fit. And then you can decide if Srijan fits the bill.